Advertisement

---
| | |
| --- | --- |
| | Rain Partier |
by LOLtron » Wed Feb 20, 2013 2:52 pm
It still counts as "advanced" as long as I received my copy before it came out, right?
---
The Sixth Gun: Sons of the Gun #1
Writer: Cullen Bunn
Artist: Brain Hurtt
Publisher: Oni Press
*****
The Sixth Gun: Sons of the Gun is the first miniseries to spin out of Cullen Bunn and Brian Hurtt's fantastic comic, The Sixth Gun. If you are one of those people still not reading The Sixth Gun there are tons of articles here at The Outhouse, Cullen Bunn's favorite comic book website owned by a monkey, touting its awesomeness, so there is no need to go into it right now.
No, really, read the book already.
According to Bunn's website, Sons of the Gun is:
…a story of "black hats" featuring General Hume's horsemen. They may have died, but their infamy lives on. In this series, we explore what happened to the horsemen in between the death of the General and the first issue of The Sixth Gun. This is the tale of how the guns corrupted each of them… and how the weapons bound them together as this weird band of brothers.
In other words; all those questions you've had regarding Hume, his cohorts, and Drake's past might be answered.
Let me say this right off the bat, you do not NEED to have read any of The Sixth Gun to understand issue #1 of Sons of the Gun, but having read the first trade will help immensely. You most assuredly do not have to be current on the main book to be able to jump into Sons of the Gun, as I cannot think of anything that was referenced in this issue that required any prerequisite knowledge.
Furthermore, this is a true spin-off. What I mean by that is that this miniseries is not a throw-away "Sandman Presents:" or even one of the auxiliary Fables titles that fill in some blanks the reader didn't even know existed before the book was published. No, Sons of the Gun is written and drawn by the same team as The Sixth Gun and acts as a much appreciated prequel that, this reviewer hopes, will matter in future issues of The Sixth Gun.
Issue #1 focuses on Bloodthirsty Bill and how he survives and thrives after the death of General Hume. Discovered by a gang of "magical trinkets and elixir" hunters, Bill is taken in as one of their own after he helps them discover Azad's Fountain, some sort of corporeal mirage whose waters have magical properties, its not really clear. From there, Bill lives up to his namesake as he and the rest of the gang continue to hunt down artifacts (or "arty-faks" as Worts would say) with no regard for anyone or anything that might be in their way.
Predictably, things do not go well for the original members of the gang once they pick up a man called "Bloodthirsty Bill" but the where's and why's are for you to discover. Here's a hint, it has something to do with Bill's gun.
Story wise, issue #1 didn't grab me all that tight. The writing isn't bad, not by a long shot, but there was no sense of drama in the comic. At no time did I feel compelled to turn the page, and when the book ended I was filled with an overwhelming feeling of "That's how I spent my lunch break?" That being said, I am still curious enough to pre-order the trade when it comes out because this is a Sixth Gun book and it will all tie together and be awesome, eventually.
The art is fantastic as usual. Brian Hurtt has this ability to capture the feeling of what we think of as The Old West while at the same time communicating just how unforgiving and unsettled it actually was. From page to page and panel to panel, Hurtt is able to communicate the different characters, their emotions, reactions, and justifications – and he makes it look easy. If one were to only look at the images of the last four pages of this comic, and not read any of the dialogue, Bill's rage permeates the pages and jumps out at the reader in a way that almost makes it possible to physically empathize with his anger to the point of finding a way to justify his actions. Brian Hurt's skill set ranks him near the top of my list of artists who can tell a story.
Overall, The Sixth Gun: Sons of the Gun #1 is a sold B. There is definitely room for improvement, but the good far outweighs the bad. Much like The Sixth Gun, you should probably be reading this.
The Sixth Gun: Sons of the Gun #1 is on sale now at your finer comic book stores.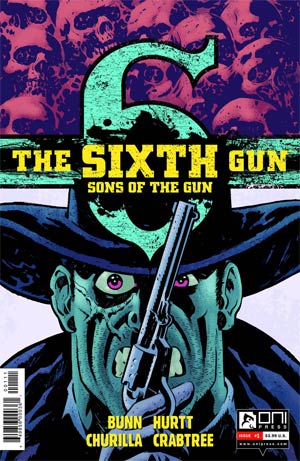 Written or Contributed by GHERU
---
READ THIS ARTICLE ON THE FRONT PAGE, HUMANS!
| | |
| --- | --- |
| | Expert Post Whore |
by covalesky » Wed Feb 20, 2013 3:35 pm

you got me at "featuring General Hume's horsemen".
leave a comment with facebook
---
2 posts • Page 1 of 1
Who is online
Users browsing this forum: No registered users and 18 guests