Advertisement

---
| | |
| --- | --- |
| | Rain Partier |
by LOLtron » Wed May 08, 2013 3:14 pm
The second of a limited run to be featured on the front page, The Review Group's 378th pick is 12 Reasons To Die from Black Mask Studios
---
That first week went pretty well, if I don't say so myself. So, before I ruinit by talking too much:
TO THE REVIEWS!
12 Reasons To Die:
12 Reasons To Die is a brutal tale of gangsters, betrayal, and one vengeful soul hunting the 12 Dons who conspired his murder. Created by Ghostface Killah and produced by RZA, this hard-knuckled horror/crime hybrid follows multiple timelines - and multiple artists - in the quest for revenge.
Writer: Ghostface Killah, Various • Artist: Breno Tamura, Various
Manufacturer/Publisher: Black Mask Comics (Release Date: 5/8/2013)
digital copy (sort of) availible here
______________________
Ze rules:
Post your review in the forum thread or in the comments section here on the front page.
Review as often or as little as you like. Once you've posted 5 reviews, you will be awarded 1 pick. You can post 5 reviews, right? That's a totally achievable goal and with day and date digital releases becoming the standard, it shouldn't matter if your shop ordered enough copies of this weeks comic or not.
When multiple Review Groupers have posted 5 (or more) qualifying reviews, they will be awarded their pick in the order that they qualified. What constitutes a qualifying review? Any review posted (with a score on a scale from 0-10, that's right 0!) within 1 calendar month of the thread going live. Reviews are to be at least 5 sentences long. It shows that a) you have at least read this week's pick and b) you have some unique insight into the comic.
Reviews posted while waiting in line for your pick will be applied to your next pick.
I'll be keeping track of everyone's progress with the newly christened Spreadsheet of Fantastic (RIP, Spreadsheet of Doom) and reporting the results in the Current Members list in the weekly OP. When it's your turn to make a pick, I will PM you. If you do not respond to me by Midnight EST the following Sunday, you will lose your pick and I will start a poll to determine that week's selection.
Any week in which we do not have a Review Grouper with 5 qualifying picks, we will determine the week's comic via poll.
If it's your week to pick, remember to keep it under $3.99.
Current Members List
5 Reviews
4 Reviews
3 Reviews
2 Reviews
1 Review
BlueStreak

@dace1314
Amoebas
bkthompson
GHERU
Grayson
GLX
guitarsmashley


ElijahSnowFan
GiveWarAChance
Jude Terror
Ntikrst
Stephen Day
doombug
Eli Katz
SilverPhoenix
Sunless
Victorian Squid
Amlah
john lewis hawk
Jubilee
Keb
Midas
nietoperz
Punchy
TimDrake'sDumbWings


Written or Contributed by GHERU
---
READ THIS ARTICLE ON THE FRONT PAGE, HUMANS!
| | |
| --- | --- |
| | Rain Partier |
by Garofani Spruzzo » Wed May 08, 2013 3:35 pm

We need to get Christian to buy us these, I hear his shop is full of them.
| | |
| --- | --- |
| | Peanut |
by PhoenixEquinox » Thu May 09, 2013 9:11 am

What happened to me? I've got like 3 reviews.
| | |
| --- | --- |
| | Rain Partier |
by Garofani Spruzzo » Thu May 09, 2013 4:34 pm

Ok, I absolutely refuse to be stymied on my own pick by the 10percent, I've got a couple copies of this week's book.
| | |
| --- | --- |
| | Rain Partier |
by Garofani Spruzzo » Thu May 09, 2013 8:09 pm

I shouldn't be surprised that the bad ass muthafucker in part one is named Anthony Starks, and I wasn't...but it was still tons of awesome.
| | |
| --- | --- |
| | Rain Partier |
by Garofani Spruzzo » Fri May 10, 2013 3:25 pm

GHERU? GLX? Do you guys want a copy to review?
| | |
| --- | --- |
| | Outhouse Editor |
by GLX » Sat May 11, 2013 2:37 pm
Victorian Squid wrote:GHERU? GLX? Do you guys want a copy to review?


I can't receive a physical copy, if that's what you mean; I do recall the publisher selling digital issues online.
| | |
| --- | --- |
| | Rain Partier |
by GHERU » Sat May 11, 2013 5:28 pm
Victorian Squid wrote:GHERU? GLX? Do you guys want a copy to review?

yes
| | |
| --- | --- |
| | Rain Partier |
by Garofani Spruzzo » Sat May 11, 2013 5:50 pm

PM sent. Anyone else wants a copy PM me, I may be able to help you out, nahmsayin?

That's what Anthony Starks says, "nahmsayin," ya nahmsayin?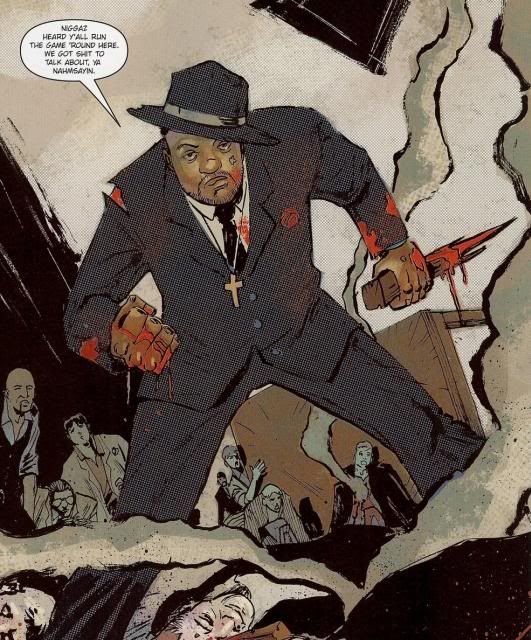 [/URL]
| | |
| --- | --- |
| | Rain Partier |
by GHERU » Sat May 11, 2013 6:26 pm

Next Week, from Blue:

Dream Merchant #1


A double-size issue to kick off a new sci-fi series from Nathan Edmondson and newcomer Konstantin Novosadov. Haunted by recurring dreams, a boy named Winslow is hunted by mysterious beings and protected by an old traveler. Soon Winslow will realize that what is in his dreams is what the rest of the world has been made to forget--and what strange entities will stop at nothing to erase from his mind.
| | |
| --- | --- |
| | Wrasslin' Fan |
by Stephen Day » Sat May 11, 2013 10:36 pm

For some reason I wasn't expecting an anthology series when I began to read this. That's not a bad thing as I enjoy anthology series. I agree with Squid, Anthony Starks is the character that stands out the most. While he really stood out, I can't say that the rest of this issue was bad, I think the exact opposite. Besides the very interesting Mr Starks the other character that stood out for me would be Dante. His death by sheep was a little WTF, but in a good way.

I'll give this a 7 out of 10.
| | |
| --- | --- |
| | Rain Partier |
by Garofani Spruzzo » Mon May 13, 2013 4:30 pm

12 Reasons To Die #1

I'd never heard of this book, but it stood out to me in last week's solicits when I saw it was created by Wu Tang Clan's Ghostface Killah and Executive Produced by RZA. It's fair to say the credits are confusing, with 2 creators, 3 story credits, 2 writers, a slew of talent for the art including a half a dozen artists and two production artists, and a bookrunner. That's right, a bookrunner. And with a sizable crew like that, why not?

You might think reading this that a book with that many contributors, as talented as they may be, the book is gonna be patchy or a straight up mess even. I found the transitions worked pretty well and held up together as a whole, except the last segment where the artist's panels left me confounded trying to figure out what happened at the climax of the 2nd story and what exactly killed the mobster. It looked like two things were going on at once to me.

I liked the first story with Anthony Starks best all around, art & story, besides the unclear ending I found the actions of the young "crate digger" not very real--if he were really a record scout, there's no way he would have junked the rest of the rare LPs no matter what the death record was worth. He might scrap most of it as not worth his trouble, but there's no way a crate digger's leaving that much hot wax behind and not cherrypicking. Just doesn't happen.

12RtD is an interesting book, and it's got a soundtrack full-length CD from G.K. as well which can be sampled online.

7
| | |
| --- | --- |
| | Rain Partier |
by GHERU » Wed May 15, 2013 7:36 pm

12 Reasons To Die #1

I liked it.

As others have said, I wasn't expecting an anthology and this was a pleasant surprise. The transitions worked well enough and the stories are odd enough, that I would not be surprised if they all "met up" eventually. The art, while different, created a "feel" throughout the book that maintained the horro/crime atmosphere. I'll read #2

7/10
| | |
| --- | --- |
| | OMCTO |
by S.F. Jude Terror » Thu May 16, 2013 8:27 pm

So I didn't know that Ghostface was doing a comic book, even though I saw him on some late night show a few weeks ago so I knew he had a new album out. It makes sense, with all the comic book references in the first few Wu-Tang and associated albums (and probably after that, but I couldn't stand any of them after 1997). BUt I digress.

I liked the writing. The dialogue reminded me of the skits on albums somewhat. I liked that the mobster story got into a groove, feeling like a fairly typical mafia setup, and then all of a sudden Tony Starks shows up and kills the shit out of everyone. Great "twist" if you can call it that - I knew it was coming, but it was great nonetheless. Kind of like watching wretling.

I liked the gangster story better than the record one. That one maybe needs some more time to develop, and of course it didn't have the recognizable (from all the album skits and raps) Starks in it.

The art was solid as well. Not mind-blowing or anything. Just solid.

Who is Black Mask? I had never heard of them before this.

All in all, this wasn't deep and meaningful literature, and it wasn't expected to be. It was exactly what I'd expect from a Wu-Tang comic. I'll definitely keep reading it, but, to be honest, I would have read the whole series sight-unseen anyway.

7/10
leave a comment with facebook
---
Who is online
Users browsing this forum: PDH, Punchy, Rebirth NoctourneM and 28 guests