Advertisement

---
| | |
| --- | --- |
| | DANG! |
by Juan Cena » Sat May 11, 2013 4:00 am
Stephen Day wrote:
I do have to note that I have no problem with either of these as neither is inconsistent with how those characters have always been portrayed.


Of course it could also always be explained by

Ex Nihlo and co. messing with her mind a little when she was their captive on Mars. Which wouldn't shock me, either.
| | |
| --- | --- |
| | Staff Writer |
by Punchy » Sat May 11, 2013 8:30 am
Keb wrote:It's Hickman. Explanations take time. Things need to work themselves out.

I did notice that she and Shang Chi both got the same type of case. Don't know if hers also said "resilient" on it though.


Resilient just means it's made by Tony Stark, his new company is called that.
| | |
| --- | --- |
| | cheese |
by ElijahSnowFan » Sat May 11, 2013 10:24 am

I'm sorry, but I simply do not have a problem with Black Widow killing people. Our perception of comic books, as old-timers -- the Black Widow who swings from ropes across rooftops with Daredevil on adventures...that character doesn't exist anymore.

Times have changed. For better or worse, the Avengers are pretty much affiliated with SHIELD now -- hell, they have been for years now. Black Widow carries pistols. Wolverine's a part of the group. And they sanction people.

Do I wish it was the way it was back in the day, back when Egghead's death prompted a trial? Sure I do. Comics were an easier read then, were more fun.

But that era's been gone for at least a decade now, if not longer. I wish it weren't so, but it is, and I think limiting Hickman's interpretation of Black Widow based on an era that has clearly passed is...well, I think it's just not productive or realistic.
| | |
| --- | --- |
| | Silly French Man |
by habitual » Sat May 11, 2013 11:02 am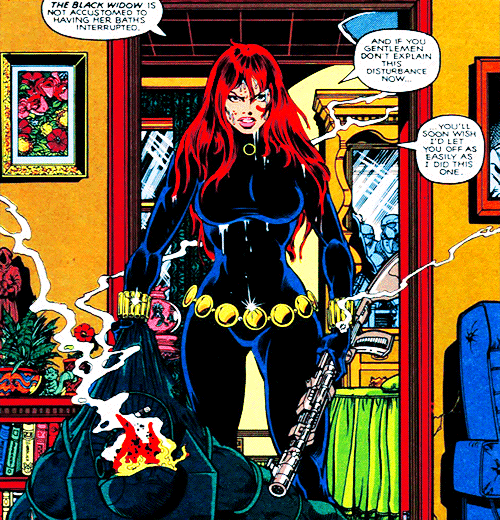 It's never really been an issue. Argument over.

Hab
leave a comment with facebook
---
Who is online
Users browsing this forum: Amoebas, Glaeken, Google [Bot] and 37 guests