Advertisement

---
| | |
| --- | --- |
| | Rain Partier |
by LOLtron » Wed May 29, 2013 7:25 pm
Victorian Squid returns with The Wake #1 from Scott Snyder and Sean Murphy
---
Internet darlings, Scott Snyder and Sean Murphy return to the Review Group, but can they handle the front page?
TO THE REVIEWS!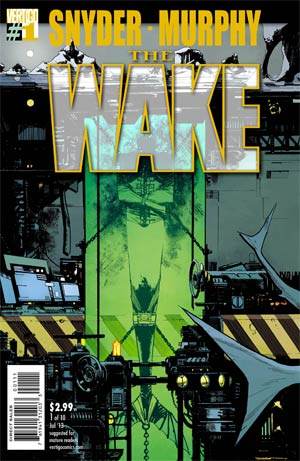 THERE'S SOMETHING DOWN THERE…' When Marine Biologist Lee Archer is approached by the Department of Homeland Security for help with a new threat, she declines, but quickly realizes they won't take no for an answer. Soon she is plunging to the depths of the Arctic Circle to a secret, underwater oilrig where they've discovered something miraculous and terrifying... Writer Scott Snyder (BATMAN, AMERICAN VAMPIRE) and artist Sean Murphy (PUNK ROCK JESUS) bring their acclaimed talents to this sci-fi/horror epic that explores the horrors of the deep, probes the origins of human history, and leaps far beyond to a frightening future.
digital copy available here
______________________
Ze rules:
Post your review in the forum thread or in the comments section here on the front page.
Review as often or as little as you like. Once you've posted 5 reviews, you will be awarded 1 pick. You can post 5 reviews, right? That's a totally achievable goal and with day and date digital releases becoming the standard, it shouldn't matter if your shop ordered enough copies of this weeks comic or not.
When multiple Review Groupers have posted 5 (or more) qualifying reviews, they will be awarded their pick in the order that they qualified. What constitutes a qualifying review? Any review posted (with a score on a scale from 0-10, that's right 0!) within 1 calendar month of the thread going live. Reviews are to be at least 5 sentences long. It shows that a) you have at least read this week's pick and b) you have some unique insight into the comic.
Reviews posted while waiting in line for your pick will be applied to your next pick.
I'll be keeping track of everyone's progress with the newly christened Spreadsheet of Fantastic (RIP, Spreadsheet of Doom) and reporting the results in the Current Members list in the weekly OP. When it's your turn to make a pick, I will PM you. If you do not respond to me by Midnight EST the following Sunday, you will lose your pick and I will start a poll to determine that week's selection.
Any week in which we do not have a Review Grouper with 5 qualifying picks, we will determine the week's comic via poll.
If it's your week to pick, remember to keep it under $3.99.
Current Members List
5 Reviews
4 Reviews
3 Reviews
2 Reviews
1 Review
GLX

@dace1314
Amoebas
bkthompson
Grayson
guitarsmashley
Stephen Day


ElijahSnowFan
GiveWarAChance
Jude Terror
Ntikrst
PhoenixEquinox


doombug
Eli Katz
SilverPhoenix
Sunless

Amlah
BlueStreak
GHERU
john lewis hawk
Jubilee
Keb
Midas
nietoperz
Punchy
TimDrake'sDumbWings
Victorian Squid


Written or Contributed by GHERU
---
READ THIS ARTICLE ON THE FRONT PAGE, HUMANS!
| | |
| --- | --- |
| | Rain Partier |
by Garofani Spruzzo » Wed May 29, 2013 7:51 pm

God, these things are flimsy these days, aren't they? I haven't bought a marvel or dc comic in months.
| | |
| --- | --- |
| | Outhouse Editor |
by GLX » Thu May 30, 2013 2:55 pm

Tempted to either pick something that's digital exclusive or something that I could possibly read within the month.
| | |
| --- | --- |
| | Rain Partier |
by GHERU » Thu May 30, 2013 2:59 pm

damn, VS, and I was stoked for this
| | |
| --- | --- |
| | Outhouse Editor |
by GLX » Sat Jun 01, 2013 8:59 pm

Blackacre #7.
| | |
| --- | --- |
| | Staff Writer |
by Punchy » Sun Jun 02, 2013 12:38 pm

Sound the 'bodes well klaxon'! A new comic from Vertigo! A new comic from the dream-team of Scott Snyder and Sean Murphy! Maybe things aren't quite so bleak for the big V after all? Nope, they are still pretty shitty, but The Wake is damn good at least. I'm a huge fan of Sean Murphy's artwork, and I love his previous collaboration with Snyder on American Vampire: Survival Of The Fittest and having them work together on an all-new idea is just the coolest news.

The Wake is an under-water horror story, but it's more than that really. The main focus here is on Dr. Archer, a marine specialist who is drawn into some kind of mysterious Government project involving some kind of deep-sea monster. But as I said, it's more than that, Snyder and Murphy are working at a far bigger scale, as the flashbacks to Caveman days and the flash-forwards to 200 years in the future show. The future is a world sub-merged, and Snyder tantalises us with future women with handgliders and dolphins with robot suits on them. It's crazy stuff and I can't wait to see it all ties in with the present day stuff.

Scott Snyder has quickly developed into one of the best writers in all of comics, and if you're reading Batman and plan on getting Superman Unchained, you also need to make sure to pick up his creator-owned work like The Wake, it's just as good if not better! As for Murphy, wow. His unique style is just right up my street and I love everything he does. I liked the black and white of Punk Rock Jesus a lot, but having him back in full-colour is something else, he and Matt Hollingsworth mesh really well here. Murphy is probably my favourite artist in comics, no word of a lie.

This was a first issue with a lot of promise, there are several exciting mysteries and not just to do with the epic scale, Dr. Archer herself also has a mysterious past. Vertigo will probably never be the force it once was, but with Snyder and Murphy around, it can still put some damn good comics out on the shelves.



9/10
| | |
| --- | --- |
| | Rain Partier |
by GHERU » Wed Jun 05, 2013 5:59 pm

new thread up tomorrow
| | |
| --- | --- |
| | Rain Partier |
by GHERU » Thu Jun 06, 2013 8:28 am

what happened to VS' review?
| | |
| --- | --- |
| | Wrasslin' Fan |
by Stephen Day » Thu Jun 20, 2013 9:21 pm

First off let's start with the main character. Only one issue in and already the reader knows all that they need to know about Dr Lee Archer in order to get invested in her. I'll go on record in saying that yes, I am invested. On top of that, the supporting cast is in place and we also have everything we need to be invested in quite a few of them as well. I'm interested in seeing where Dr Archer and Dr Bob Wainwright's relationship goes from here.

Now that I've mentioned the writing, I'll mention the art. It's perfect for this story. The mood is set just about right on every page.

It's not perfect, but few comics are and I'll give it a near perfect 9 out of 10.
leave a comment with facebook
---
11 posts • Page 1 of 1
Who is online
Users browsing this forum: No registered users and 23 guests