Advertisement

---
| | |
| --- | --- |
| | 2k11 Outhouse People's Champion |
by sdsichero » Wed Jan 09, 2013 1:57 pm
r 'The Muppets' Sequel; Working Title Revealed
Though Disney's The Muppets sequel will be a big-screen release, Kermit and company apparently haven't forgotten their small-screen roots. Last month, Ricky Gervais and Ty Burrell signed to play two key human characters in the film. Now, Tina Fey is rounding out the cast as the female lead.
Scripted by Nicholas Stoller and James Bobin, the film sees the fuzzy gang embarking on some kind of European caper. However, the working title doesn't really reflect that. According to our source, it's going by the title The Muppets… again. Trust these guys to put a cute spin on the typical sequel title construction.
| | |
| --- | --- |
| | 2k11 Outhouse People's Champion |
by sdsichero » Wed Jan 30, 2013 6:15 pm

Muppets title confirmed. Plus first pics.

First Stills from The Muppets... Again!


So why London? Following on from the events of the first movie, The Muppets are a big deal again, and have gone on a world tour, taking in some of Europe's biggest cities. But trouble isn't far behind, with Constantine – the World's Number One Criminal and Kermit's doppelgänger – and his accomplice – played by Ricky Gervais – pursuing them.

The film will also feature Tina Fey and Modern Family's Ty Burrell, with James Bobin returning to the director's chair. Fans of that movie will also be please to hear that Bret McKenzie will be returning to write some of the movie's tunes (McKenzie, of Flight of the Conchords fame, won an Academy Award for his ditty Man or Muppet featured in the last movie).
| | |
| --- | --- |
| | 2k11 Outhouse People's Champion |
by sdsichero » Thu Feb 28, 2013 2:34 am
| | |
| --- | --- |
| | Rain Partier |
by Schlemmer » Mon Jun 17, 2013 3:20 pm
| | |
| --- | --- |
| | 2k11 Outhouse People's Champion |
by sdsichero » Mon Jun 24, 2013 3:07 pm
Disney Theatrical Eyeing Muppets On Stage (EXCLUSIVE)
Disney Theatrical Prods. has quietly initiated early explorations of a live stage show featuring the Muppets, commencing late last month with a short but elaborate presentation directed by Alex Timbers.
| | |
| --- | --- |
| | Rain Partier |
by Schlemmer » Thu Jul 11, 2013 11:02 am
| | |
| --- | --- |
| | 2k11 Outhouse People's Champion |
by sdsichero » Thu Oct 17, 2013 7:55 pm
ABC Announces Lady Gaga & The Muppets' Holiday Spectacular!
On Thanksgiving night, November 28 (9:30-11:00 p.m., ET), ABC will air the 90-minute special, "Lady Gaga & The Muppets' Holiday Spectacular." The broadcast offers an avant-garde twist on the classic holiday variety show as Lady Gaga goes backstage with The Muppets, making a performance dream come true for the multi-platinum singer songwriter when they combine forces to sing holiday favorites and Lady Gaga hits.
The special features Lady Gaga performing songs from her new album, ARTPOP, available Monday, November 11 on Streamline/Interscope Records. Performance highlights include a duet between Lady Gaga and Kermit the Frog, a dazzling rendition of Gaga's hit "Applause" with special Muppet guests, and performance duets with Sir Elton John, Joseph Gordon-Levitt, and RuPaul. Kristen Bell appears in a special sketch alongside the Muppets and Lady Gaga. In addition, Swedish Chef, Beaker and Animal will perform special Muppet renditions of the holiday classics "Deck the Halls" and "Jingle Bells."

The program will also feature a sneak peek from the upcoming Disney movie Muppets Most Wanted, which features Lady Gaga herself in a cameo performance. Disney's Muppets Most Wanted hits theaters March 21, 2014.
| | |
| --- | --- |
| | Regular-Sized Poster |
by guitarsmashley » Fri Oct 18, 2013 2:22 pm

well this is terrible.
| | |
| --- | --- |
| | The Old Doctor |
by The Old Doctor » Fri Oct 18, 2013 2:38 pm

Lady Gaga is a muppet....?
| | |
| --- | --- |
| | 2k11 Outhouse People's Champion |
by sdsichero » Thu Nov 21, 2013 4:48 pm
The two detected earlier were called Ernie and Bert. The remaining 26 also got Muppet names, like Mr. Snuffleupagus. #neutrinos

— Science News (@ScienceNewsOrg) November 21, 2013
| | |
| --- | --- |
| | 2k11 Outhouse People's Champion |
by sdsichero » Tue Jan 21, 2014 5:17 pm
The Muppets Team with Terry Crews and Toyota for a Super Bowl Spot
The Muppets, whose Muppets Most Wanted hits theaters March 21, are teaming with both Toyota and Terry Crews for a Super Bowl spot, part of the car company's "Let's Go Places" campaign. Designed to showcase the upcoming 2014 Toyota Highlander, a truncated version of the ad can be previewed in the player below with the entire 60-second version, titled "Joyride," set to debut during Super Bowl XLVIII on Sunday, February 2.

"Our game-day spot shows how Toyota Highlander puts the 'fun' in function," said Jack Hollis, vice president of Toyota Division Marketing at Toyota Motor Sales, U.S.A., Inc. "Toyota vehicles are built to last and can even endure the most boisterous Muppets, a former NFL player as well as a center console full of chickens."

With their over-the-top personalities, the Muppets teach Crews' character a thing or two about "unborifying" his lifestyle as they "borrow" his sweet ride, the Toyota Highlander. The spot features humorous hijinks, dancing and surprises—and no Muppet caper would be complete without an original song. Viewers will see that with seating for up to eight human passengers or more than a dozen Muppets, the all-new Toyota Highlander has plenty of room for everything—everything except boring.

"We're always game for a wild ride," said Kermit the Frog, who makes a special appearance in the campaign, "as long as Animal's not driving. He doesn't quite get the whole concept of brakes."

"It's truly an honor to be a part of this wild ride with Toyota and the Muppets," said Crews. "The Toyota Highlander is the perfect vehicle to teach my character how to loosen up and have some fun. Be prepared for some laughs on game day."

In addition to the commercial, the Muppets gang will provide real-time updates as they travel to the big game in their Toyota Highlander on February 2. Fans and customers are invited to chat live with the Muppets on game day by tweeting @Toyota or using #NoRoomForBoring.
| | |
| --- | --- |
| | 2k11 Outhouse People's Champion |
by sdsichero » Mon Mar 24, 2014 2:03 pm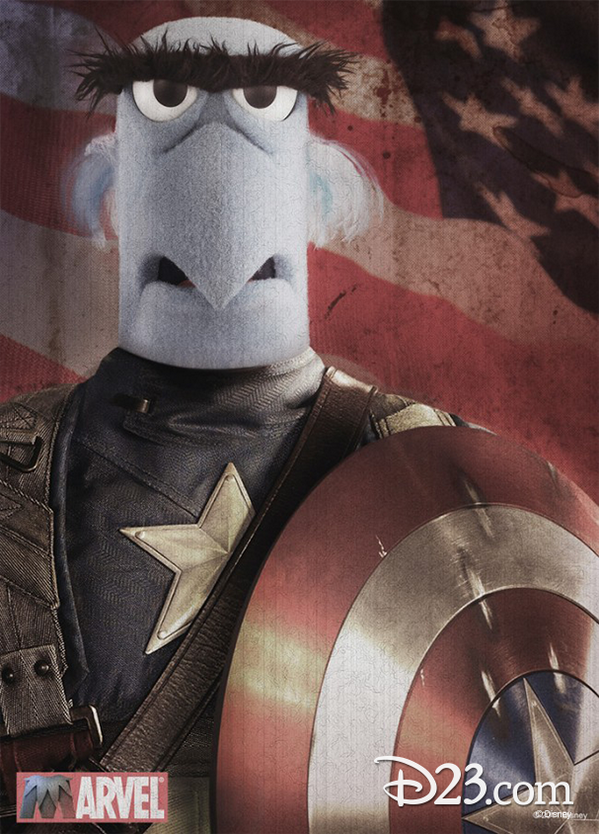 Saw Muppets Most Wanted this weekend. I liked it... but it was not as good as the previous one. I think a lot of the humor was actually lost on some of the younger folk.
leave a comment with facebook
---
Who is online
Users browsing this forum: HNutz, pastajoe, TheLurker and 49 guests