Advertisement

---
| | |
| --- | --- |
| | Rain Partier |
by LOLtron » Wed Jul 24, 2013 1:11 pm
Sure, we talk a little Mind MGMT, but we also cover the important stuff like how he takes his coffee.
---
The Outhouse: There are seven comics in September coming out with your name on it. When will it come out that you're the only face for a commune of writers that write under the name Matt Kindt?
Matt Kindt: That would be great! I wish I had an army of people at home writing for me, that would be awesome and so much easier. Even just an intern would be awesome. But I swear it's just me.
OH: How do you do it?
MK: My daughter saved me a couple hours of work by working on screen colors for the latest issue of Mind MGMT I was working on. So you just have kids, put them to work, give them an allowance. But unfortunately, she's too busy to help me next month, she has a tight schedule. (laughs)
OH: What can we look forward to next in Mind MGMT?
MK: I think thirteen should be coming this month. It's the start of a new story arc and every issue will be centered around a different character. The first issue of the arc features the homemaker and she's a character I've been waiting to get to. So each issue will be self contained and feature a different character. Issue 18 will be a double sized issue with extra pages and explosions and stuff because I couldn't get it all into one issue. And it will be the same price as a regular issue because I didn't want it to cost more.
OH: What's your response to the current theory that you will be writing every comic for the big two by year's end at your current rate of output?
MK: (laughs) Yes, actually, it's going to be the new53. I'm adding another one because I think they could use one more.
Honestly it's just a quirk of the schedule. Like the Marvel Knights Spider-Man thing has been done for a while and they tell me not to talk about it until they are ready to put it out. All the villains titles have been done for a while. So it just looks like my schedule is busy, but it's not that bad.
OH: How many hours a day to you usually work?
MK: About twelve hours. But it's split up. I take breaks to spend time with my daughter at various points.
OH: Do you have a private work area, or is it more communal?
MK: We just finished a little area on the back of the house that's now my studio, but everybody can come and go. I think it's important for my daughter to see me having fun working. Growing up, I assumed I'd have to get a regular job in some office, so I didn't want her to think you can't stay home and do something fun for a living.
OH: Does she have any aspirations of following you into comics?
MK: I don't know, we just make sure she has art supplies, books, comics, everything she might be interested in to play with. One morning she was up a couple hours ahead of me and when I go into her room, she had built an entire city out of cardboard and duct-tape, with everything drawn out. She doesn't really play video games, but we read together a lot. None of us have read Harry Potter, so we are working on the books together now and then we'll watch the movie after.
OH: How do you take your coffee, and how many cups do you drink in a day?
MK: That is a super serious question and very important. Usually I wake up around eight, unless I sleep in and I make coffee and have two mugs of coffee. One thing of sugar and then cream until it's like 50%. I can't tell you exact numbers, but I can tell by the look. Nothing fancy, unless I go to Starbucks or something.
OH: What's your go-to Starbucks drink?
MK: My favorite is venti, three-pump ice mocha, non-fat, no whip. Sometimes extra shot when I'm in San Diego.
OH: Anything else you want to touch on? Any rumors that have popped up perhaps?

MK: I read something on line this morning about me and Sinestro and it was my personal photo that my friend took because I saw the Mind MGMT banner and I thought awesome and wanted a picture in front of it. My wife has been making these embroidered t-shirts and I just told her I want all villains, so I just happened to be wearing that. Then this whole rumor sprouted out.

OH: So no truth to the rumor?

MK: It's cool that people care enough, plus I like conspiracies. So I'm not going to say yes or no, how about that? I'll leave it open.



Written or Contributed by Angela Jones & Jeremy Shane
---
READ THIS ARTICLE ON THE FRONT PAGE, HUMANS!
| | |
| --- | --- |
| | Staff Writer |
by xaraan » Wed Jul 24, 2013 2:10 pm

Also, I have to say, Matt is a pretty cool guy. Great to talk with and just nice.

We asked him to sign our Mind MGMT HC and he did a sketch too, which was awesome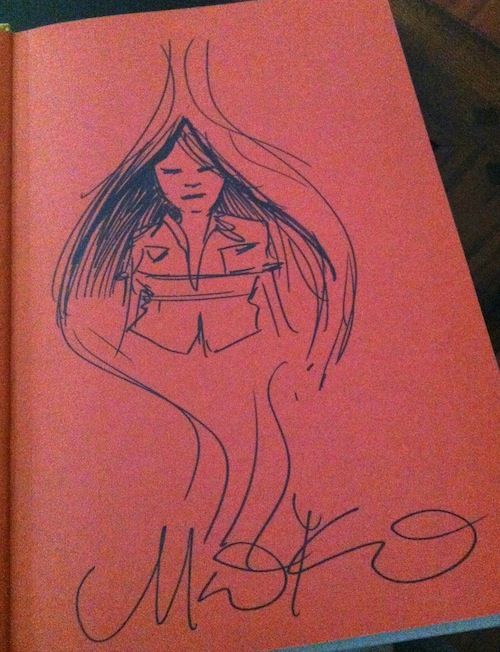 A lot of the creators are pretty cool. David Petersen did the same thing when I asked him to sign Black Axe. And all the guys from Elephantmen did drawings in all the trades I bought from them as well when I just asked them to sign one of them.

Pretty cool when you see how crazy and busy SDCC is.
leave a comment with facebook
---
2 posts • Page 1 of 1
Who is online
Users browsing this forum: Glaeken, LiamA and 51 guests