Advertisement

---
| | |
| --- | --- |
| | Rain Partier |
by LOLtron » Wed Aug 07, 2013 1:07 pm
Yea, so RU messed up last week. But, its all good, we get two books this week!
---
Source: non
I dont want to talk about it
TO THE REVIEWS!
Burn The Orphanage Born To Lose #1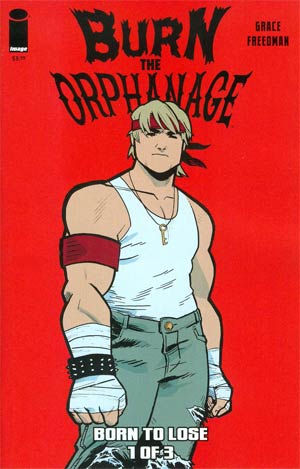 Manufacturer/Publisher: Image (Release Date: 8/7/2013)
Writer: Daniel Freedman, Sina Grace • Artist: Sina Grace
A young orphan named Rock was left for dead, now he's out for revenge! With partners Lex and Bear by his side, our hero will find out who burned his home and family to the ground. If that means taking on every goon, punk, and topless stripper ninja in the city... then so be it. PART ONE OF THE BORN TO LOSE TRILOGY!
digital copy availible here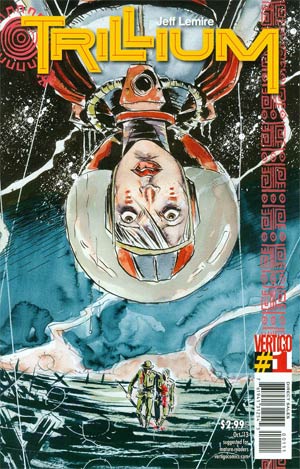 Writer/Artist: Jeff Lemire
It's the year 3797, and botanist Nika Temsmith is researching a strange species on a remote science station near the outermost rim of colonized space. It's the year 1921, and renowned English explorer William Pike leads an expedition into the dense jungles of Peru in search of the fabled 'Lost Temple of the Incas,' an elusive sanctuary said to have strange healing properties. Two disparate souls separated by thousands of years and hundreds of millions of miles. Yet they will fall in love and, as a result, bring about the end of the universe. Even though reality is unraveling all around them, nothing can pull them apart. This isn't just a love story; It's the LAST love story ever told. Trillium is an 8-issue series that combines rich historical adventure and mind-bending science fiction into a sprawling, unconventional love story by Jeff Lemire (SWEET TOOTH, CONSTANTINE, ANIMAL MAN). This amazing miniseries kicks off with 28-pages of story in a flip-book with two covers and two separate but connected stories!
digital copy availible here
______________________
Ze rules:
Post your review in the forum thread or in the comments section here on the front page.
Review as often or as little as you like. Once you've posted 5 reviews, you will be awarded 1 pick. You can post 5 reviews, right? That's a totally achievable goal and with day and date digital releases becoming the standard, it shouldn't matter if your shop ordered enough copies of this weeks comic or not.
When multiple Review Groupers have posted 5 (or more) qualifying reviews, they will be awarded their pick in the order that they qualified. What constitutes a qualifying review? Any review posted (with a score on a scale from 0-10, that's right 0!) within 1 calendar month of the thread going live. Reviews are to be at least 5 sentences long. It shows that a) you have at least read this week's pick and b) you have some unique insight into the comic.
Reviews posted while waiting in line for your pick will be applied to your next pick.
I'll be keeping track of everyone's progress with the newly christened Spreadsheet of Fantastic (RIP, Spreadsheet of Doom) and reporting the results in the Current Members list in the weekly OP. When it's your turn to make a pick, I will PM you. If you do not respond to me by Midnight EST the following Sunday, you will lose your pick and I will start a poll to determine that week's selection.
Any week in which we do not have a Review Grouper with 5 qualifying picks, we will determine the week's comic via poll.
If it's your week to pick, remember to keep it under $3.99.
Current Members List
5 Reviews
4 Reviews
3 Reviews
2 Reviews
1 Review
PhoenixEquinox


@dace1314
Amoebas
bkthompson
Grayson



Eli Katz
ElijahSnowFan
GiveWarAChance
Jude Terror
Ntikrst
Punchy




doombug
GHERU
guitarsmashley
SilverPhoenix
Sunless
Victorian Squid

Amlah
BlueStreak
GLX
HNutz
john lewis hawk
Jubilee
legoroni
Keb
Midas
nietoperz
Stephen Day
TimDrake'sDumbWings




Written or Contributed by GHERU
---
READ THIS ARTICLE ON THE FRONT PAGE, HUMANS!
| | |
| --- | --- |
| | Outhouse Editor |
by thefourthman » Thu Aug 08, 2013 8:41 am

I will try to review Lillium when I get my books tomorrow (I am off this weekend, it should be easy)... since next week is a lite week, if I see the other, I will pick it up too...
| | |
| --- | --- |
| | Staff Writer |
by Punchy » Thu Aug 08, 2013 11:43 am

Not content with writing half of DC's superhero comics (Matt Kindt is doing the other half, 'natch), Jeff Lemire returns to creator-owned work with this exciting new mini-series. I'm a big fan of Lemire's writing in general, and when he's doing the art as well… I like it even more, especially when it's as good a package as this.

It's hard to really say what Trillium is about at this point, it's been marketed as an epic love story, but the two central characters only meet at the end (or the middle), so what we really have is an insane sci-fi story that spans millennia. That's interesting enough on it's own, but the way Lemire tells it makes it even better. This first issue is split into two stories, and is in flip-book style. You read one story, then flip the comic upside down and read the other one. It's not clear which story you are meant to read first, and I don't think it matters.
I personally read the story of William first, which probably makes me sexist (This could be a great barometer to weed out sexism from comics fans, people who read the man's story first are SEXIST, and people who read the woman's story first are FEMINIST and that's that. I'm joking, but I wouldn't be surprised if some people actually thought this way). William is a British WWI veteran who is leading an expedition deep into the heart of the Amazon to find a secret temple and loot it for treasure. His party is attacked by a tribe of 'savages' and he runs off, coming face to face with… a female astronaut?

You find out who this woman is by reading the second story. She is Nika, a scientist who is trying to broker peace with an alien race in order to access a plant that could help protect the dying Human race from a virus that is sweeping the galaxy. She visits the aliens, eats one of these plants (they are the titular Trillium) and trips the fuck out. She goes into the temple, comes out the other side and meets, you guessed it, William.

I think it actually works better if you read the William story first, as it means the sci-fi stuff comes as more of a surprise, but as I said, it could work either way. It's a unique way of telling a story, and for me, it works really well. It will be interesting to see how this book carries on from here, will Lemire continue to experiment like this? Or now that William and Nika have met, will things be a bit more conventional? I doubt it, Lemire's previous Vertigo series, Sweet Tooth, was never afraid to mix things up. I'm already excited to see where this story goes, how are the Amazonian tribe connected to the Alien tribe? How did Nika travel to 1921 from 3797? This story is already weird, and it's only going to get weirder.

I said before that I like Lemire's work even better when he pulls double-duty, and that's definitely true here, the art here looks fantastic, and I found it interesting how often he used 12-panel grids here. It's rare to get comics that use so many panels on a page these days, but it was very effective, especially when he deviates from the pattern. I suppose it was necessary, Lemire has 28 pages to tell two stories here, but out of necessity, comes greatness. Yeah, I said it, unless things get seriously off the rails, this story is going to be great. Vertigo is back, bitches! Ahem.



9/10
| | |
| --- | --- |
| | Outhouse Drafter |
by Grayson » Thu Aug 08, 2013 2:32 pm

To be completely honest, I really didn't know what to expect when I purchased Trillium. All I knew is that is was by Jeff Lemire and that it was a nuVertigo title spanning 2 entirely different eras. So with that little bit of information I sat down to read the first issue and was taken on a very unexpected ride. Unlike Punchy, I was completely unaware that there were literally 2 sides to this story. It was the first book in my stack this week, so I just picked it up and dove right in. It started as a pretty standard sci-fi story.

Nika Temsmith is aboard a spaceship, watching recorded footage of an exploration team discovering a rare plant on an alien world. The exploration team in attacked and the footage ends. Quickly we discover that Nika is now exploring that same alien world, making peace with the natives and establishing a routine in an attempt to gain access to the plant that is necessary to the survival of the human race...oh and she just just been given the ridiculous time limit of one week to accomplish this task. When she meets with the natives again, her routine is completely upended and she is completely unprepared for what happens next. I know the feeling because I was completely unprepared for what came next.

Instead of continuing the story on the next page, I was slightly disorientated to discover that the story that I was currently reading was literally flipped upside down. Gone was the story of Nika Temsmith and alien worlds. In it's place was the story of William Pike. A man suffering from PTSD after the first World War and a man obsessed with finding the lost temple of the Incas. How these two star-crossed individuals path's intersect is truly a trippy and intriguing journey that is thrilling as it is told from 2 completely different perspectives.

One facet of Jeff Lemire's talent is not outdone by another in this book, as Lemire is clearly firing on all cylinders. The art is beautiful and absolutely compliments the amazing story that he is trying to tell. By the end of both stories I was absolutely hooked.



10/10
| | |
| --- | --- |
| | Staff Writer |
by Punchy » Thu Aug 08, 2013 2:45 pm

Good to know that Grayson is a FEMINIST.
| | |
| --- | --- |
| | Outhouse Drafter |
by Grayson » Thu Aug 08, 2013 2:48 pm
Punchy wrote:Good to know that Grayson is a FEMINIST.


In the sense that I don't flip my comics over before I read them.
| | |
| --- | --- |
| | Staff Writer |
by Punchy » Thu Aug 08, 2013 2:58 pm
Grayson wrote:

In the sense that I don't flip my comics over before I read them.


My comic shop put William's story facing front... my shop is SEXIST.
| | |
| --- | --- |
| | Outhouse Drafter |
by Grayson » Thu Aug 08, 2013 3:04 pm
Punchy wrote:My comic shop put William's story facing front... my shop is SEXIST.


Sexist sons a bitches.
| | |
| --- | --- |
| | Outhouse Editor |
by thefourthman » Fri Aug 09, 2013 4:40 pm

I bought both books! I will chime in as soon as possible.
| | |
| --- | --- |
| | Wrasslin' Fan |
by Stephen Day » Sat Aug 10, 2013 7:33 pm

Trillium #1



This was a really great and unique beginning to this limited series. Both Nika and William are characters that I want to see more of. I do believe it's going to be fun to see just what happens with their realtionship.

After this issue there are all kinds of questions and I can't wait to see how they are answered. What is up with the Atabithi? Why do they have a time portal to Earth in the interwar period between WWI and WWII? What are they going to do with it? There are so many more questions other than these ones.

A good start that nets Trillium #1 a 9 out of 10.
| | |
| --- | --- |
| | Regular-Sized Poster |
by guitarsmashley » Mon Aug 12, 2013 3:46 pm

I like Jeff Lemire. It's why I really need to finish sweet tooth one of these days and why Animal Man is very high on my things to read of the nu52. This is a great first issue and I can't really describe what was so great about it but well it was great. You have two well introduced and executed 14 page stories that are interesting and compelling. I'm hoping the next issues focus less on how the door way works and more just developing both worlds and just gorgeous coloring. The coloring of this book is just breathtaking.

9.9
| | |
| --- | --- |
| | Outhouse Editor |
by thefourthman » Mon Aug 12, 2013 7:07 pm

I got to give Trilium another read... back problems and um, an avengers review have kept me from being productive with that, will try to get it up tomorrow and orphanage soon after.
| | |
| --- | --- |
| | Rain Partier |
by GHERU » Mon Aug 12, 2013 10:12 pm

Grayson's pick for next week Saga 13
| | |
| --- | --- |
| | Whale Castrato |
by glasgowceltic » Wed Aug 14, 2013 9:13 am

Trillium #1



Two seemingly disparate stories seperated by centures and galaxies converge at the centre with the two main characters bumping into one another. Nikita's story opens by telling us that humanity is facing extinction at the hands of a sentient virus. The only chance of saving humanity lies with getting access to a flower called Trillium from an alien tribe. She meets a tribe, doesn't understand them, eats the flower, trips balls, the leader of the aliens kills itself, she walks up through a temple and finds herself on 20th century Earth. Shit! Williams side is less alien to us, a WWI veteran haunted by his memories of war, in search of an ancient Aztec temple, he finds it after his team has been slaughtered and there is Nikita. There's enough here to have you buying issue #2 right off the bat. Its an interesting, inventive, cryptic opening gambit. I'm not an enormous fan of Lemire's artwork generally but I think this book look stunning, so top marks on that point.
Here's the thing that stands out for me though and really makes Trillium something that I'm excited to keep reading: Trillium is advertised as a love story, not a story about time travel or saving the world or anything like that. The focus doesn't seem like its going to be on explaining all the questions we want to know the answer to after issue #1. It feels like this is all context and backdrop for a story that is focused on something 'bigger' than all these questions, and that makes me excited for #2.

9/10

Edit: I am not a sexist.
leave a comment with facebook
---
Who is online
Users browsing this forum: No registered users and 35 guests