Advertisement

---
| | |
| --- | --- |
| | Rain Partier |
by LOLtron » Sat Feb 15, 2014 8:41 am
'Icy France' or 'Don't Mess With A Minotaur'
---
Source: Newsarama previews

The DC solicit:
The last time the First Born came for Olympus, it took the death of the God of War to stop him. And if Wonder Woman is now the God of War…and if the First Born is more determined than ever to claim his birthright…then things are about to get VERY violent indeed !

Written by: Brian Azzarello
Art by: Cliff Chiang, Goran Suzuka
Cover by: Cliff Chiang
1:25 Steampunk Variant cover by: J.G. Jones
$2.99 (US)
32 pages
On sale: February 19, 2014




Written or Contributed by IvCNuB4
---
READ THIS ARTICLE ON THE FRONT PAGE, HUMANS!
| | |
| --- | --- |
| | Regular-Sized Poster |
by Draco x » Sat Feb 15, 2014 11:32 pm

This take on the Minotaur reminds me of the one from Immortal.
| | |
| --- | --- |
| | Staff Writer |
by IvCNuB4 » Fri Feb 21, 2014 8:33 pm

Lots of action this issue including the First Born/Apollo showdown that ends in .. let's say .. a bang !
| | |
| --- | --- |
| | Wrasslin' Fan |
by syxxpakk » Fri Feb 21, 2014 11:40 pm

That ending... Moment of the Week, IMO.
| | |
| --- | --- |
| | Staff Writer |
by Punchy » Sun Feb 23, 2014 3:04 pm

If you thought last month's issue of Wonder Woman picked up the pace a lot, then this one will blow your mind. After quite a few slow issues, some big stuff went down here, and it was literally explosive. Azzarello's run has been very good throughout, but issues like these, where simmering plotlines finally come to the boil are what makes it so special.

There's 2 main stories in this issue, and both of them reach big turning points before coming together right at the end. I'll start with our main character, Wonder Woman, as she, along with Hera, Hermes and Artemis are on the hunt for the missing Zola. They track her to the London Underground, where Artemis figures out that she is with Dionysus, as he's left a tiny piece of his fox's tail behind with him. Is it bad for me to admit that I hadn't even noticed that Dio had a tail until now? Sometimes I miss stuff like that, I need to pay closer attention. Dio and Zola are of course in Provence, and about to be attacked by Cassandra's Minotaur who comes charging right at them. At first, it looks like Dio has a chance in this fight, as apparently his powers extend to some amount of reality bending. I suppose that makes sense, when you drink too much your perception of reality changes, so the god of inebriation having control of that is cool. I just love the way Azzarello reinterprets the Greek Gods, and this may be one of his best yet. Dionysus has the Minotaur tied up in some vines, but the beast easily rips them up knocks the God out.

The Minotaur drags Dio back to Cassandra, his mission complete, but it's at this point that Wonder Woman et al arrive to try and stop Cassandra and fight her Jackal Men. This fight is too short, but it's short for a reason, as Cassandra decides that she doesn't care about just leaving the Jackal Men behind, they are expendable, she can grow more. It's a great little touch that shows just how despicable a villain she is, and the art seems to hint that this lack of compassion for her underlings could eventually be her undoing, as the Minotaur doesn't look happy about it. Wonder Woman flies up and grabs on to the bottom of the aircraft, hitching a ride to Olympus.

But as it turns out, Olympus might be the one place you don't want to go right now, as Apollo and the First Born are in the midst of a heated battle. And I do mean heated. This fight was awesome, with Apollo just repeatedly blasting First Born with fire, burning his body to a crisp, but the First Born just keeps on fighting, his anger is more powerful than any flame. Those 3 or 4 issues of slightly repetitive torture all feel worth it now, as First Born gets his revenge, and this truly was a clash of the titans. The fight ends just as Cassandra's ship arrives at Olympus, with Apollo at First Born's mercy. In a last ditch attempt to save himself, Apollo explodes, and the entire skyscraper/mount with him. It's going to be very exciting to see the fall-out from this explosion, and which characters have survived it. Obviously, Wonder Woman isn't going to be dead, but plenty of others could be. Suffice to say, the world in Wonder Woman #29 will look a lot different than this issue.

Cliff Chiang's art was spectacular as ever, he and Azzarello are just perfectly in sync at this point. I loved the fight between Apollo and First Born, it was just so epic, and you have to say, a lot of the credit for that should also go to Matthew Wilson, the colourist. The contrast between the bright yellow Apollo and the coal-black First Born was great. It was interesting to see that regular fill-in artist Goran Sudzuka provided the lay-outs for several pages in this issue. I think this is a good move, his style is similar to Chiang's, and the art didn't suffer a jot, so maybe this will allow for Chiang to do more issues in a row without needing a full fill-in? That would be brilliant.
| | |
| --- | --- |
| | Staff Writer |
by IvCNuB4 » Sun Feb 23, 2014 4:35 pm
Punchy wrote: Wonder Woman flies up and grabs on to the bottom of the aircraft, hitching a ride to Olympus.



That panel reminded me of this scene from the TV show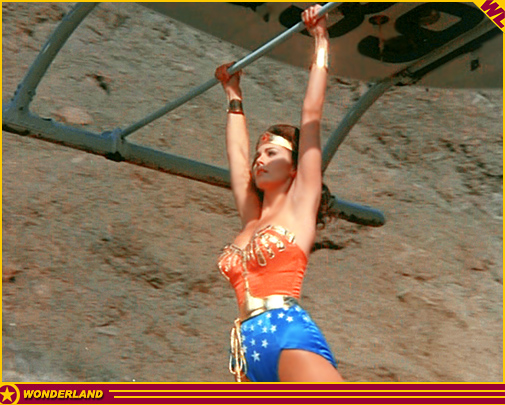 leave a comment with facebook
---
6 posts • Page 1 of 1
Who is online
Users browsing this forum: No registered users and 8 guests