Advertisement

---
| | |
| --- | --- |
| | 2k11 Outhouse People's Champion |
by sdsichero » Thu Jan 23, 2014 7:30 pm

I think soon we should start a Star Wars Rebels thread...

Snippet from an interview with Simon Kinberg, executive producer on the upcoming animated show.

'Star Wars Rebels' interview: New series goes to dark places, embraces 1977 film's spirit


That's fantastic. What about story-telling differences? How dark can you go on Disney XD?

We haven't talked in those terms. But the world we're creating is an Imperial world. You're seeing the impact of the Empire, of stormtroopers around the galaxy, abusing and oppressing people. Thematically and politically, it goes to some dark places. But for the tone of the show we took our cues from the original movies, which had fun and adventure and swashbuckling with emotion and grounded human characters. We took all our cues from the original films. Obviously there are slight tonal differences between New Hope, Empire and Jedi. But I think the closest intended voice of the show is A New Hope. So there are places where we get into darker backstories, there are places we see how cruel and malevolent the Empire can be, but for the most part it's a fun and character-driven story. Again taking our cues from the original films, it's less maybe political than the prequels and more personal. It starts with a few character introductions that will precede the show. I wrote the first two episodes, they're like a one-hour story across two episodes where we introduce the main characters in the show.
Will you include characters from the expanded universes, like Admiral Thrawn, or just the films and your own creations?

We have characters from all the different parts of the universe. One of the awesome resources is Pablo Hidalgo he's the resident Star Wars genius and he knows everything of every possible word or image that was created for Star Wars. So we utilize him a lot and he's very integrated into the process. He will say there's a cool cantina in this comic book from 1994, or a cool creature that not all of us know. He will bring that stuff to us. Or we'll task him we're trying to create a muscle for this villain with a cool backstory. Sometimes it will be a character or a planet we don't know about. Instead of being just an Easter egg, sometimes it will turn into an a whole episode.
Is Darth Vader and the Emperor in the show? And if so is any possibility of the original voice talent being used?

I don't think I'm allowed to answer that. I can say that wherever possible we would want to use the original talent.
| | |
| --- | --- |
| | 2k11 Outhouse People's Champion |
by sdsichero » Fri Feb 14, 2014 4:28 pm

Since we don't have a Rebels thread yet...

First Look: A New Recruit for Star Wars Rebels


When we meet Ezra, he has little interest in becoming a revolutionary. The suave teen has been living on his own on the planet Lothal and is just starting to learn how to use his mysterious new powers. "To survive, instinctively every now and then when he's in a jam he uses the Force," exec producer Dave Filoni says in the exclusive preview video below. "He doesn't call it that. He doesn't know that's what he's doing. He thinks he's got some abilities that are a little strange every now and then, but they help him out. It's instinctive, it's reactionary."

As Darth Vader and Co. begin to expand their grip on the Outer Rim, Ezra will be drawn into the burgeoning rebel alliance. "With Ezra we see how a kid is reacting to this imperial rule," Filoni tells TV Guide Magazine. "That becomes a big question: What is imperial rule like? We've seen it in the movies with a big rebellion that ends up blowing up the Death Star, but do we just assume that when the Empire took over in Revenge of the Sith it was seen as a bad thing? I would challenge that. It wasn't this terrible thing that came in and was cruel to everyone all at once. It was slow to build its power base and spread out, and then we get to see the rebel alliance it affects, and the repercussions of that tyranny."

Ezra is played by Taylor Gray, who starred in the Nickelodeon series Bucket & Skinner's Epic Adventures.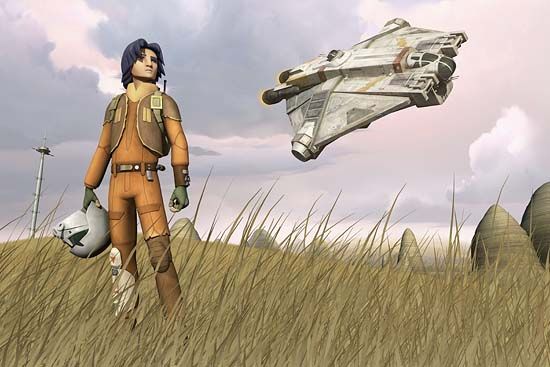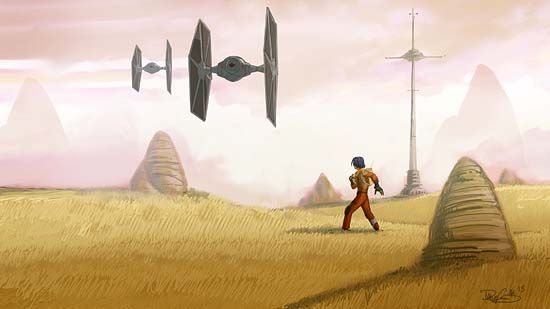 Can't embed the video since it is not an approved provider so...
http://www.tvguide.com/News/Star-Wars-Rebels-Ezra-1077773.aspx#ooid=tybXduazoEjhoeULhLM8UHujZI8co_n1
| | |
| --- | --- |
| | Bond Hengbu |
by Bond Hengbu » Fri Feb 14, 2014 4:29 pm

Ezra looks fun.
| | |
| --- | --- |
| | 2k11 Outhouse People's Champion |
by sdsichero » Sun Feb 16, 2014 4:55 am
New STAR WARS REBELS Characters, Details Revealed at Toy Fair 2014
The New York Toy Fair 2014 has officially kicked off, thanks to a Hasbro preview event that had plenty to reveal. While we'll have more from the event soon, including Transformers, Marvel, and much more from the Star Wars line, today I had to rush home to tell you about the new Star Wars Rebels toys, which reveal new characters.


More pics at the link
| | |
| --- | --- |
| | Bond Hengbu |
by Bond Hengbu » Sun Feb 16, 2014 11:07 am

Star Wars Rebels: Chainsawsaber Unleashed!!!!!!!!!!!!!!



| | |
| --- | --- |
| | 2k11 Outhouse People's Champion |
by sdsichero » Mon Feb 17, 2014 11:00 am

Rebels "Spark" teaser


| | |
| --- | --- |
| | Bond Hengbu |
by Bond Hengbu » Mon Feb 17, 2014 11:59 am

Too bad we had not seen more of the twilek chick.
| | |
| --- | --- |
| | 2k11 Outhouse People's Champion |
by sdsichero » Fri Feb 21, 2014 1:17 pm

The Rebel Alliance Adds Another Weekend to Star Wars Weekends 2014 in Response to a Decree Issued by the Evil Sith, Emperor Palpatine

When the Rebel Alliance secretly learned of the Emperor's plans from a hidden message decoded from an astromech droid, they decided to extend the galactic gala one more weekend in 2014.


In order to convince more guests to join the Rebellion, a 5th weekend is now being added to Star Wars Weekends 2014. The new event dates are every Friday, Saturday and Sunday from May 16-June 15, 2014. The theme for this year's event is, appropriately, "Join the Rebellion."

• Weekend I: May 16 – 18, 2014
• Weekend II: May 23 – 25, 2014
• Weekend III: May 30 – June 1, 2014
• Weekend IV: June 6 – 8, 2014
• Weekend V: June 13 – 15, 2014
| | |
| --- | --- |
| | Bond Hengbu |
by Bond Hengbu » Tue Mar 04, 2014 5:33 pm

Rosh Penin should be in this.
| | |
| --- | --- |
| | 2k11 Outhouse People's Champion |
by sdsichero » Thu Mar 13, 2014 5:19 pm

Weird, might be my memory, I don't remember it being officially canceled.

Ron Moore Discusses Working on the Live-Action Star Wars Series


Remember that old live-action Star Wars TV show we were promised before Disney bought the rights to the franchise? The one that was supposed to take place between Episodes III and IV? Well, that project never came to fruition, sadly -- at least not the "live-action" part.

However, Battlestar Galactica's Ronald D. Moore recently revealed that he once lost an argument to George Lucas while he was working on the never-produced show. As Moore explained in an interview on

Last Call with Carson Daily

(via

Blastr

):

"I did, for a bit of time, work on what was going to be a Star Wars live-action series," he said. "We'd go gather at Skywalker Ranch periodically, every couple of months, and break stories and write scripts for this proposed series that George was interested in."


More at the links
| | |
| --- | --- |
| | 2k11 Outhouse People's Champion |
by sdsichero » Thu Mar 13, 2014 10:37 pm

Title would be funnier if it wasn't supposed to be German.


A German EWOKS 'Caravan of Courage' movie poster from, 1984. pic.twitter.com/TFV7MiyXTa

— will mccrabb (@mccrabb_will) March 14, 2014
leave a comment with facebook
---
Who is online
Users browsing this forum: Google [Bot] and 33 guests