Advertisement

---
| | |
| --- | --- |
| | Outhouse Editor |
by GLX » Wed Feb 26, 2014 12:12 pm


This week's pick...


• Years ago, Gideon Mace murdered Ava Ayala's family.

• Ava Ayala is the White Tiger. She channels the power of an ancient god of terror and bloodlust. And she just gave it full control.

• Pray for Gideon Mace.


Digital copy can be found here.

Ze rules:

Post your review in the forum thread or in the comments section here on the front page.

Review as often or as little as you like. Once you've posted 5 reviews, you will be awarded 1 pick. You can post 5 reviews, right? That's a totally achievable goal and with day and date digital releases becoming the standard, it shouldn't matter if your shop ordered enough copies of this weeks comic or not.

When multiple Review Groupers have posted 5 (or more) qualifying reviews, they will be awarded their pick in the order that they qualified. What constitutes a qualifying review? Any review posted (with a score on a scale from 0-10, that's right 0!) within 1 calendar month of the thread going live. Reviews are to be at least 5 sentences long. It shows that a) you have at least read this week's pick and b) you have some unique insight into the comic.

Reviews posted while waiting in line for your pick will be applied to your next pick.

I'll be keeping track of everyone's progress with the newly christened Spreadsheet of Fantastic (RIP, Spreadsheet of Doom) and reporting the results in the Current Members list in the weekly OP. When it's your turn to make a pick, I will PM you. If you do not respond to me by Midnight EST the following Sunday, you will lose your pick and I will start a poll to determine that week's selection.

Any week in which we do not have a Review Grouper with 5 qualifying picks, we will determine the week's comic via poll.

If it's your week to pick, remember to keep it under $3.99.

Member list:

5 Reviews
Amoebas
GHERU

4 Reviews

3 Reviews
Grayson
guitarsmashley

2 Reviews
HNutz
Stephen Day

1 Review
David Bird (10/30)
Punchy
The Beast
| | |
| --- | --- |
| | Son of Stein |
by Amoebas » Wed Feb 26, 2014 12:41 pm

GLX asks and...

A few good and tempting books for next week (Forever Evil #6, Afterlife with Archie #4, Saviors #3, Trillium #7) but instead I'll go with the best book out next week...

Swamp Thing #29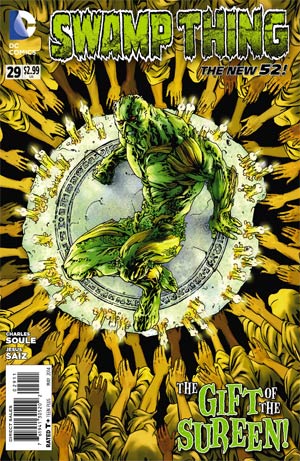 | | |
| --- | --- |
| | Outhouse Editor |
by GLX » Wed Feb 26, 2014 12:43 pm
SWAMP THING #29
Written by CHARLES SOULE
Art and cover by JESUS SAIZ
On sale MARCH 5 • 32 pg, FC, $2.99 US • RATED T+
The three-part "Gift of the Sureen" arrives to usher in major changes to The Green! Alec Holland begins his journey across the globe in search of the truth behind an incredible offer from the mysterious cult known as the Sureen!
| | |
| --- | --- |
| | Wrasslin' Fan |
by Stephen Day » Thu Feb 27, 2014 11:33 pm
Amoebas wrote:GLX asks and...

A few good and tempting books for next week (Forever Evil #6, Afterlife with Archie #4, Saviors #3, Trillium #7) but instead I'll go with the best book out next week...

Swamp Thing #29


Excellent choice.
| | |
| --- | --- |
| | Staff Writer |
by Punchy » Sat Mar 01, 2014 11:32 am

People (and I include myself in this) complain about there being too many Avengers titles, but I actually really don't think they should. Just because comics share a name, doesn't mean they are that similar. I read 2 comics with the A-word in the title this week, and they were very, very different. The first was a sci-fi epic where the planet was actually destroyed, and the second, this issue of Mighty, was a street-level title where the heroes went up against real-life issues and legality. They really couldn't be more different, and that's awesome. It's more important to have diversity inside the cover, than on it. If this book was called 'Heroes For Hire', it wouldn't have much chance of success, so I don't mind the title one bit.

With this issue, Al Ewing narrows down the focus to White Tiger, who, after hearing that Gideon Mace, the man who killed her parents is out of prison gives in to the White Tiger spirit inside of herself, and goes on the hunt. Falcon overhears this on the comm-link, and so the rest of the Mighty Avengers head out to try and stop her from killing Mace and doing something she'll regret for the rest of her life. But they don't have much luck, as she basically kicks their ass. With the White Tiger spirit in control, she is able to easily out-fight both Power Man and Iron Fist. When you can beat Iron Fist in a kung-fu fight, you're one bad-ass spirit.

Meanwhile, Luke, Falcon and She-Hulk (in her Jen Walters form, which surprised me, from her solo title, it looked like she was all-green, all the time these days) are in Mace's headquarters (the former Josie's Bar, which is a nice touch, I guess with Daredevil moving to San Francisco, another book is entitled to use it) which has some suspiciously Nordic imagery on the walls. But unfortunately for the Avengers, it's all legal (the evidence of one of Falcon's bird friends is not admissible, what, is Ewing bird-phobic or something? This is an out-rage!), and if White Tiger does attack, she'll be the one at fault, and if she kills Mace, it could be the end of this fledgling team.

Of course, it's not long before she arrives, smashing right through the window, which is just kind of proof that this building is cursed. Even though it's no longer a bar and Daredevil is gone, the window is still getting broken. White Tiger continues to prove what a total bad-ass the spirit is, by easily dispatching her fellow Avengers, and even managing to scratch Luke Cage's unbreakable skin. But she's not too smart it seems, as she dives head-first at Mace… only it isn't Mace, it's a trick of the light from Spectrum, who zaps her, full force. So it looks like our heroes have won, sort of, even if they did so by protecting a villainous, racist creep. But there's one more sting in the tail, as just as soon as White Tiger is knocked out, the Cops arrive, with guns pointed right at the Avengers, and to be honest, they are liable to quite a bit of property damage. The last page was very interesting indeed, as we see the real Mace and his lawyer upstairs, laughing at how they tricked the Avengers, and also revealing that they are being backed by Cortex Inc, the very same company that was after the Inhuman tech in the last story arc. Al Ewing has not just forgotten about that plot, oh no, it looks like it's set to run and run.

This was just another great issue of a really good series, Ewing's sense of humour meshes wonderfully with Valerio Schiti's art style, but when they want to, they can cut loose with some great action. The way White Tiger took out Power Man and Iron Fist was real hard-hitting, and Schiti's pacing and kineticism made that work. Ewing has a large cast, so this issue does see the likes of Blue Marvel and Ronin absent, but that doesn't matter at all, as here White Tiger gets a ton of development and spotlight, and already I care more about her than I ever did before. Ewing is doing a great job at building a team of lesser-known characters here.



8/10
| | |
| --- | --- |
| | Outhouse Editor |
by GLX » Tue Mar 04, 2014 12:45 pm

Tuesday bump.
| | |
| --- | --- |
| | Wrasslin' Fan |
by Stephen Day » Tue Mar 04, 2014 6:24 pm

I liked that this issue focused on Aya. In my opinion, this is one of the strong points of a team book, the ability to develop a comic book company's lesser characters. As a long time reader I also loved the way this issue didn't shy away from, and respected the past. It was great how the events of this issue were tied into the death of the original White Tiger.

The events of this issue were well written. All the characters' actions made sense and there were no glaring plot holes.

7 out of 10
leave a comment with facebook
---
8 posts • Page 1 of 1
Who is online
Users browsing this forum: Google [Bot] and 22 guests