Advertisement

---
| | |
| --- | --- |
| | Outhouse Drafter |
by outsider » Mon Mar 10, 2014 8:21 am

Looking at Troy's most recent (and very cool) sig image: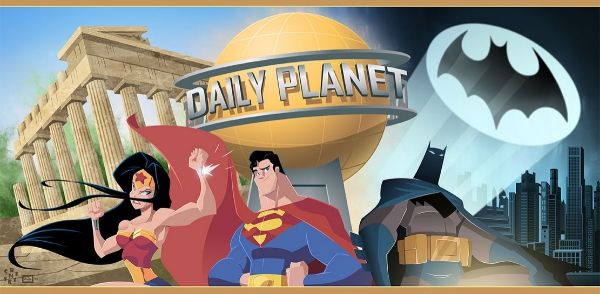 I noticed how Superman has a cool art deco Daily Planet logo and Batman has the Gotham City skyline.
What is in the background of Wonder Woman? Frickin' ruins. Why does Wonder Woman not merit some new & shiny buildings or at least a cool island silhouette? (maybe add the mudflap lady with a palm tree? That's a 'Paradise Island' for sure!)



It's always bugged me how an island of immortals would have stuck with the exact same style of architecture *and* not even bothered to make it look better than the ruins of Man's World. Clearly I've thought too much on this, so I've also come to the realization that the artists/creators over the years that have made this decision. But have they bothered to do their research beyond referencing photo books of ancient Greece? Wouldn't at least one have come across the notion that the ancient Greek structures were more than likely adorned with all kinds of color?


At least Perez mixed it up a bit by adding some MC Escher perspective fun:



I mean, we have an island with purple rays and kangaroos - why do the buildings have to be so antiquated?
| | |
| --- | --- |
| | Outhouse Editor |
by SuperginraiX » Mon Mar 10, 2014 8:40 am

I'm not really a Wonder Woman fan... at all... but I DO like the ancient Greek style of building. Even when I go into a modern building, seeing columns and other Greek inspired devices always classes up the joint.

As for the monotone colors that adorn most modern takes on an ancient style, I'm just gonna go with public perception. The general public isn't aware that most of those ancient buildings and statues were once very colorful. They just see them as they are and assume that's how they always looked. And so that's how we build them now and expect them to look every time someone does a movie on ancient Greece or, say, portrays an island of Amazons.

I also blame the colorist.
| | |
| --- | --- |
| | Rain Partier |
by GHERU » Mon Mar 10, 2014 3:03 pm

though this said Wonder Woman nip pic


I was dissapointed
| | |
| --- | --- |
| | Outhouse Drafter |
by outsider » Tue Mar 11, 2014 7:14 am
GHERU wrote:though this said Wonder Woman nip pic


I was dissapointed

is the best I can do.
leave a comment with facebook
---
4 posts • Page 1 of 1
Who is online
Users browsing this forum: FaceBook [Linkcheck], Google [Bot], HNutz, pastajoe and 54 guests