Advertisement

---
| | |
| --- | --- |
| | Staff Writer |
by Punchy » Mon Apr 24, 2017 8:03 am
| | |
| --- | --- |
| | Staff Writer |
by Punchy » Sun May 14, 2017 6:09 pm
| | |
| --- | --- |
| | Staff Writer |
by Punchy » Mon May 29, 2017 5:52 pm
| | |
| --- | --- |
| | Outhouse Drafter |
by Grayson » Wed Jul 05, 2017 5:31 pm

It's been awhile but I

finally

read something new!






Captain America Steve Rogers Vol. 1: Hail Hydra

- Let me just say up front that I do NOT hate the basic idea behind this series. The idea that one of Cap's greatest foes "wins" by rewriting reality itself to make Steve Rogers a loyal agent of HYDRA is an interesting direction to take. It's everything that comes afterward that I hate. That being said, there's a lot of stuff here that I missed the first time around. The continued use of red throughout all of the flashbacks. The sudden appearance of a character who is supposed to have been such a crucial part of Rogers' developmental years. Cosmic Cube shenanigans. There's a lot going on here and even here, in the early days of this ordeal, there are threads left to pull that could lead to unraveling the entire debacle. It's a good read but it doesn't even come close to touching some of the more traditional and iconic Cap stories.
| | |
| --- | --- |
| | Staff Writer |
by Punchy » Fri Jul 07, 2017 2:29 am
| | |
| --- | --- |
| | Swedish Pinata of Death |
by jephd » Fri Jul 07, 2017 6:02 am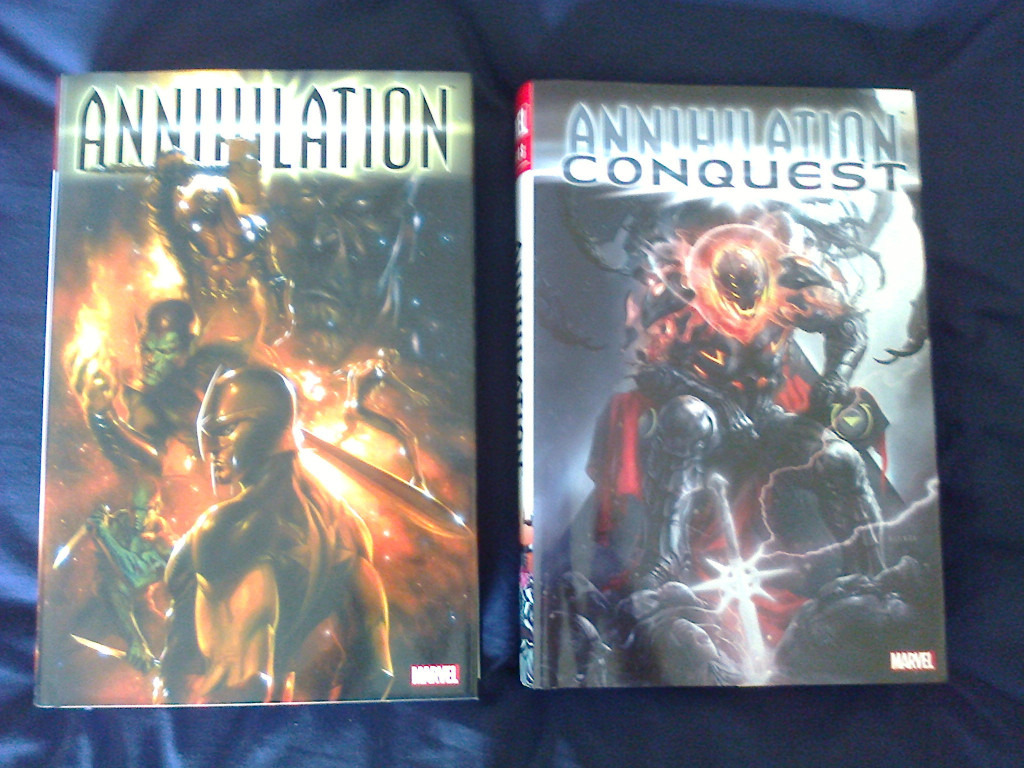 Currently working my way through the annihilation saga. Unfortunately I can't actually lift the bastards cause of my current arm paralysis so I've had to download them!
| | |
| --- | --- |
| | Staff Writer |
by Punchy » Sat Jul 08, 2017 6:20 am
| | |
| --- | --- |
| | Outhouse Drafter |
by Grayson » Sat Jul 08, 2017 2:49 pm




Captain America Steve Rogers Vol. 2: The Trial of Maria Hill

- There are two, very important things that I need to get off my chest right out of the gate. First, I absolutely love the cover to this book. Second, everything else aside, the idea of Maria Hill

finally

getting her comeuppance is an idea that I have been waiting for since New Avengers #4 all the way back in 2005. Words can not even begin to describe how happy I was to see her

walking out of that courtroom with that sourpuss on her face as they found her guilty

.
| | |
| --- | --- |
| | Outhouse Drafter |
by Grayson » Mon Jul 10, 2017 3:24 pm




Invincible Ultimate Collection Vol. 11

- As is usually the case with these Ultimate Collections, once I started reading it, I could not put it down! This entire volume really resonated with me, especially the relationship between Mark and his daughter. The impossible decision that he was faced with at one point was a powerful one and I can't say that I would have made a different decision. In fact, I know that if I were in a similar position, I would have made the exact same decision as Mark. It was great to see these characters again and I can't wait for Volume 12.
| | |
| --- | --- |
| | Outhouse Drafter |
by Grayson » Tue Jul 25, 2017 5:23 pm




Chew Omnivore Edition Vol. 6

- Well that didn't end the way that I was expecting...
...and just when I was coming to terms with the fact that this was the end.
| | |
| --- | --- |
| | Staff Writer |
by Punchy » Sat Jul 29, 2017 5:06 am
| | |
| --- | --- |
| | Rain Partier |
by GiveWarAChance » Mon Sep 04, 2017 4:09 pm

Wayward Deluxe Book Two - I liked this one more than the first book. The art is amazing as usual. This time I enjoyed the story much more. The first five issues focus a lot on Japanese mythology, folklore and culture, much like the first book. There's not a ton of character development this time around, but the story moves at a breakneck speed and is entertaining. The next five issues introduce the main characters father, changes gears and delves into Irish mythology and folklore instead. It's a great change of pace that breathes new life into the series and fleshes out some backstory for the main character. Now I'm thinking about adding this to my pull list, so I don't have to wait a year between hardcovers.
| | |
| --- | --- |
| | Rain Partier |
by GiveWarAChance » Mon Sep 25, 2017 12:31 am

Marvel Masterworks: Daredevil Vol.10 - I have to imagine Daredevil's sales were in the crapper at this point. He's in a new location, San Francisco. He's got a sidekick in Black Widow. Hawkeye, Captain Marvel and Spider-Man show up in Daredevil's book and Daredevil appears in The Avengers. He battles such marvelous villains as The Dark Messiah, Ramrod, Terrex, Stiltman, Angar the Screamer, Kraven the Hunter, and Magneto in the Avengers issue. There's a good seven artists tackling the book as Gene Colan's final three issues are here. On top of all that you have a relatively new writer in Steve Gerber. Still better than most crap Marvel is currently putting out.
| | |
| --- | --- |
| | Staff Writer |
by Punchy » Sat Oct 14, 2017 2:53 pm
leave a comment with facebook
---
Who is online
Users browsing this forum: Amoebas, FaceBook [Linkcheck], Google [Bot] and 54 guests