Thursday, August 25, 2016 • Morning Edition • "Where your childhood dreams don't have to die alone."
Advertisement

---
| | |
| --- | --- |
| | Rain Partier |
by LOLtron » Mon Feb 16, 2009 6:44 am
Well, I've been asked by quite a few folks here to write for the site. The recent one being to produce myreviews that I write for my horror blog and thread onto the front page so decided, sure, why not? So this is for the horror fans and myself as I just have fun watching these things. So for my first "Oh! The Horror!" for Outhouse, I review Henry Selick and Neil Gaiman's masterpiece Coraline.
Henry Selick, the director of The Nightmare Before Christmas, teams upwith book wizard Neil Gaiman to bring us the magical world of Coraline.This stop-motion 3D film will simply blow you away. The simple word"brilliant" comes to when I think back of this movie. Coraline is aboutan 11 year old girl (voiced by Dakota Fanning) who moves into a newhome with her parents who are less than attentive to her. She meets astrange boy by the name of Wybie and a black cat that seems to pop inand out whenever it pleases. She also meets her neighbors, MissForcible and Miss Spink, a pair of retired actors with lovely jumpydogs and maybe dozens of them dead and stuffed on their walls, and Mr.Bobinsky, a blue-skinned acrobat who's also a circus ringmaster ofjumping mice. As Coraline gets bored in the new house in which herparents always being busy never helps, jumping mice begin playingaround in her room late at night which eventually leads her to discovera door to another world. Another world where her mother is a good cookand is happy to see her and her father is a chipper pianist who hashelpful hands coming out of the piano and gardener who makes a gardenresemble Coraline. One strange setback: they have buttons for eyes.Yeesh. At first Coraline is skeptical about this world and goes tosleep after being treated with delicious food and wakes up back intoher world. Confused but at the same time excited, she later visits theworld again and greets her other parents and this magical world withopen arms. But previously before, she was warned by many that she is ingrave danger. But of course, she isn't going to listen. Where's the funin that?

Now I'll admit the story is a little slow at first. But once the story picks up, holy goodness does it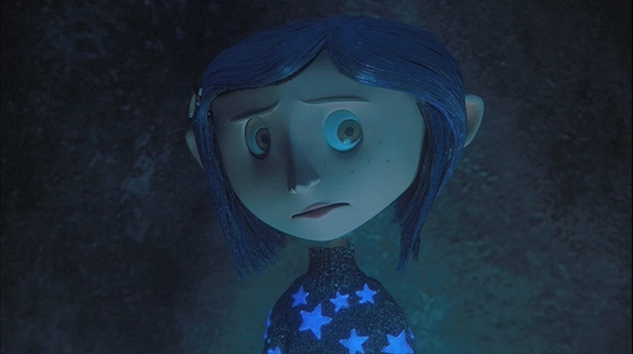 pick up! There comes to a point where Coraline visits the world againwhere it's time for her to be a part of it. This leads to the happy andchipper Other Mother, voiced delightfully by Teri Hatcher, to bringCoraline her own pair of buttons to sew into her eyes. This is wheneverything gets flipped out and even more bizarre than it already was,especially when Coraline sees that she can't wake up back in her realworld. Now Coraline must battle her Other Mother while trying to findher way out of this world and at the same time release the souls ofkids who the Other Mother had trapped previously along with her guide,the black cat voiced by awesome-that-is Keith David. An absolutejoyride is this modern Alice in Wonderland and you will have a blastwatching this. My little sister was asking me to see it when she firstsaw the commercial and I was excited myself given that I love "Gaimanfilms" (still need to finish reading a lot of his books I started andnever finished!) and I love stop-motion animation more than straightCGI. There's just something about stop-motion animation that seems abit more raw and fascinating than straight CGI. And when you see thismovie you'll be amazed of just how much stop-motion has advanced to getwhat we have today for this movie. The visuals were just amazing andenough to keep you hooked. Besides to magical story is wonderfuleye-candy. This is a movie for everyone and their grandmother. Heck,even the music was catchy as all heck and kept you happy and joyfulwhile watching. The song the Other Father played Coraline is stillstuck in my head after two days and I loved the bouncy music that wasplayed when Coraline visited the other Mr. Bobinsky and his jumpingmice. And once again, Hatcher as the Other Mother was superb. For meshe definitely stole the show and added to the creepiness of thisstory. I can definitely see kids being frightened of her but not tooscared that they want to leave the theaters. I think it's great that wecan have such movies like this with so much heart and magic and stillbe a horror movie for the whole family. It put a smile on my face whenthe movie ended and I took off my 3D glasses with my baby sister andshe said to me with glee, "Now that was a horror movie!"



LO3n67BQvh0
leave a comment with facebook
1 post • Page 1 of 1
Who is online
Users browsing this forum: MSNbot Media, Tanuki and 64 guests