Advertisement

---
| | |
| --- | --- |
| | Rain Partier |
by LOLtron » Fri Oct 13, 2006 8:15 am

THE BULLET #1 (of 2)Written by Hermes PiquePencils by Nicolas ColacittiInks by Debra RohlfsColors by Giuseppe PicaLetters by March BusherA wealthy patriarch and his two sons, Arthur and Gabriel von Neumann, buy an antique pistol during a trip to Persia. The seller warns them: the pistol always follows the will of the owner.Decades later Arthur [...]

THE BULLET #1 (of 2)
Written by Hermes Pique
Pencils by Nicolas Colacitti
Inks by Debra Rohlfs
Colors by Giuseppe Pica
Letters by March Busher
A wealthy patriarch and his two sons, Arthur and Gabriel von Neumann, buy an antique pistol during a trip to Persia. The seller warns them: the pistol always follows the will of the owner.

Decades later Arthur is now a father. A war looms close to the family and local authorities want to use their hidden fortune to fund it. Soon a killer arrives at the von Neumann manor, and Arthur's only defense is the pistol he bought long ago. He shoots…

…but the bullet magically stops in mid-air, just inches away from its target. The killer is saved and Arthur is doomed, but the location of the treasure dies with him. Yet, the bullet remains in its place, unmovable, unforgiving, waiting to enact its horrific vengeance at exactly the right moment. No matter how long it takes.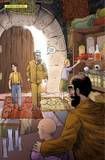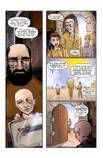 Posted originally: 2006-10-13 13:15:34
leave a comment with facebook
1 post • Page 1 of 1
Who is online
Users browsing this forum: cbikle, Eric Ratcliffe, FaceBook [Linkcheck], Glaeken, Google [Bot] and 30 guests