Advertisement

---
| | |
| --- | --- |
| | Son of Stein |
by Amoebas » Thu Dec 09, 2010 10:38 pm
fieldy snuts wrote:The only reason I cant totally hate on this though is that it's as far as I know the only time Giffen and DeMattias, creators of Booster Gold, did it this time and hit all the right notes.

Booster Gold was created by Dan Jurgens.
| | |
| --- | --- |
| | Rain Partier |
by fieldy snuts » Thu Dec 09, 2010 10:48 pm
Amoebas wrote:Booster Gold was created by Dan Jurgens.


Well now I feel stupid. I was thinking JLI cus of them fleshing out the Booster/Blue Beetle friendship and that came out.

/edits.
| | |
| --- | --- |
| | Garbage Collector |
by God-Man » Fri Dec 10, 2010 2:19 am
fieldy snuts wrote:lmfao am i the only one after 8 pages to do a review?


I gave it a five. I didn't like the story that much, but I've never been much of a fan of the writing team.
| | |
| --- | --- |
| | Son of Stein |
by Amoebas » Fri Dec 10, 2010 6:51 am

I've been traveling and only got home late last night. One stop to a lcs at lunch and mine will be up later today.
| | |
| --- | --- |
| | Rain Partier |
by chap22 » Fri Dec 10, 2010 10:04 am

OK, so here's my first shot at the Review Group:

BOOSTER GOLD 39 -- wherein J.M. DeMatteis reminds me why he's been my single favorite comics writer for going on 30 years

So in a book that's been up to this point all about Booster growing up, accepting a new role, a new outlook on life, herodom, and himself, we finally get to the point where he accepts something else as well, and continues his growth into maturity. Looking back, this book could probably have always been subtitled "Chasing Ted"...that's really been as much what it's been about as anything else. From Booster using that as his quid pro quo request to Rip in exchange for working with him in the first arc, through the entirety of the "Blue & Gold" arc, all the way up to now with Giffen & JMD's run showcasing the classic duo, Booster has been refusing to let his friend go. Whether trying to bring him back or just trying to visit him, Booster may have accepted his death, but he's never really

accepted

his death. And this issue he finally allows himself to find real closure, coming to terms with his grief and the way things are.

And while this is a type of story we've seen in different books with different heroes a thousand times or more, issues like these are still not easy to portray in 4-color comics about guys in spandex who beat the crap out of each other. They just aren't...most writers aren't adept enough at handling emotions and concepts this complex without running headlong into maudlinity or saccharineness or just plain bad writing. JMD, however, is. From his work in Marvel Team-Up and Kraven's Last Hunt through Moonshadow and beyond, he has always shown an ability to convey these types of emotions and really let the reader feel what the character feels, while not falling into the trap of rolleyes elicitation. And while Giffen is of course co-plotter/co-story guy for this stuff, it's JMD as always who handles the actual words (or lack thereof) that makes this issue sing: he knows when to go funny, when to go corny/cliche, and when to just shut up and let the pictures do the talking, all in service to the story he wants to tell. In particular, Booster's final gaze over the city skyline and his moment of grief release at the cemetery are absolute winners. But throughout, we also get supporting cast humor and charcterization, wrap-up of ongoing plots, and introduction/continuation of subplots, reminding us that this is actually an ongoing book with lots of other stuff going on.

And I'd be remiss if I didn't at least mention Batista's art: very clean, very classic superhero stuff, but surprisingly good at conveying the heavy emotional moments in the book as well, selling the gut-punches equally as well as the belly-laughs.

It's not a perfect issue by a long shot, but it is perfectly good at being what it is: enjoyable, well-written, and moving.

Score: 8.5
| | |
| --- | --- |
| | The Red Stands for Irony |
by BlueStreak » Fri Dec 10, 2010 11:27 am

I should have both my review of the issue and the article up tomorrow.

Also, I'm cranking up the pressure to get Darcie to join the Review Group. We average at least one book a month that she goes "Oooo cool!" and she needs the nerd outlet that comics provide.

Plus, I want all of you to suffer if/when she picks a Top Cow title for her pick. WAHAHAHAHAHAHA!
| | |
| --- | --- |
| | Wrasslin' Fan |
by Stephen Day » Fri Dec 10, 2010 6:01 pm

I'm getting my comics tomorrow.

Its going to be a busy weekend, but I'm hoping to have my review in before Sunday night, if not then it'll be done Monday.
| | |
| --- | --- |
| | Rain Partier |
by Garofani Spruzzo » Fri Dec 10, 2010 7:31 pm
GLX wrote:


I like Doc Macabre or The Suicide Forest #1: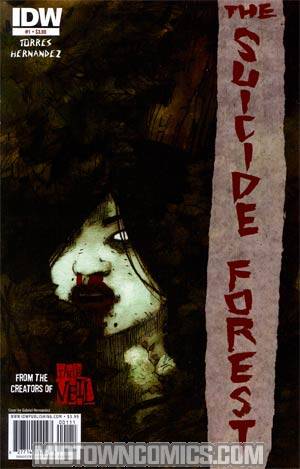 Just outside of Tokyo lies Aokigahara, a vast forest and one of the most beautiful wilderness areas in Japan... which is also the most famous suicide spot in the entire world. Legend has it that the spirits of those many suicides are still roaming-haunting deep in those ancient woods. This series from the creators of the acclaimed The Veil examines the lives of Alan, an average worker from Tokyo and his rather unhealthy relationship with Masami, and Ryoko, a forest ranger who recovers the suicide victim's bodies from the woods. We discover that behind Ryoko's unconcerned surface lies a secret, and these three lives will be forever changed by the darkness waiting for them in the Suicide Forest.
| | |
| --- | --- |
| | Staff Writer |
by SilverPhoenix » Fri Dec 10, 2010 8:42 pm
Victorious Squid wrote:

I like Doc Macabre or The Suicide Forest #1:


Now this has a shot. Doc Macabre much less so. Sorry, I looked at the preview and I just wasn't moved to read the book.

I think the final 5 looks like this.

Avengers Academy #7
Conan: The Road of Kings #1
Black Panther: The Man Without Fear #513
The Suicide Forest #1
Thunderbolts #151

Green Lantern #60 is also eliminated, due to the fact that I would be going into it looking to give it a 1 or a zero. I may be a bit of an asshole at times, but I value fairness, in the same breath. I'm not going to waste my pick on my dislike of Geoff Johns.
| | |
| --- | --- |
| | Son of Stein |
by Amoebas » Fri Dec 10, 2010 10:56 pm

Booster Gold #39
Giffen/DeMatteis/BatistaPerrotta

As good as Booster Gold's original series by Dan Jurgens was, the character never really clicked until Giffen & DeMatteis brought him into the Justice League. From the very onset they made him the buffoon (albeit a buffoon you couldn't help but love). Over the next few months I watched as a the friendship between Michael & Ted Kord grew into a Martin & Lewis like duo (with both of them Lewis thinking they were Martin). If ever there were two 'best friends' in spandex, it was Booster & Beetle - the Blue and the Gold.

Blue Beetle died over 5 years ago, In all those years Booster has been trying to bring him back. Whether it be actual time travel or just a fervent hope that something good will happen and he'll return nothing was ever lasting.

Chap already spelled out what Booster's been doing since the 1st issue of this current series. I don't think there's been an issue to go by without Ted being mentioned or (thanks to time travel, Nekron, etc) seen. In dealing with Ted's death, we've read Booster's denial, his anger, bargaining and depression time and time again.

This issue Giffen & DeMatteis put him through all that and more. For after 'losing it' with a would be anti-hero, at long last, 'accepts' that his friend is not coming back. DeMatteiis is such a strong writer that he doesn't even need the words to portray this (and thankfully Batista's art does the script justice).

In the end I find that this isn't just an issue about Booster coming to terms because in many ways it's about how we the fans need to come to terms about Ted's death. I know I've been waiting for his return (just like Michael) and I suppose I too need to follow the books lead and accept that that ain't gonna happen.

Booster's now in a place where he can move beyond his buddy.

And Ted? His memory is enough.

Story - 9
Art - 7
Bonus point for the Legion Clubhouse - 1

Overall - 8.5
Overall
| | |
| --- | --- |
| | The Red Stands for Irony |
by BlueStreak » Sat Dec 11, 2010 2:17 pm

Booster Gold has long been one of my favorite heroes. When I was a kid, I used to sneak into my dad's comic book collection and read about Booster and Blue Beetle's misadventures in the JLI and loved every moment of it. It remains one of my favorite runs to this day. Fast forward a few years when a slightly older BlueStreak heard about a certain DC Countdown special written by Geoff Johns, who was writing the only DC title that I was reading at the time (albeit in trades), Teen Titans. It was around then that I picked up my first floppy and decided to pick up DC Countdown during a random trip to a comic book store shortly thereafter. My first DC single issue featured the death of Ted Kord, one of my favorite characters. There has to be some irony there.

Anyways, Ted's death revitalized his best friend's "career", so to speak. Booster took center stage in Infinite Crisis and 52 and soon earned his own comic. Over the last three years, Booster Gold has been a consistently enjoyable comic. First Geoff Johns brought Booster's character to the fore, giving him a unique new status quo and supporting cast. Then Dan Jurgens returned to the character he created, bringing us adventures with the Elongated Man (another favorite of mine) and some slightly confusing time travel adventures. When it was announced that Giffen and DiMatteis would return to Booster Gold, I was elated, due to my adoration of the JLI.

What we got was a mixture of good and bad. Having Booster go back in time to have another runaround with Ted, Scott Free and Barda was an inspired idea. Seeing Blue Beetle turn into a chipmunk also caused me a great deal of amusement. However, the past couple of months, Booster Gold just hasn't been doing it for me. Maybe it's the rather directionless arc that the story has been set in. And with a wedding approaching and a Review Group Exchange System in need of funds, Booster Gold found itself on the way off BlueStreak's pull list.

Which brings us to this issue, the do or die issue for Booster Gold. Was it a perfect issue? Absolutely not. The story seemed too brief and it was a touch of melodrama. But at the same time, it hit home in all the right ways. Booster's trip to the past rips open the wounds of the loss of his best friend, a death that had been passed over in the chaos of Infinite Crisis. And even though a final jaunt with the Super-Buddies was fun, it's this issue that really drives the story home. Booster has lost a lot over the last few years, perhaps more than any other hero in the DCU. Booster lost all of his closest friends. Ted, Ralph, Sue, Scott, Barda, and Dimitri are all dead, and unlike the rest of the DC universe, they stayed dead. Giffin and DeMatteis point out the stark truth: Booster's friends aren't coming back.

I don't know if I'll be hanging on to Booster Gold in the near future, but it certainly earned a one-month reprieve. This was a solid comic, especially for fans of the character.

8
| | |
| --- | --- |
| | Regular-Sized Poster |
by guitarsmashley » Sat Dec 11, 2010 3:14 pm

I have a paper to write so I wont be writing my review till monday but when I do, expect a low score because that's what I do.
| | |
| --- | --- |
| | Wrasslin' Fan |
by Stephen Day » Sat Dec 11, 2010 3:26 pm
Stephen Day wrote:I'm getting my comics tomorrow.

Its going to be a busy weekend, but I'm hoping to have my review in before Sunday night, if not then it'll be done Monday.


Well damn, I got to my local comic shop today and they were all sold out of this issue.


Hopefully I can participate next week.
| | |
| --- | --- |
| | Wrasslin' Fan |
by Stephen Day » Sat Dec 11, 2010 3:57 pm
rdrsfn82 wrote:Jude just thinks I fight with him in every thread, when really I only fight with him in one thread.


But its fun watching you two go at it in the wrestling thread.
leave a comment with facebook
---
Who is online
Users browsing this forum: FaceBook [Linkcheck] and 46 guests