Advertisement

---
| | |
| --- | --- |
| | Staff Writer |
by Punchy » Wed Mar 21, 2012 5:17 am


The latest big Spidey epic begins with this issue! It's The Ends Of The Earth!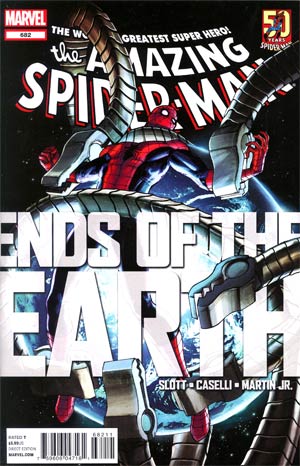 Amazing Spider-Man #682


as selected by The President
BubbaKanoosh has next week's pick
Comics are to be scored on a scale from 1-10. 1 being suck, 10 being a damn good comic. Your review must be at least a paragraph to show you've put some effort in, but beyond that, there's no right or wrong, unless you disagree with me


BubbaKanoosh
BlueStreak
Guitarsmashley
SilverPhoenix
Deadfett
Eli Katz
Ameobas
Punchy
Holland Oats
Jude Terror
Stephen Day
The President/Frag It


Eventually, I will put together all of our reviews and we will have our very own article on the front page of The Outhouse! If you would like for your review to be included, please try to have it posted by the end of day on Tuesday.
| | |
| --- | --- |
| | Staff Writer |
by Punchy » Wed Mar 21, 2012 5:39 am
Week 1: Avengers #19 -

5.5

Week 2: The Infinite #4 -

3.5

Week 3: Flash Gordon: Zeitgeist #1 -

5.58

Week 4: Defenders #4 -

5.58

Week 5: Black Panther: TMDMA #526 -

8.55

Week 6: Amazing Spider-Man #676 -

4.19

Week 7: American Vampire #22 -

9.0

Week 8: Fatale #1 -

7.8

Week 9: Severed #6 -

8.5

Week 10: Hellblazer #287 -

9.0

Week 11: Secret Avengers #21.1 -

6.06

Week 12: Winter Soldier #1 -

8.88

Week 13: Batwoman #6 -

3.88

Week 14: Daredevil #9 -

7.33

Week 15: The Sixth Gun #19 -

8.0

Week 16: Moon Knight #10 -

6.75

Week 17: Hulk #49 -

7.5

Week 18: The Shade #6 -

7.13
| | |
| --- | --- |
| | Wrasslin' Fan |
by Stephen Day » Sat Mar 24, 2012 12:47 pm

I still really don't like Doc Ock current look or personality. Having said that, all of the stuff with the Sinister Six was cool and Dock Ock's plan is evil scientist level fun. I even thought that the new spider armour looked kind of cool.

Overall this comes across as a fun comic to read. It's nothing spectacular or ground breaking, but I don't always want that. This will get a 7 out of 10 from me.
| | |
| --- | --- |
| | Staff Writer |
by Punchy » Sun Mar 25, 2012 3:00 pm

Can somebody do me a favour and PM BubbaKanoosh to tell him it's his pick? He has me on ignore.
| | |
| --- | --- |
| | Regular-Sized Poster |
by guitarsmashley » Sun Mar 25, 2012 5:08 pm

Has he posted a review in forever? Remove go to the next one.
| | |
| --- | --- |
| | Rain Partier |
by bkthomson » Sun Mar 25, 2012 5:10 pm

Its a rip off of Battle Royale.
| | |
| --- | --- |
| | Wrasslin' Fan |
by Stephen Day » Sun Mar 25, 2012 5:11 pm
bkthomson wrote:Its a rip off of Battle Royale.


Well, that was random.
| | |
| --- | --- |
| | Staff Writer |
by Punchy » Mon Mar 26, 2012 4:40 am

Amazing Spider-Man #682 - 'Ends Of The Earth Part One: My World On Fire' - Slott, Caselli and Martin Jr.





Story

- It's that time again, time for Spider-Man to enter event mode! But this is an event that's been growing organically for a long time, Slott has probably been planting seeds for this story ever since his revamp of Doctor Octopus way back in #600, and as a long-time reader of ASM it's exciting to see this stuff pay off, and also, it's exciting to see that in an age where most comic book characters are rather stagnant, see how much Spider-Man has grown under Slott's pen.

This issue serves two purposes really, the first is to kick-start Doctor Octopus and the Secret Six's new master-plan. We've seen the Six hovering around in the background for a while now, and they even took a little tour of the Marvel Universe a few months back, taking on the likes of Iron Man and Avengers Academy. The stage is set for the biggest Secret Six story ever, and on the basis of this issue, it probably will be. They've really stepped up their game, no longer are they robbing banks or museums, no, they're encasing the whole planet in some kind of dome and stopping the planet's rotation. But it's seemingly for a good cause! Doc Ock actually wants to save the world apparently, but he wants to be the one remembered as a hero. We don't see much of the other members of the Secret Six here, but it's clear that they aren't to be messed with, they're on a new level.

Which is why it's a good thing that Spider-Man has also stepped it up a notch. Since the start of the 'Big Time' era, Peter Parker has been working at Horizon Labs, which is basically a super-science Apple, and it's really helped the character to grow and change. The opening scene of this issue shows how Peter is using new technology to fight crime, so when faced with 'Equinox' he has more than just his webs, he has 'Thermoreactive Foam'. I'm not sure why he needed the Green Goblin-inspired 'Spider-Glider' but it looked pretty damn cool, and at the very least, Marvel can do a new action figure and make more money out of it! The next scene shows how all the other technological advances Peter has made in the last few months have had an impact beyond allowing him to punch out the Rocket Racer. Slott has it so that all of Peter's inventions have commercial applications for Horizon and it's cool that it's not just as Spider-Man that Peter is improving the world.

This all pays off when, faced by the Secret Six's evil proclamation, Peter dons a brand new costume, with a piece specifically designed to take down a member of the Six. It's pretty heavy duty, and while it won't last beyond this story, it's a good design from Caselli, and as I said, there's those action figure mega-bucks to think of.

Another thing that demonstrates that Spider-Man really has grown in the last few years is the way he takes charge of the Avengers meeting at the end, he's no longer content to sit in the back of the scene and crack wise, he's taking charge, he's the one saying the famous rallying call. It's a great moment and one that puts a lie to any claim that since One More Day the Spider-Man books have been stuck in the past, this is a forward thinking issue. Yes it's classic villains, but they, and the hero, are fresh and exciting. There's a lot more to come in this arc, and I can't wait.



Art

- Stefano Caselli has been a favourite of mine since Secret Warriors, and he's really been bringing it as a part of the Amazing Spider-Man rotation, I like that his style is both cartoonish and also realistic at times, it's perfect for a character that can veer from comedy to drama inbetween two panels. His work here is among his best yet, I already mentioned that he manages to make the potentially lame new costume actually work, and he does, but he also manages to make the new creepy Doctor Octopus look a lot better than most other artists did. Frank Martin Jr's colours are also fantastic, the use of yellow in the scenes with people dying in the sone was great.



Best Line

- 'Avengers Assemble!'



9/10
| | |
| --- | --- |
| | Regular-Sized Poster |
by guitarsmashley » Tue Mar 27, 2012 9:50 am

Book was alright, Doc Ock design is still dumb looking and the next issue will be spiderman playing the bad guy because he wants to bring down the world saving Doc Ock.

7
| | |
| --- | --- |
| | Regular-Sized Poster |
by guitarsmashley » Tue Mar 27, 2012 10:12 pm

So how about Avengers vs. X-men #0 For tomorrow?
| | |
| --- | --- |
| | Wrasslin' Fan |
by Stephen Day » Tue Mar 27, 2012 10:12 pm
guitarsmashley wrote:So how about Avengers vs. X-men #0 For tomorrow?


You sent Bubba a PM to did you?
| | |
| --- | --- |
| | Regular-Sized Poster |
by guitarsmashley » Tue Mar 27, 2012 11:34 pm
Stephen Day wrote:

You sent Bubba a PM to did you?


Nope. I just took a stab at doing something. Before the group completely folds.
| | |
| --- | --- |
| | Outhouse Editor |
by DeadFett » Tue Mar 27, 2012 11:35 pm

Story


For someone who hasn't read Amazing Spider-Man in a long time I thought this issue did a good job of getting readers up to speed with what has been happening in Peter Parker's life. I'm glad to see the character having success working in a scientific setting at Horizon Labs. That was always one area of his life I felt most writers didn't explore better. I also liked how he's been using his intelligence to make life easier as Spider-Man by inventing stuff that is foe specific. Jonah's appearance here was also great. Glad to see him still be a thorn in Peter's side. Other than that, this felt like any other past issue of an evil plan hatched by the Sinister Six. I really didn't care for what has happened to Doc Ock. I knew he was dying since his appearance in Invincible Iron Man. I found most of the parts with the Sinister Six to be boring. There was nothing here to make me want to pick up the next issue.



Art


The art here was great. I really like the style of Caselli. I would love to see him on a book I enjoy reading.



Story - 3




Art - 8




Overall - 5.5
| | |
| --- | --- |
| | Staff Writer |
by Punchy » Wed Mar 28, 2012 4:51 am
guitarsmashley wrote:
Nope. I just took a stab at doing something. Before the group completely folds.


Bubba already picked it.
leave a comment with facebook
---
14 posts • Page 1 of 1
Who is online
Users browsing this forum: FaceBook [Linkcheck] and 57 guests