Advertisement

---
| | |
| --- | --- |
| | Rain Partier |
by Doc Jon » Wed May 07, 2008 4:07 pm

Hey, pedi.

Unfortunately, I do not have sequentials to post up right now. I would like to know what you think of some of these pinups, however.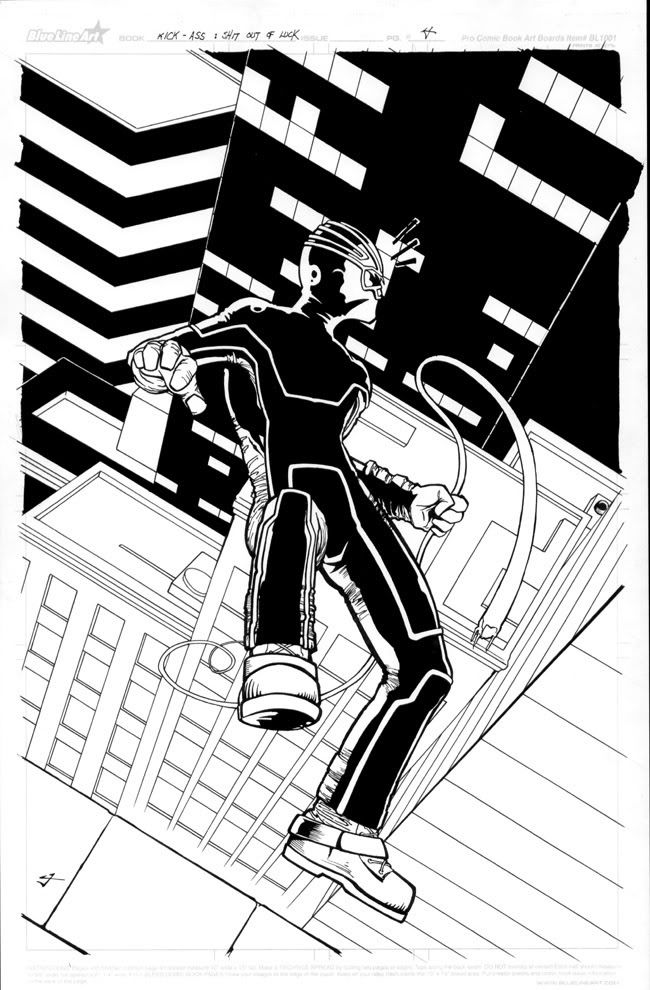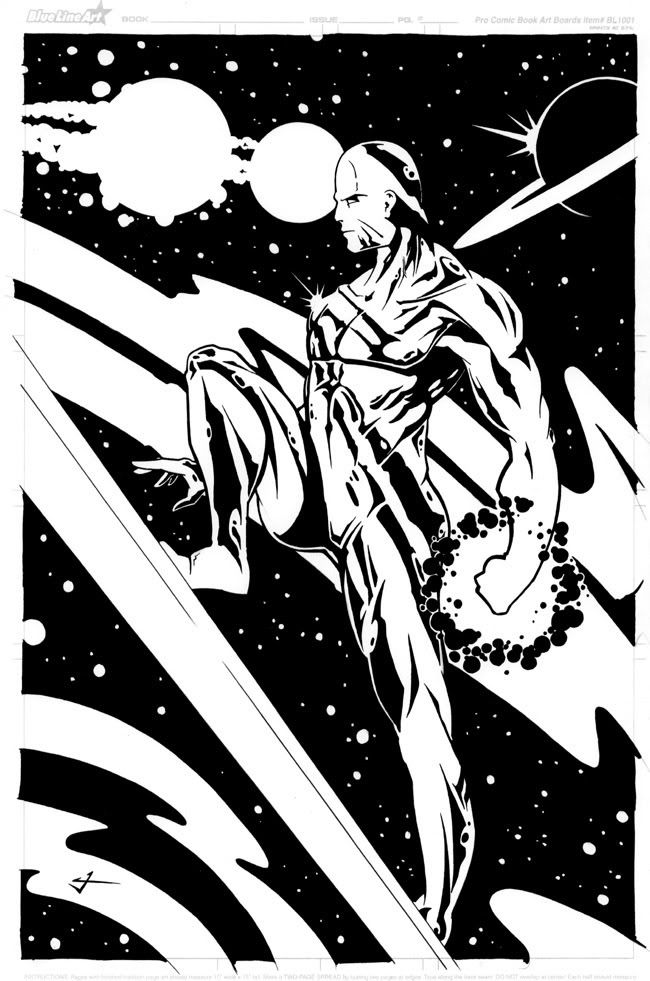 | | |
| --- | --- |
| | Rain Partier |
by Doc Jon » Wed May 07, 2008 4:08 pm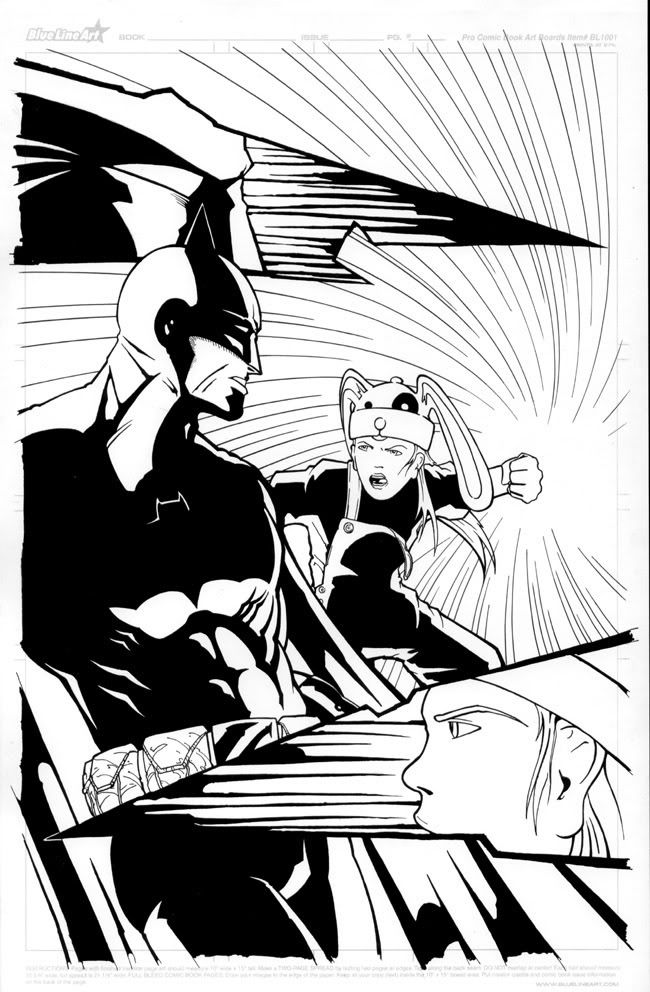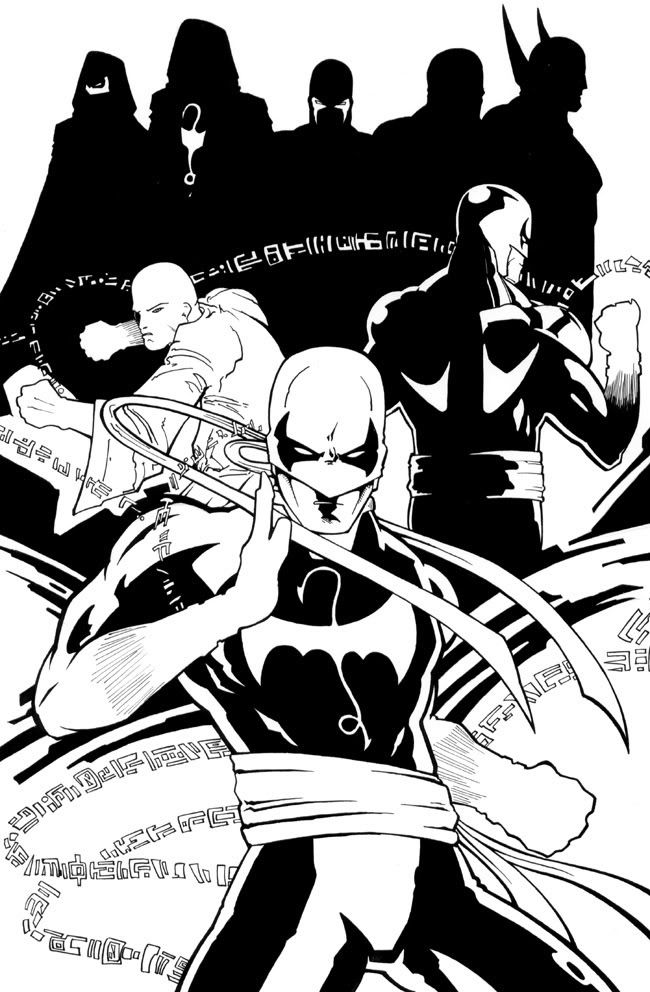 | | |
| --- | --- |
| | Rain Partier |
by Doc Jon » Wed May 07, 2008 4:11 pm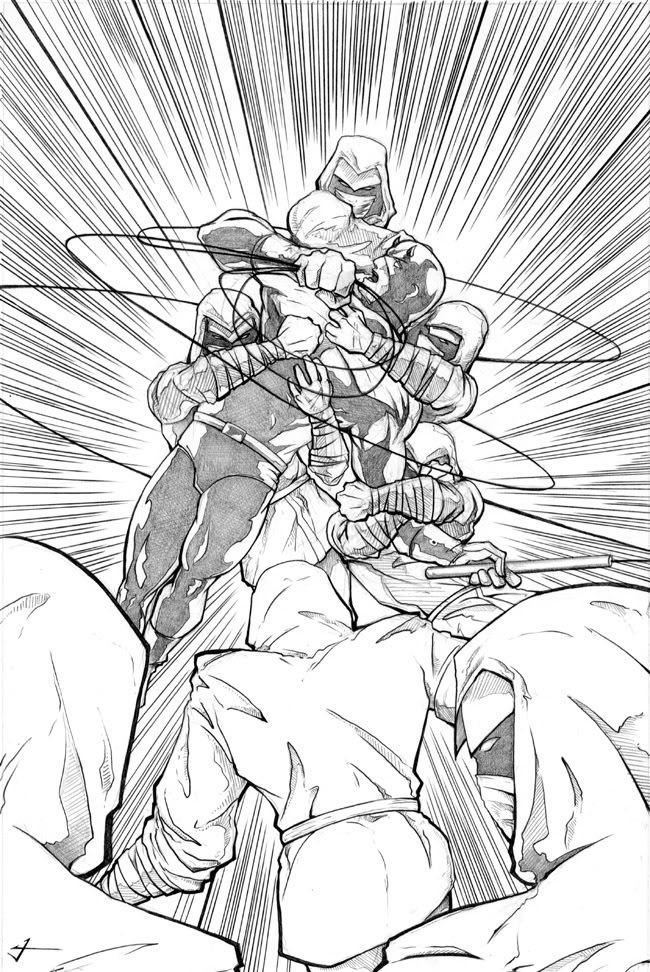 | | |
| --- | --- |
| | Factor 8 |
by AntiLogic » Thu May 08, 2008 1:19 am

OK, since you've posted a handful of pieces, I'm going to take my time to absorb the art and formulate my thoughts.

For starters though, here're my thoughts on: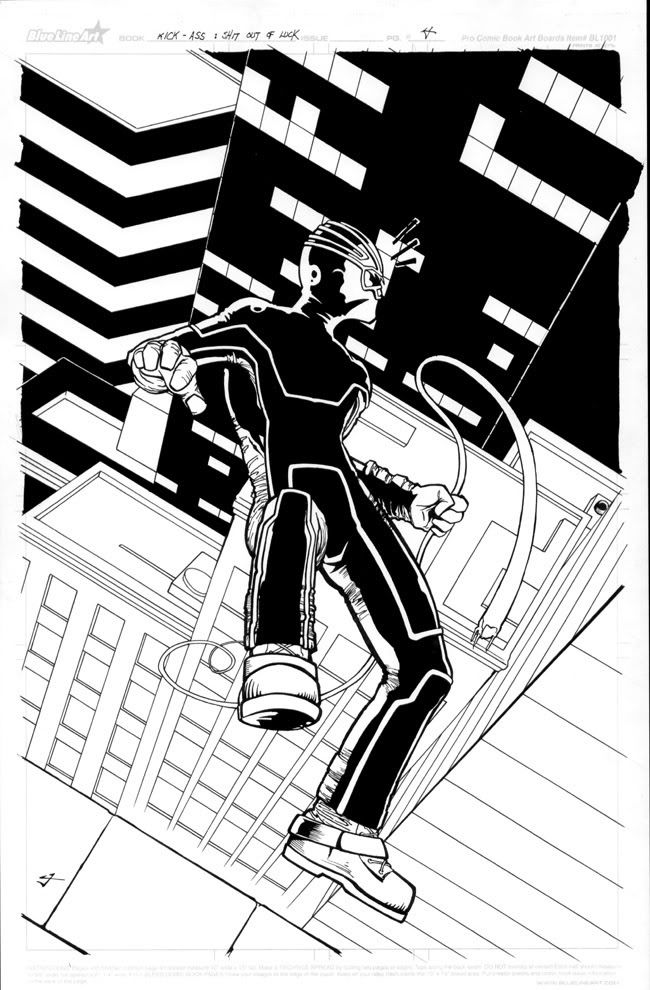 - I like the overall layout. It feels balanced, a solid design for the page.... the eyes lead straight to the character, though the background components do compete for attention.

- The shading on your background and foreground are somewhat melding together. I think it would be a better choice to have the darkness of the background on the lower half, and the lightness on the upper half, behind the character -- this way, the character will stand out more....... but overall, the lighting in the scene doesn't seem entirely consistent... though, your choice of blacks and whites could've been more on a design factor, it's also important to match up to real-world physics as best as possible.

- If your character and background have to have these levels of blacks, then you should think of more creative ways of distributing the blacks.... for instance, if your foreground character carries these solid blacks, then your bg should have more varying details and the blacks should be more spread about, along with angles used to lead the eye around the page, and back to the character.... it's important for a scene to have a visual flow to it.... Also, it's important to vary your line weights between foreground and bg more -- generally using thicker line weights for profiles of anything closer to the camera, and thinner as the distance travels farther.... which you are doing in this, except that the thickness of the profile blends in with the darkness of the bg around the upper part of his body, and so it no longer separates him from the bg, it closes them in together. Focus on these areas will help establish more visual depth in the scene, so the fg and bg do not compete for attention and collide in space.

- The rope doesn't feel like rope, or carry the action of what the rope would be doing in the scene... it feels more like cable or rubber... it just seems a bit limp and inactive.

- The character's pose and proportions are over all nice, but I'm uncertain what he's doing at this angle on the character and city behind him. It seems like he's falling backwards, but with the rope, it kinda seems like he's swinging higher, but his pose doesn't reflect the motion of a swing like that... portraying poses in action isn't something that's necessarily easy to grasp... most seasoned pros deal with the challenges daily... but definitely something to focus on, otherwise a scene gets too static, even though it's meant as an action scene. A character like this seems like he's more so flying or levitating in the scene, not swinging or moving.

- As with all artists, focus as much as you can on learning more in your understanding of perspective, structure, anatomy and proportion. Once you have a better grasp on these, your placement of blacks and line weights will improve naturally.

- Over all, I like the simplicity and confidence in the line-work. It's clean and communicates. The style is nice...

I could go on and on..... I've always got endless thoughts and opinions when it comes to visual art, but I think these are enough for you to mull over.... Plus, I've still got the other images to critique
And I'll get to those, bit by bit.

Plus, it's been a long day.... so, I'll post more crit tomorrow.
| | |
| --- | --- |
| | Factor 8 |
by AntiLogic » Thu May 08, 2008 3:56 am

Just wanted to add that generally, when I do art, I don't rationally think about it as much as I feel it out... so, if I'm not communicating my crit on your art in a way that makes sense to you... please ask any questions you got.
| | |
| --- | --- |
| | Rain Partier |
by Doc Jon » Thu May 08, 2008 11:38 am

Thanks for the in-depth crit! I haven't had much time at the drawing board, but I will keep those things in mind for sure.
| | |
| --- | --- |
| | Factor 8 |
by AntiLogic » Thu May 08, 2008 6:37 pm

my thoughts on this:


This is a solid image. I don't have much to crit on it. The style is consistent, the linework reads well, the characters are proportioned nice. The only thing that stands out is how the thickness of the line that separates the bg from fg characters is directly connected to BB... I see how the thickness of the line is important to separate it from the far bg, but there should be a disconnection of the line that connects from the BG to BB, in order to separate the planes and objects. Same rational for the characters. Their lines are connected, so it makes it difficult to differentiate between the shapes... I know that color would fix that, but since we're dealing with b&w linework, it's important that it stands on it's own, without color.

Over-all, good work.

-Pedi
| | |
| --- | --- |
| | Rain Partier |
by Doc Jon » Thu May 08, 2008 8:33 pm

I've really been trying to be more aware of my lineweights.

Since we will most likely be publishing Blud Blood in black and white, it is very important that I can establish separation as you've mentione. I will accentuate it even more in future work.
| | |
| --- | --- |
| | Factor 8 |
by AntiLogic » Thu May 08, 2008 11:13 pm

My thoughts on: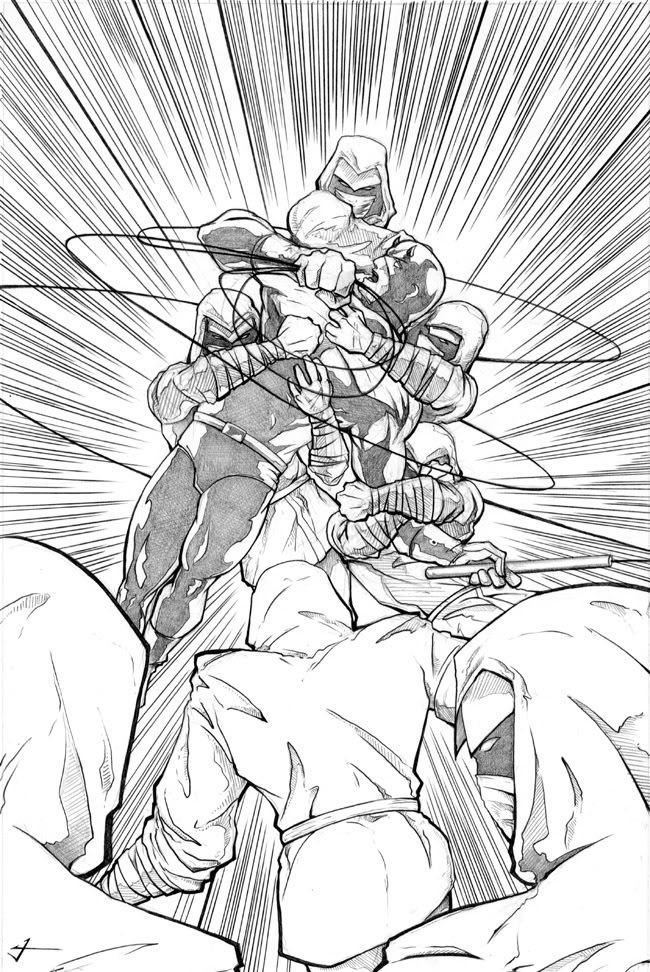 I like the idea/concept of this image, but the execution could use a bit more work... The character poses communicate action, and the angles point it all to the center of the page, where it's all going down... though the anatomy/proportion/perspective on characters, specifically the center ones, needs more attention. The villains holding on DD are fairly static, and all mainly in the same pose, kinda like statues, not mofo badasses taking down the big bossman...

Although it's easier to draw what you're comfortable with, it's more important to challenge your skills by pushing your creative envelope... meaning, you should think about your scene, poses, and what's happening.... you should REALLY THINK about it.... the poses, the action, intentions, motivations... I know it might sound like too much to think about for a simple pin-up... but really, the more you know about it, the more you visualize it, the clearer your mental blueprint of the image, the more of a realized image it will be.

80% of the work that goes into my own personal art, is done in my mind..... the rest is just follow through.

IMO, the realism in art comes from the amount of logical detail you place based on your the imaginative laws of your artistic style... it really does come down to the "rules" you create and learn throughout your experiences in viewing, absorbing and executing art... some artistic rules are based on laws of reality, like anatomy, structure, etc..... but the majority are formulated within each artist, by compilation of influences and preferences from the history of art, design and education...

In all of the vast styles that exist in comic art, there is a general similarity in what is considered to be "quality" art.... basically, you utilize the feeling of what you like most about your favorite artists' works, and you do it carefully, intentionally, patiently, with your own stylistic twist.... and you erase, redraw, erase and redraw again and again.

Being "better than" isn't just a way an artist is or a magical talent or grace from god, or whatever......... in reality, it is actually the physical act of BEING better than... meaning, all the hard labor of love that goes into being a person that is so creative and artistic, he is constantly inspiring and out-doing himself.................. and not a person that draws what he's comfortable with, and what he thinks he knows.

It depends on just how bad you want it.

Anyhow..... yaddyaddya.............. constructive crit isn't just about pointing out the visual facts.... it's also about shining light on the layers that lie beneath.
| | |
| --- | --- |
| | Factor 8 |
by AntiLogic » Fri May 09, 2008 3:32 pm

My thoughts on:



This is a solid image. The character's pose is strong and emotive. The line weights communicate clearly. The anatomy, proportions and perspective are nice. My only comment would be to not cut off a character at the ankles..... but all in all, good work.

-Pedi
| | |
| --- | --- |
| | Rain Partier |
by Doc Jon » Fri May 09, 2008 3:55 pm

I agree, but the ankle thing is a joke.

Ankles and feet covered by mysterious mist?:D Blud Blood is based on a certain artist's work.
| | |
| --- | --- |
| | Factor 8 |
by AntiLogic » Fri May 09, 2008 8:22 pm

Hah! Silly me... how could I have missed that
| | |
| --- | --- |
| | Factor 8 |
by AntiLogic » Sat May 10, 2008 2:24 am

IMO: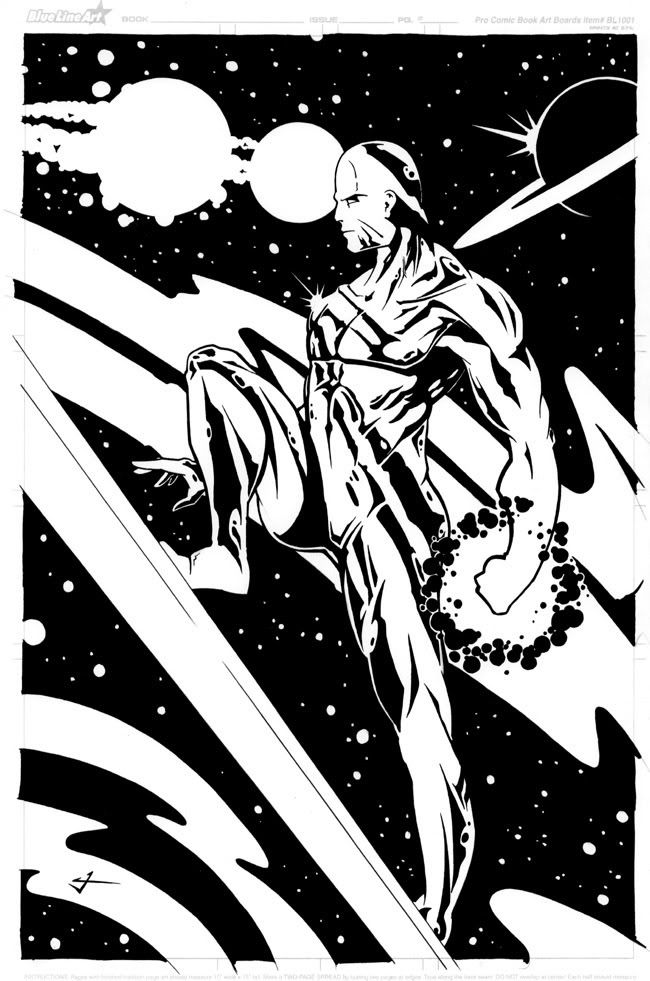 All in all, this is a strong iconic illustration. Nice layout and design. Though, the line-work/thickness/blacks could use a more sensitive eye. All the bold shapes are melding together somewhat. BG and foreground are competing. Though a nice color treatment would separate everything well.

The anatomy and proportions are nice. The reflections on SS are nice, but could stand to bend more to the contour of his body. The power source from his hand should also be a light source on his leg. His left foot is being cut off by the board, in a way that cannot be explained through perspective.

Nice graphical image.

-Pedi
| | |
| --- | --- |
| | Rain Partier |
by Doc Jon » Sun May 11, 2008 1:46 am

I hate that foot at the bottom. Grrrr..... >:(
| | |
| --- | --- |
| | Designer Interactive |
by blagblag » Mon May 12, 2008 2:44 pm

just wanted to jump in and say these are great critiques. Pedi's gone above and beyond the call of duty. And Jsalwen, you're a better artist than i realized.

I'll be posting some stuff soon in here. I wanted to draw new stuff for critiques rather than posting something I've already drawn (and already hate).
leave a comment with facebook
---
Who is online
Users browsing this forum: No registered users and 3 guests