Advertisement

---
| | |
| --- | --- |
| | Rain Partier |
by LOLtron » Wed Aug 27, 2014 2:55 pm
The Disappearance of Eleanor Rigby star wants to know: "Where is the Scarlett Johansson superhero movie?"
---
Source: The Wrap
It's a day ending in "Y," so that means its time for another notable Hollywood personality to loudly wonder why Marvel has yet to make a female-led superhero movie. This time, it's Zero Dark Thirty star Jessica Chastain, who complained to Hollywood gossip site The Wrap about the disturbing lack of a Black Widow solo movie:
Where is the Scarlett Johansson superhero movie? I don't understand it, why is it taking so long for this? This woman clearly shows that people want to go see her in the movies. 'Lucy,' didn't it beat 'Hercules' by a lot opening weekend, when it was made for a lot less? She shows that she kicks ass, she's a great actress. 'Under the Skin' is an incredible film, and why are we still waiting for a go-ahead on a superhero movie starring Scarlett Johansson?

To me, it's a no-brainer. You want to make money, put Scarlett Johansson in a superhero movie!
Chastain's comments echo those made recently by Kick-Ass star Chloe Moretz and Expendables 3 star and UFC Champion Ronda Rousey, as well as a large portion of comics fandom. However, despite Game of Thrones director Neil Marshall offering to make a Black Widow movie himself, Kevin Feige, the man in charge of what movies Marvel makes and when, claimed that he would love to make one but the timing isn't right in a corporate-double-speak-filled interview earlier this month.
Chastain's upcoming movie, The Disappearance of Eleanor Rigby, is split into three separate films, titled Him, Her, and Them. Speaking about that, Chastain addressed the male perspective of the film industry in general, saying:
It's a fact, the majority of films in Hollywood are from the male perspective. And the female characters, very rarely do they get to speak to another female character in a movie, and when they do it's usually about a guy, not anything else. So they're very male-centric, Hollywood films, in general. So I think it's incredible that [Eleanor Rigby writer] Ned Benson, when I said I'd love to know where she goes, says okay I'm going to write another film from the female perspective.
Marvel's rival DC Comics has also failed to commit to a Wonder Woman film despite overwhelming demand from fans, though they are committed to making you take Aquaman seriously. Fucking Aquaman. Stay tuned to The Outhouse, as it's only Wednesday and we're sure to see at least three or four other celebrities call for a female superhero movie only to find their pleas fall on deaf ears before the end of the week. In the meantime, if you're bored, check out the comments below, where someone will claim that moviegoers don't want a female action movie, someone will imply that Marvel is being bullied by censorship-loving feminists, and someone will call me a "social justice warrior" for even bringing up the topic, though not necessarily in that order.



Written or Contributed by Jude Terror
---
READ THIS ARTICLE ON THE FRONT PAGE, HUMANS!
| | |
| --- | --- |
| | WTF is this rank? |
by Supersoldier Washout » Wed Aug 27, 2014 3:12 pm

While I really want movies for Black Widow and Wonder Woman and guilty of posting how much I want this numerous times on three different websites, I'm not worried that our (all of us who have expressed our desire to see these characters in solo theatrical releases) are going to force Marvel Studios and Warner Brothers/DC to fast track a film that will end up being some complete bullshit.

Fuck.

| | |
| --- | --- |
| | Founder of The Outhouse |
by john lewis hawk » Wed Aug 27, 2014 3:21 pm

Marvel should tell Jessica Chastain and Chloe Moretz that the only way they would make a Black Widow movie is if Chastain and Moretz are in it too. They're both great actresses and Marvel can have Chastain serve as the villain (maybe Madame Masque) and Moretz as a younger second Black Widow.
| | |
| --- | --- |
| | The Old Doctor |
by The Old Doctor » Wed Aug 27, 2014 3:27 pm

She's right.

But I'm bias with Scarlett Johansson's Black Widow. I've loved her as Natasha and want to see her in a solo movie. Hell, I want the movie to be about that blonde Widow trying to take the title from her.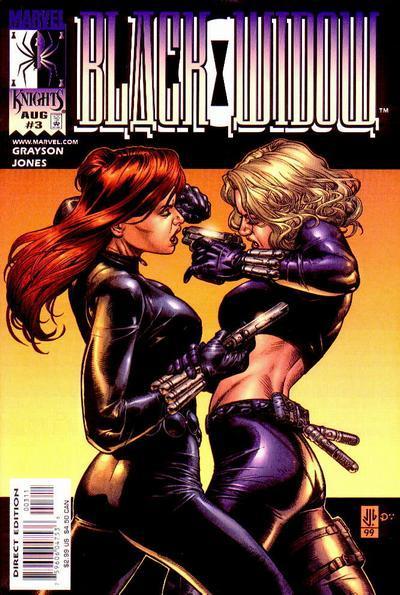 I also want to see Scarlett Johansson in this costume -




'Cause I AM A CLASSIC COMICS FAN!!
| | |
| --- | --- |
| | dINGO |
by TimH » Sun Aug 31, 2014 1:24 am

I don't know. I'm kind of nervous about taking that sort of risk. Giving a woman or ethnic minority their own movie.

What if Scarlett swoons or faints during filming? Or has a woman's period and becomes argumentative? I believe it's a good idea to keep the movies properly focused on consistent, reliable white males.
| | |
| --- | --- |
| | Outhouse Drafter |
by Grayson » Sun Aug 31, 2014 1:00 pm
TimH wrote:Or has a woman's period and becomes argumentative?
leave a comment with facebook
---
6 posts • Page 1 of 1
Who is online
Users browsing this forum: Google [Bot], Majestic-12 [Bot] and 76 guests