Advertisement

---
| | |
| --- | --- |
| | Staff Writer |
by Nightfly » Sat Oct 23, 2010 9:34 am

catching up on some overdue reviews from Wed & Thurs programs




* Potential Spoilers Below *



Ron Underwood ('Tremors', 'Speechless') drew the straw for directing kind of a downer installment of

No Ordinary Family

. Though Daphne and JJ make progress in adjusting to their powers, JJ's insistence on keeping his secret remains troubling. Jonathan Adams (

Black Panther

,

Bones

) as Coach Baskin agrees to let JJ tryout for the football team if he aces a test, of course by then JJ'd figured out his power would let him master the game - another of his secrets for Daphne to keep. As usual, Steph almost gets busted at Global Tech again though this near miss yields the discovery of a deceased scientist who'd also analyzed the same plant that changed the Powells. Autumn Reeser (Katie) and Daphne's scenes were the main bright spots in this epi for me. Jonna Walsh (

My Date

, 'Couples Retreat') returns as Daphne's friend Megan. The main storyline guest starred Tim Kelleher (

Dark Skies

) sadly reminding us to value time spent with the ones we love, as well as the regretful possibilities that can befall those who fail in that regard. Guillermo Díaz (

Mercy

) as Detective Cordero & James Earl (

Glee

) as center Kenny added welcomed touches to this inordinately dour hour.




Kay Panabaker & Jimmy Bennett in "No Ordinary Vigilante"




Thursday's

The Big Bang Theory

focused on romantic entanglements by way of Amy Farrah Fowler's wanting Sheldon to meet her mother and Leonard's wanting a blind date hookup from one of Bernadette's friends. Her friend Joy (played by Charlotte Newhouse,

Brainstorm

), a Sue Sylvester clone if ever there was one, overtly repels Leonard yet there's a chance we'll see her again. Apple gets value for their product placement dollar, while Kevin Sussman (as Stuart) brightens up another cheery LCS scene. Lucky for Sheldon's & Amy's non-relationship, he learns she only wanted him to meet her mom (over the internet) to lie and say they're in a romantic relationship. Fairly funny entry overall. I can never get enough Melissa Rauch (Bernadette), however, the lack of Cuoco this season has been painful - Penny doesn't even appear in this epi. I expected Sheldon's role to enlarge after Parsons' Emmy win,.. how that led to a nerded-up Mayim Bialik taking Kaley's screentime totally baffles me?!!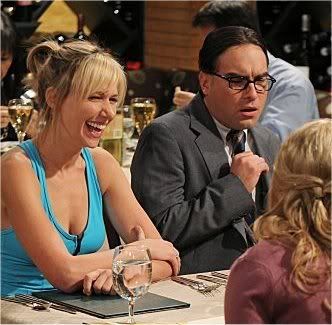 Charlotte Newhouse & Johnny Galecki





$#*! My Dad Says

made me LOL repeatedly with a

tender

episode directed by

Roseanne

&

Dharma & Greg

vet Gail Mancuso. Ed's strict rules and Henry's beloved San Diego Padres jacket drive this humorous odyssey, ultimately leading Ed to spin a funerial tale of a dead man's fictional homosexual double life. Bonnie's forced to deal with Vince's insecurity when he learns she shared a brief dalliance with Josh (Preston Jones,

True Blood

) in her 20s before even meeting him. Henry makes headway with beautiful Zoey (Brooklyn Sudano, 'Rain'), and an exceedingly funny funeral scene featuring guests Bob Stephenson ('Fight Club', 'Se7en') & Paula Cale (

Providence

) make this one

not to miss

. Tim probably woulda made this epi funnier, but, as it stands it's still guaranteed to make my weekly Outstanding Sitcoms list!


Brooklyn Sudano plays 'Zoey' in

$#*! My Dad Says


-----------------------------------------------------
Sunday I plan to review;


Boardwalk Empire

- "Family Limitation" (HBO)


Bored to Death

- "Forty-Two Down" (HBO)


Eastbound & Down

- "Chapter 11" (HBO)


Sherlock

- "A Study in Pink" (PBS)


Desperate Housewives

- "Let Me Entertain You" (ABC)


Brothers & Sisters

- "Call Mom" (ABC)


Dexter

- "First Blood" (SHO)



*

I'll also be watching but not reviewing

60 Minutes

(CBS) because they're doing a segment on the global fame of the BBC's

Top Gear

.
| | |
| --- | --- |
| | Outhouse Editor |
by misac » Sat Oct 23, 2010 10:49 am

It was so weird Penny didn't show up at all. I'm really liking Sheldon's relationship with Amy.

I've been catching up on No Ordinary Family, it's really good so far.
| | |
| --- | --- |
| | OMCTO |
by S.F. Jude Terror » Sat Oct 23, 2010 11:05 am

Being in SF all week I missed all my shows. I hope Amy is down for a marathon of watching tomorrow!
leave a comment with facebook
---
Who is online
Users browsing this forum: FaceBook [Linkcheck], Google [Bot], HNutz, Neurotic Moose, SporkBot, TheLurker and 40 guests