Advertisement

---
| | |
| --- | --- |
| | rubber spoon |
by Sarahroo » Sat Oct 20, 2018 8:37 pm
GiveWarAChance wrote:These Portugese sadly don't care about English.

Not going to make my watch list.

Watching bunches of creepy old Stephen king movies today.
| | |
| --- | --- |
| | Rain Partier |
by GiveWarAChance » Sat Oct 20, 2018 11:38 pm

Dat Daredevil versus Daredevil/Bullseye fight in episode 6.
An actual legitimate threat for Daredevil. Something they could never manage in series like Luke Cage. I love how Daredevil has to keep the fight close to have any chance at beating a guy who can turn any item into a deadly projectile. Then there's Kingpin just outthinking and playing everyone. Loving this season so far. I guess the writing is on the walls for these Marvel Netflix shows though, with Iron Fist and Luke Cage both being cancelled. I guess Disney no longer wants to play ball now that their own streaming service is coming out.
| | |
| --- | --- |
| | Rain Partier |
by GiveWarAChance » Sun Oct 21, 2018 2:17 am

#27



Patient Zero - This movie seems to be getting a lot of hate. Probably unjustly so. I imagine people thought they were going to get a more traditional zombie movie. This one is more talky for the majority of it. The infected aren't mindless. They actually keep their intelligence. Their decisions are just fueled by rage. I thought it was interesting how there was someone amongst the humans who could communicate with them. That allowed you to get into the brains of the infected a little bit. It got really good when Stanley Tucci showed up as one of the infected and could keep his rage under control, showed how smart he was and played with Dr. Who. The last 30 minutes turns into more of a traditional zombie movie, with hordes of them attacking and blood spewing. There's also a cute infected rat that they were experimenting on that escapes. I thought it was rather good. I give them points for at least trying something different. The ending is pretty weak, Dr. Who talks with a weird American accent and there's one scene where you can hear Natalie Dormer talking and her lips aren't moving.

3 1/2
| | |
| --- | --- |
| | Rain Partier |
by GiveWarAChance » Mon Oct 22, 2018 1:14 am

#28



Friday the 13th part 3 (1982) - This was my favorite horror franchise as a kid and I have fond memories of this particular part. Jason finally gets his mask, the body count is high and Chris is a good final girl. Chris actually stabs Jason multiple times with a knife, bashes him with firewood, tries to run him over, whacks him with a shovel to his head, hangs him, and takes an axe to his head. All the horror tropes are here. Car not starting, shower scene, people having sex that have to die, drug guy that has to die, a bunch of fake scares, the lovable goofball that has to die, etc... Gotta love that memorable theme song. Some creative kills. Just have to overlook the 3D gimmick.

4 Nostalgia, baby
| | |
| --- | --- |
| | Rain Partier |
by GiveWarAChance » Mon Oct 22, 2018 2:24 am

#29



Nightmare on Elm Street (2010) - Anyone can play Jason, Michael Myers, Leatherface or even Pinhead. Robert Englund is Freddy. Jackie Earle Haley tried hard in this movie, but never achieved that level of greatness. Freddy isn't witty in this one and the makeup is weird. Too much backstory for Freddy too. These characters are better shrouded in mystery. A monster killing people in their dreams is always going to be a formula that works. I like how the movie started off with baiting people into thinking Kris would be the final girl and then changed to Nancy like it should. I don't hate the movie, but it's average. The Texas Chainsaw Massacre and Friday the 13th remakes were much better.

How did that one kid fall asleep while swimming?

2 1/2
| | |
| --- | --- |
| | rubber spoon |
by Sarahroo » Mon Oct 22, 2018 5:43 am

I remember Jackie Earl Haley being the coolest in bad news bear so I always hope the best for him. Being Freddy just isn't the same as Robert.
| | |
| --- | --- |
| | Rain Partier |
by GiveWarAChance » Mon Oct 22, 2018 5:40 pm

Looks like Celebrating Mickey is cancelled or delayed.
No new releases for me this week. Back to horror.
| | |
| --- | --- |
| | Rain Partier |
by GiveWarAChance » Tue Oct 23, 2018 2:55 am

Two Stephen King movies arrived today and were watched.

#30


Creepshow (1982) - Written by King and directed by Romero. It also features King as an actor during one of the stories. Probably his best acting in any movie. All of the stories are a lot goofier than I thought they would be. Some stories are good. Some not so much. I actually like Creepshow 2 more. I thought I would have been more into this.

3

#31


Maximum Overdrive (1986) - King wrote and directed this one. The only movie he directed. This movie is filled with comedy too. I liked it more though. It starts with carnage right from the beginning with machines killing people. All the music is by AC/DC, King's favorite band. It has a killer truck with the face of Green Goblin and a steamroller that flattens a kid. The movie loses steam towards the end. I wish they focused more on different types of machines going wild. It's mostly just vehicles.

3 1/2
| | |
| --- | --- |
| | Rain Partier |
by GiveWarAChance » Tue Oct 23, 2018 1:59 pm

I own every movie in that set on Blu-ray except for Make Mine Music, Melody Time and The Black Cauldron. That set says those movies are on DVD and so aren't Saludos Amigos and The Three Caballeros. No sale.
| | |
| --- | --- |
| | rubber spoon |
by Sarahroo » Tue Oct 23, 2018 5:21 pm

I remember loving Maximum Overdrive and watching it many many times.
| | |
| --- | --- |
| | Rain Partier |
by GiveWarAChance » Wed Oct 24, 2018 3:10 am

31 horror movies in one month was too easy. What is one to do?

#32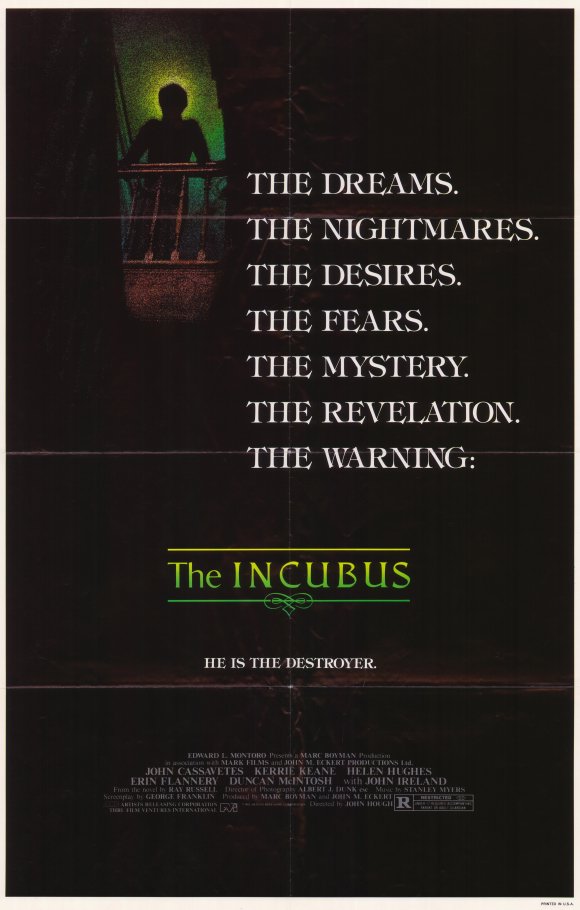 The Incubus (1982) - A supernatural slasher crime investigation. There's a killer rapist on the loose in a small town. All signs point to a young man who dreams about these horrible crimes. The movie is mostly about a detective trying to solve the crimes. Once in awhile there's a scene of someone having a shovel lodged into their neck and shooting their own foot off or some freaky monster killing. It's a weird mashup. The score is pretty gnarly too. Some pretty cool shots. I particularly liked the under the wheelchair view that showed us what was under the door on the other side. Slow and sleazy. Definitely not for everyone.

3 1/2
| | |
| --- | --- |
| | rubber spoon |
by Sarahroo » Wed Oct 24, 2018 5:40 pm

So which one was your very most favorite?
Which was your least?
| | |
| --- | --- |
| | Rain Partier |
by GiveWarAChance » Wed Oct 24, 2018 6:37 pm

Least: Malevolent, Down a Dark Hall and Jaws 3. Malevolent probably the biggest crap.
Most: The Forest of the Lost Souls, Trilogy of Terror, Satan's Little Helper, and The Lodgers.
Disappointing because I had high hopes: Blood Fest and Creepshow.

Most were average to good. Not that many stinkers.
| | |
| --- | --- |
| | Rain Partier |
by GiveWarAChance » Wed Oct 24, 2018 10:14 pm

If anyone needs DMR points for Monsters University, let me know.
leave a comment with facebook
---
Who is online
Users browsing this forum: Draco x, FaceBook [Linkcheck], Glaeken and 25 guests