Sunday, May 29, 2016 • Afternoon Edition • "At least we're not ComicsAlliance!"
---
| | |
| --- | --- |
| | Rain Partier |
by Doc Jon » Mon Apr 21, 2008 10:54 am

Just wanted to give people some heads up as to the stuff we have showing up this week.

On Monday, we have a new episode of Just a Little Blud: Season 2! What doe that Pink Bastard have planned?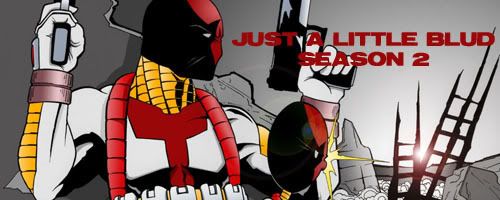 My Nemesis will continue with new episodes on Tuesday, Wednesday and Thursday!







But wait, that's not all we have! This Tuesday, Wednesday and Thursday will also have The Adventures of Luke and Sam!






Wednesday will also have a new installment of Marooned as our intrepid astronaut explores Mars.







Friday will have a new episode of ROMBIE: the robot with a zombie brain!






AND FRIDAY will see our brand new webcomic, Omar, the Crack Baby continue with its second issue (parental guidance suggested).



So My Nemesis, Just a Little Blud: Season 2, Marooned, the Adventures of Luke and Sam, Omar the Crack Baby, and ROMBIE. Plus, articles such as Face to Greg, Jin Saotome's Dangerous Toys, Investment Talk, The Waaambulance, The Blud Pick, Conversations with Yourself, and the latest news on the comic world!

Are you a Hemophiliac? You should be.

www.bludblood.com
leave a comment with facebook
1 post • Page 1 of 1
Who is online
Users browsing this forum: Alexa [Bot], BarrySagittarius, Cavemold, dairydead, Grayson, MSNbot Media, TheLurker and 33 guests