Advertisement

---
| | |
| --- | --- |
| | Rain Partier |
by chap22 » Mon Jun 18, 2018 10:09 am
IvCNuB4 wrote:And King wrote that twisted Joker short story in

DC Nation #0

where Joker holds that guy prisoner and torments him with really bad jokes while waiting for the mail to see if he gets an invitation to Batman's wedding.


Yeah, that sucked too.
| | |
| --- | --- |
| | Motherfucker from Hell |
by RobThompson » Mon Jun 18, 2018 5:16 pm
Glaeken wrote:How is this not a PSA comic?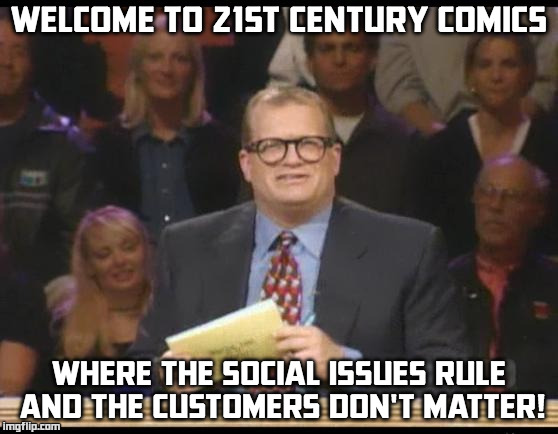 | | |
| --- | --- |
| | Expert Post Whore |
by Spacedog » Mon Jun 18, 2018 6:09 pm
MikeinLA wrote:
He at one point was the only person in the first "post-Crisis" Universe who remembered all the previous realities. Given what's gone on since then that can't be the case anymore. Other people obviously know, and in truth he might not.

Having this insane guy locked in a cell as the only person who remembered the previous reality and all the characters "erased" from existence at the end of Crisis on Infinite Earths was a nice poetic touch from Wolfman. It's a shame that further DC events, especially Johns' Infinite Crisis, have undermined "the oomph factor" of the COIE ending.

leave a comment with facebook
---
Who is online
Users browsing this forum: No registered users and 30 guests