Tuesday, January 15, 2019 • Evening Edition • "If you loved Hotel Rwanda, you'll love The Outhouse."
Advertisement

---
| | |
| --- | --- |
| | Rain Partier |
by LOLtron » Wed May 15, 2013 7:49 pm
Outhouse EIC, BlueStreak, has The Review Group's 378th pick Dream Merchant #1
---
I don't know about you, but I'm pretty surprised that this went up on time three weeks in a row!
TO THE REVIEWS!

A double-size issue to kick off a new sci-fi series from Nathan Edmondson and newcomer Konstantin Novosadov. Haunted by recurring dreams, a boy named Winslow is hunted by mysterious beings and protected by an old traveler. Soon Winslow will realize that what is in his dreams is what the rest of the world has been made to forget--and what strange entities will stop at nothing to erase from his mind.
digital copy availible here
______________________
Ze rules:
Post your review in the forum thread or in the comments section here on the front page.
Review as often or as little as you like. Once you've posted 5 reviews, you will be awarded 1 pick. You can post 5 reviews, right? That's a totally achievable goal and with day and date digital releases becoming the standard, it shouldn't matter if your shop ordered enough copies of this weeks comic or not.
When multiple Review Groupers have posted 5 (or more) qualifying reviews, they will be awarded their pick in the order that they qualified. What constitutes a qualifying review? Any review posted (with a score on a scale from 0-10, that's right 0!) within 1 calendar month of the thread going live. Reviews are to be at least 5 sentences long. It shows that a) you have at least read this week's pick and b) you have some unique insight into the comic.
Reviews posted while waiting in line for your pick will be applied to your next pick.
I'll be keeping track of everyone's progress with the newly christened Spreadsheet of Fantastic (RIP, Spreadsheet of Doom) and reporting the results in the Current Members list in the weekly OP. When it's your turn to make a pick, I will PM you. If you do not respond to me by Midnight EST the following Sunday, you will lose your pick and I will start a poll to determine that week's selection.
Any week in which we do not have a Review Grouper with 5 qualifying picks, we will determine the week's comic via poll.
If it's your week to pick, remember to keep it under $3.99.
Current Members List
5 Reviews
4 Reviews
3 Reviews
2 Reviews
1 Review
GHERU

@dace1314
Amoebas
bkthompson
Grayson
GLX
guitarsmashley
Stephen Day


ElijahSnowFan
GiveWarAChance
Jude Terror
Ntikrst
PhoenixEquinox
Victorian Squid

doombug
Eli Katz
SilverPhoenix
Sunless

Amlah
BlueStreak
john lewis hawk
Jubilee
Keb
Midas
nietoperz
Punchy
TimDrake'sDumbWings


Written or Contributed by GHERU
---
READ THIS ARTICLE ON THE FRONT PAGE, HUMANS!
| | |
| --- | --- |
| | Peanut |
by PhoenixEquinox » Wed May 15, 2013 9:06 pm

Why do I keep getting left off? I have like 3 reviews.
| | |
| --- | --- |
| | Rain Partier |
by GHERU » Thu May 16, 2013 6:24 am

do you remember which books?
| | |
| --- | --- |
| | Rain Partier |
by Garofani Spruzzo » Thu May 16, 2013 7:40 am

I feel like there were several things I wasn't getting here, like how old Winslow was supposed to be, or why he was acting like a spaz sometimes. Some element of dread that just wasn't coming across from the art or something.
.
| | |
| --- | --- |
| | Peanut |
by PhoenixEquinox » Thu May 16, 2013 9:45 am
GHERU wrote:do you remember which books?


guardians of the Galaxy 0.1
The Manhattan Projects 10
Suicide Risk 1
| | |
| --- | --- |
| | Rain Partier |
by GHERU » Thu May 16, 2013 10:02 am

fixed
| | |
| --- | --- |
| | Peanut |
by PhoenixEquinox » Thu May 16, 2013 11:53 am
GHERU wrote:fixed


Awesome. Thanks.
| | |
| --- | --- |
| | Rain Partier |
by Garofani Spruzzo » Thu May 16, 2013 8:22 pm

Dream Merchant #1

Wanted to like this. Flawed debut, though. Not the first book by far to explore dream time as alternate reality bleeding over into the waking world. Some famous comic by smug wanker Neil Gaiman, for example. Most recently enjoyed Secret Life Of D.B. Cooper.

Nice page count for $3.50 but pacing makes you wonder if that extra space could be used more effectively. Feels stretched, under-utilizes all those extra pages. Characters aren't given enough space to reveal themselves without clunky exposition that fails to endear either Winslow or girl to reader.

Feelings on art also mixed. Dark panels

too

dark, more often than not. Big problem with modern digital coloring, pages don't look the same on screen as on paper, especially black paper. Overkill with the browns and pinks. Some panels aren't clear, distracting. Biggest problem is too many panels, too little story. Panels feel wasted, sometimes repetitive.

No real hook here for me. Ambivalent.

6
| | |
| --- | --- |
| | Rain Partier |
by Garofani Spruzzo » Mon May 20, 2013 9:26 am

Nobody

read this but me?
| | |
| --- | --- |
| | Outhouse Editor |
by GLX » Mon May 20, 2013 3:32 pm
Victorian Squid wrote:

Nobody

read this but me?

'
I may be able to read it within a month.
| | |
| --- | --- |
| | Rain Partier |
by GHERU » Wed May 22, 2013 9:39 am

Next book: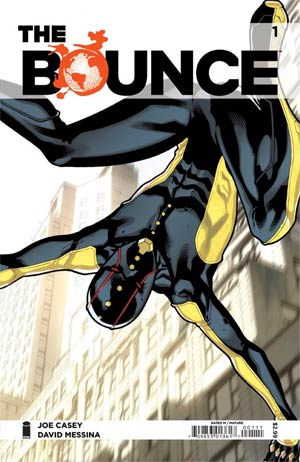 Bounce #1
Manufacturer/Publisher: Image (Release Date: 5/22/2013)
Writer: Joe Casey • Artist: David Messina
Regular Price: $2.99 Your Price: $2.54 YOU SAVE: $0.45 (15%)

15 % OFF
Description
Meet the ultimate slacker superhero for the 21st Century! Jasper Jenkins is a super-head AND a super-hero! He's relatable AND reliable and he's embarking on the adventure of a lifetime! The sensational debut of the new feel-good hero of the decade! You can't afford to miss it!
http://www.midtowncomics.com/store/dp.a ... 31_1256939
leave a comment with facebook
---
12 posts • Page 1 of 1
Who is online
Users browsing this forum: Flamebird, Google [Bot] and 38 guests