Advertisement

---
| | |
| --- | --- |
| | Rain Partier |
by LOLtron » Thu May 23, 2013 9:32 am
Not only is it RU's pick this week, but RU is late putting this up. That bodes well
---
Yea, this is late, but 3 in a row is way better than I expected to do.
TO THE REVIEWS!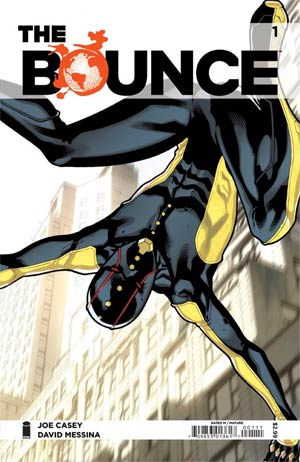 Meet the ultimate slacker superhero for the 21st Century! Jasper Jenkins is a super-head AND a super-hero! He's relatable AND reliable and he's embarking on the adventure of a lifetime! The sensational debut of the new feel-good hero of the decade! You can't afford to miss it!
Writer: Joe Casey • Artist: David Messina
digital copy availible here
______________________
Ze rules:
Post your review in the forum thread or in the comments section here on the front page.
Review as often or as little as you like. Once you've posted 5 reviews, you will be awarded 1 pick. You can post 5 reviews, right? That's a totally achievable goal and with day and date digital releases becoming the standard, it shouldn't matter if your shop ordered enough copies of this weeks comic or not.
When multiple Review Groupers have posted 5 (or more) qualifying reviews, they will be awarded their pick in the order that they qualified. What constitutes a qualifying review? Any review posted (with a score on a scale from 0-10, that's right 0!) within 1 calendar month of the thread going live. Reviews are to be at least 5 sentences long. It shows that a) you have at least read this week's pick and b) you have some unique insight into the comic.
Reviews posted while waiting in line for your pick will be applied to your next pick.
I'll be keeping track of everyone's progress with the newly christened Spreadsheet of Fantastic (RIP, Spreadsheet of Doom) and reporting the results in the Current Members list in the weekly OP. When it's your turn to make a pick, I will PM you. If you do not respond to me by Midnight EST the following Sunday, you will lose your pick and I will start a poll to determine that week's selection.
Any week in which we do not have a Review Grouper with 5 qualifying picks, we will determine the week's comic via poll.
If it's your week to pick, remember to keep it under $3.99.
Current Members List
5 Reviews
4 Reviews
3 Reviews
2 Reviews
1 Review
GHERU
Victorian Squid

@dace1314
Amoebas
bkthompson
Grayson
GLX
guitarsmashley
Stephen Day


ElijahSnowFan
GiveWarAChance
Jude Terror
Ntikrst
PhoenixEquinox


doombug
Eli Katz
SilverPhoenix
Sunless

Amlah
BlueStreak
john lewis hawk
Jubilee
Keb
Midas
nietoperz
Punchy
TimDrake'sDumbWings


Written or Contributed by GHERU
---
READ THIS ARTICLE ON THE FRONT PAGE, HUMANS!
| | |
| --- | --- |
| | Rain Partier |
by Garofani Spruzzo » Thu May 23, 2013 4:32 pm
#1

Hmm. As comics have changed over the years, so have the readers and how they view themselves in relation to the superheroes. It's made clear in the first line of the book, when his "roomie" calls him Jasper Jenkins, that the main character of Bounce is Casey's attempt to update the Peter Parker everyman character to suit the aging, more cynical comic book fanbase of today. In this case, power and responsibility are replaced by the need to escape mundane reality, and the radioactive spider is now a bong. You can even see a little nod to early Ditko in the way he's posed in some panels, I think.

PUFFFF Now he's a superhero. In a sort of a gimp suit. Who bounces. (Is it me, or is he like a Speedball/Penance mash-up? I don't know much about those characters, but that's the impression I got.)

The actual superhero-y content is pretty dumb, really ("Bounce" meet "Crunch"), but there's probably more to it than what Casey shows here. (He references some early 20th C pseudo-psych bullshit leading me to think the transformation from human to superhuman in Casey's world is meant as some sort of drug-induced "self-actualization".) The end of the issue, rather than the usual cliffhanger, would seem to indicate a bit of an info dump may be coming next.

I'll just be blunt, despite dropping names like Aldous Huxley or Maslow into the mix, this did not go deep or weird enough for me. Despite the visual cues from classic Ditko, the art didn't sell the action sequences enough. Granted, it's hard to portray a hero who, um...bounces off stuff, to be anything but silly--like the LoSH's Bouncing Boy, there for comic relief.

Reminded me a lot of the now-cancelled Dial H. I might try issue #2 to see if Casey can surprise me.

7
| | |
| --- | --- |
| | Rain Partier |
by GHERU » Tue May 28, 2013 2:33 pm

will read tonight
| | |
| --- | --- |
| | Rain Partier |
by GHERU » Wed May 29, 2013 7:16 pm

Bounce

I liked it. Bounce #1 was a fun intro issue that gave enough information to make me curious and left enough alone to make me want to see whats up. Its kinda like a cross between Speedball/Major Bummer/Powers. Dude bounces and is a complete spaz, add that to the "real world" aspect of Powers, Bounce is an interesting take on responsibility and powers. The art wasn't the best, it was sometimes difficult to tell who was who unless you remembered what they were wearing.

All in all, 8 out of 10 - I'll be picking up #2
| | |
| --- | --- |
| | Peanut |
by PhoenixEquinox » Thu May 30, 2013 12:01 am

The Bounce #1

I was excited to read this book. But I'm not really sure why. I've been pretty neutral on Casey's work before and I've only seen Messina's work in Ultimate Comics Wolverine and it was alright. Also I'm neither a stoner nor a slacker, so the main character doesn't really connect to me. I guess I'm just looking for a new superhero to follow and the last time I started reading a young adult Image superhero it turned out to be Invincible and argueably the best book they're publishing, so I suppose hope was what fueled my excitement. Now I'll get this out of the way early; The Bounce is not Invincible,
Now that's not necessarily a bad thing. I did like this issue. I thought Jasper was a good character as in he felt real to me like I know someone just like him and if they had superpowers they would probably just use them to thwart boredom. I also liked his brother Jeremiah, as if again I knew someone like that too. (Actually they kinda remind me of my cousins.) my big issue with Casey in this issue was the pacing. The beginning was energetic and fun, but when we hit The Darling's part it felt more like work than fun. And after that it picked up again only to end in very strange, triply places. The crazy random last page though was enough to keep me interested though.
On the art side, Messina was solid. Overall, the the book looked great. Even the grippy parts at the end were well done. Not really much else to say...except for the suit. The Bounce's costume is really weird it does in fact as another Outhouser put it resemble a gimp suit which normally when it comes to other full-body suits (I.e. Spider-Man) isn't the first thing that comes to mind. But can't really do anything about it now , so just gotta live uncomfortably with it.
The Bounce may not have been Invincible, but if it had it probably wouldn't have been as interesting. (Although The Darling stuff better e leading somewhere and better get better real fast.) definitely worth a read and the next issue.

7/10 (Now what's this Sex book everyone's talking about?)
| | |
| --- | --- |
| | Rain Partier |
by Garofani Spruzzo » Thu May 30, 2013 8:11 am

I bought Sex #3 yesterday but I haven't had a chance to read it.

It's Casey's other new Image series, again with superhero and fetish-y themes. I have to say, I realized last night I must re-read 1-3 all together. This latest issue got good reviews, though.

I would take either book over the flimsy new pick, The Wake. Plus I think in Sex at least you get some wild Casey editorializing in the back of the book.
| | |
| --- | --- |
| | Rain Partier |
by GHERU » Thu May 30, 2013 8:13 am

Sex is an odd book
Not sure what he's going for, but its intrigued me enough for now
| | |
| --- | --- |
| | Rain Partier |
by Garofani Spruzzo » Thu May 30, 2013 8:20 am
GHERU wrote:Sex is an odd book
Not sure what he's going for, but its intrigued me enough for now


When I saw #3 getting solid reviews, it made me hope things come together a bit more.

I may read it later tonight.
leave a comment with facebook
---
9 posts • Page 1 of 1
Who is online
Users browsing this forum: FaceBook [Linkcheck], Google [Bot] and 30 guests