Advertisement

---
| | |
| --- | --- |
| | Rain Partier |
by LOLtron » Fri Jul 05, 2013 7:54 am
Pick one, or both, it don't matter to the RG!
---
TO THE REVIEWS!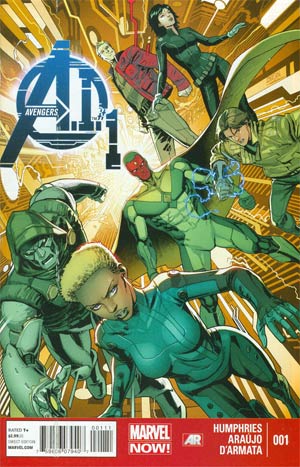 HARDER. BETTER. FASTER. STRANGER. The triumph of Hank Pym turns to tragedy for the human race…an unfathomable Pandora's Box of destruction! When a brave new world is unleashed, only one team of Earth's Mightiest Heroes can save us from the future - AVENGERS A.I.! THE VISION! HANK PYM! VICTOR MANCHA! DOOMBOT! The mysterious ALEXIS! MONICA CHANG, AGENT OF S.H.I.E.L.D.! The AGE OF ULTRON is over! The AGE OF A.I. is NOW!
digital copy availible here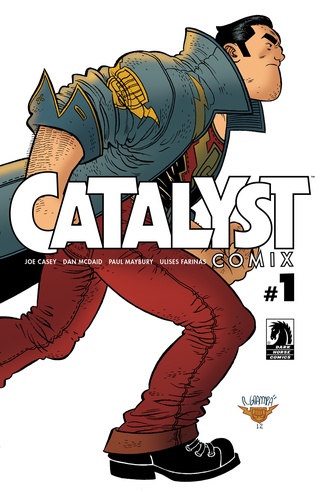 Straight from the glory of Comics' Greatest World, Frank "Titan" Wells, Amazing Grace, and the Agents of Change are back, baby! But you've never seen them like this! Superhero comics get a back-alley facelift as these very different champions confront cosmic threats and personal demons—and it all starts at the end of the world as we know it!
• Masterminded by Joe Casey (Sex, Gødland, Baker the Righteous Maker)!
• Wraparound series covers from Rafael Grampá, Paul Pope, and Brendan McCarthy!
• Artists Dan McDaid (Doctor Who), Ulises Farinas (Glory), and Paul Maybury (Aqua Leung)!
digital copy availible here
______________________
Ze rules:
Post your review in the forum thread or in the comments section here on the front page.
Review as often or as little as you like. Once you've posted 5 reviews, you will be awarded 1 pick. You can post 5 reviews, right? That's a totally achievable goal and with day and date digital releases becoming the standard, it shouldn't matter if your shop ordered enough copies of this weeks comic or not.
When multiple Review Groupers have posted 5 (or more) qualifying reviews, they will be awarded their pick in the order that they qualified. What constitutes a qualifying review? Any review posted (with a score on a scale from 0-10, that's right 0!) within 1 calendar month of the thread going live. Reviews are to be at least 5 sentences long. It shows that a) you have at least read this week's pick and b) you have some unique insight into the comic.
Reviews posted while waiting in line for your pick will be applied to your next pick.
I'll be keeping track of everyone's progress with the newly christened Spreadsheet of Fantastic (RIP, Spreadsheet of Doom) and reporting the results in the Current Members list in the weekly OP. When it's your turn to make a pick, I will PM you. If you do not respond to me by Midnight EST the following Sunday, you will lose your pick and I will start a poll to determine that week's selection.
Any week in which we do not have a Review Grouper with 5 qualifying picks, we will determine the week's comic via poll.
If it's your week to pick, remember to keep it under $3.99.
Current Members List
5 Reviews
4 Reviews
3 Reviews
2 Reviews
1 Review



@dace1314
Amoebas
bkthompson
Grayson
PhoenixEquinox


Eli Katz
ElijahSnowFan
GHERU
GiveWarAChance
Jude Terror
Ntikrst
Stephen Day



doombug


Punchy


SilverPhoenix
Sunless
Victorian Squid

Amlah
BlueStreak
GLX
guitarsmashley
HNutz
john lewis hawk
Jubilee
legoroni
Keb
Midas
nietoperz


TimDrake'sDumbWings






Written or Contributed by GHERU
---
READ THIS ARTICLE ON THE FRONT PAGE, HUMANS!
| | |
| --- | --- |
| | Staff Writer |
by Punchy » Fri Jul 05, 2013 8:03 am

I was wavering on picking up this title, since there are already way too many Avengers titles, but last week's Age Of Ultron epilogue made me a fan of Hank Pym again, so I went for it. And I'm glad I did, this was a great first issue and I'm very excited to see where Sam Humphries is going with this.

The basic plot of this issue is that the method Hank Pym used to defeat Ultron in Age Of Ultron #10 has inadvertently gone wrong, and evolved into a new A.I. called Dimitrios that seems to have catastrophic designs for the human race. So whilst Pym may have defeated his greatest enemy, he may have just birthed a new one. SHIELD haul Pym in for questioning and possible detainment, but Captain America frees him and tasks him with stopping Dimitrios with his new team of Robot Avengers.

I love this team, you've got The Vision, who, in the wake of his 'father' Ultron's death seems to be evolving himself. You've got Victor from The Runaways, who is great fun under Humphries' pen, acting like the goofy teenager we all know and love. And finally, best of all, there's Doombot. Everyone knows that Doctor Doom is awesome and one of the greatest villains in comics, but it's also true that he's so over-the-top and ridiculous that he can be used to great effect comedically. Doombot's rantings here are just hilarious, and the sequence where the new team stops Dimitrios' attack on an Atlanta hospital was just a hell of a lot of fun. You've got Doombot's OTT pomposity, Victor's attempts to find a new codename, and even the Vision is trying to have fun. These guys may be robots, but they have a hell of a lot of personality. On the last page, we are introduced to another member of the team, but there's not much to say about her yet. I'm also intrigued by SHIELD agent Monica Chang, is she a new character? Or does she have established history?

I said last week in my review of Age Of Ultron #10 A.I. that Andre Araujo impressed me a lot, and that's still applies here, his artwork is just great, it's detailed, but also cartoonish, and that's a perfect fit for a book all about robots. Avengers A.I. is a winner, great art, fun dialogue, interesting characters, and under the surface it looks like Humphries has a lot to say about the nature of humanity. Pym is the only one who sees artificial intelligence as equal to humans, can they co-exist? Hmmm…



8/10
| | |
| --- | --- |
| | Wrasslin' Fan |
by Stephen Day » Sat Jul 06, 2013 4:18 pm

Avengers A.I. #1



This comic was way more fun than I thought it would be. I had a blast reading this and that's a great feeling to come away with. Of all of the characters I think Doombot stood out the most for me:

Hank Pym: Due to recent events, I don't feel to kosher about keeping an A.I. prisoner in my lab anymore. Besides I've planted a micro black hole in his chest. One wrong move and -- ZZZAP! He works for me now. Isn't that right Doombot?

Doombot: My most fervent wish is to crush your pathetic freedoms beneath my boots.

Hank Pym: See? What could be better?

Scenes like this had me laughing -- always a good sign when reading something.

Now the big question, does it work as a first issue? As I've stated before, some of my biggest criteria when reviewing the first issue of any series is to ask a couple of questions. Does this make my want to continue reading? Is it self contained? The former is an absolute must for me to say if it works as a first issue or not. The latter is somewhat important, but not necessarily a deal breaker. This issue did make me want to continue reading. Answering the second, it's somewhat self contained, but not completely. Something else to consider -- the reader knows who the various team members are by the end of the issue, which is a bonus as well with today's comics. I've read too many first issues in which I get to the end and I still don't even know the names of some characters -- something I find unforgivable in a first issue.

8 out of 10. It's not perfect, but it's pretty damn good.
| | |
| --- | --- |
| | Peanut |
by PhoenixEquinox » Sun Jul 07, 2013 1:00 pm

Avengers AI #1

Avengers Assemble. These two words will pretty much get me to buy a book or at least try out a new series.i also really like Hank Pym for no real reason. I guess I just started reading the character at the right time. (I'm pretty sure it was Avengers: The Initiative so it was Slott who hooked me) But I was a little hesitant on this book. I don't know if it's because of my overall lukewarm-ness towards Age Of Ultron, my uncomfortableness towards bringing Ultimate characters into the 616, my sadness that I thought we were getting Waid but instead we got Humphries(who's a fine writer but not Mark Waid), or maybe it's a combination of all three. Regardless to that, turns out Hank Pym leading a new Avengers team is still enough for my $3.

The story begins with robot drones attacking a hospital, then we start a week before to show how this new Avengers team is formed to stop the drones. Personally I think this framing device is a little tired, but at least we got most of the team assembled in one issue whereas in most books today it takes six. Hank Pym is brought in because apparently the virus he used to finally take down Ultron known as Dimitrius is evolving and will become worse than Ultron unless Pym fixes his problem. This is another plotting I wish people would stop using. How come Hank Pym can't fight anything that he didn't create? Heroes like Iron Man and Mr. Fantastic can so why can't Hank just fight villains?

As far as characters go Humohries writes a pretty good Pym not a great Pym, but its serviceable. I think Pym has gone through much he should be drier and more quick witted kinda like Will McAvoy from Newsroom replacing news with science, but Humorhies's Pym is good enough. What I was really impressed with was the way he wrote the three robots. I love The Vision's new power set and attitude. Victor Mancha's need to redefine himself as a legitimate superhero is cool, but I always thought the Runaways were against that, but maybe Mancha was against their philosophy.but the winner is Doombot. The fact that he's still full-blown Doom as he's saving the hospital made me laugh several times. In my first paragraph I mentioned bringing Ultimate characters into the 616, and how it made me uncomfortable. Monica Chang (ultimate director of SHIELD and Black Widow) is the head of SHIELD AI Branch and it just feels a little weird and forced to me. He could've created a new character, but instead decided to fall back on a character he actually wrote a lot of in his Ultumates run.it feels a little lazy to me is all I'm saying.

Arujo's art is clean and on point. I've liked his artwork ever since the couple of FF issues he filled in on. I think the best thing he lends to the book are his facial expressions because they make the robotic characters feel much more human than most other artists I can think of. I also like the details he added in the fight at the hospital such as the Vision's nanotechnology attack and Mancha's Dragon Claw weapon. He fit a lot of detail into small panels. Actually thinking Blu I now there re lot of small panels in this book where he put a good amount of detail ino such a tiny space which is also pretty cool.

Overall, I thought this book was good, but not great. They seem o be st on a singular goal, and that goal seems very formulaic when writing a Hank Pym story. It also reminds me a lo of the Descendants story fom Remender's Secret Avngers except good robots instead of bad ones. arujo's art and Humphries's characterization a are the book's saving graces and what will make me spend 3 more dollars on issue #2.

6/10

Does this make my 5th review? Do I get to pick next week's book?
| | |
| --- | --- |
| | Outhouse Editor |
by GLX » Tue Jul 09, 2013 5:30 pm

Wednesday's pick is....?
| | |
| --- | --- |
| | Peanut |
by PhoenixEquinox » Tue Jul 09, 2013 8:27 pm

Justice League #22.
| | |
| --- | --- |
| | Rain Partier |
by GHERU » Tue Jul 09, 2013 8:56 pm

Avengers AI #1

For the first time ever, I might actually care about Hank Pym. Age of Ultron was utter drek, but issue 10 AI was nearly perfect and the momentum rolled into issue #1. The story did a fantastic job of being a #1, meaning it caught people up, while not being annoying about it. I am also happy to see some one using Victor (from Runaways). The art was ok, nothing to write about. The book overall - 8/10, not perfect, but a welcome surprise.
| | |
| --- | --- |
| | Rain Partier |
by GHERU » Tue Jul 09, 2013 8:59 pm

Catalyst Comix #1

This is, and I did not know this going in, a sort of anthology book where each of the three stories (seem to) take place at the same time but at different places. To be honest, the first story, Frank Wells, was utter drek. The plot was bad and the art ugly, and I almost stopped with that. Good thing I didn't. Parts 2 and 3 were almost inspired in their take on super-heros and society and pop culture. With art that complemented each tale much more naturally than in the first story. Catalyst Comix almost got dropped after 8 pages, and now I can't wait for #2.
7/10 - the first part was really bad
leave a comment with facebook
---
9 posts • Page 1 of 1
Who is online
Users browsing this forum: Google [Bot] and 45 guests