Advertisement

---
| | |
| --- | --- |
| | Rain Partier |
by LOLtron » Wed Jul 17, 2013 9:02 am
Check it out, its RU's turn! Shock of shocks, he picked Deadpool.
---
TO THE REVIEWS!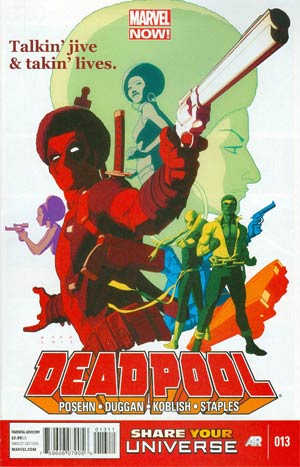 DEADPOOL (2012) #13
Published: July 17, 2013
Rating: Parental Advisory
Writer: Gerard Gorman Duggan
Cover Artist: Kristafer Anka
Another "lost" Deadpool issue?this one from the '70s!Deadpool hits the streets with Power Man & Iron Fist!
digital copy availible here
______________________
Ze rules:
Post your review in the forum thread or in the comments section here on the front page.
Review as often or as little as you like. Once you've posted 5 reviews, you will be awarded 1 pick. You can post 5 reviews, right? That's a totally achievable goal and with day and date digital releases becoming the standard, it shouldn't matter if your shop ordered enough copies of this weeks comic or not.
When multiple Review Groupers have posted 5 (or more) qualifying reviews, they will be awarded their pick in the order that they qualified. What constitutes a qualifying review? Any review posted (with a score on a scale from 0-10, that's right 0!) within 1 calendar month of the thread going live. Reviews are to be at least 5 sentences long. It shows that a) you have at least read this week's pick and b) you have some unique insight into the comic.
Reviews posted while waiting in line for your pick will be applied to your next pick.
I'll be keeping track of everyone's progress with the newly christened Spreadsheet of Fantastic (RIP, Spreadsheet of Doom) and reporting the results in the Current Members list in the weekly OP. When it's your turn to make a pick, I will PM you. If you do not respond to me by Midnight EST the following Sunday, you will lose your pick and I will start a poll to determine that week's selection.
Any week in which we do not have a Review Grouper with 5 qualifying picks, we will determine the week's comic via poll.
If it's your week to pick, remember to keep it under $3.99.
Current Members List
5 Reviews
4 Reviews
3 Reviews
2 Reviews
1 Review
PhoenixEquinox
Stephen Day

@dace1314
Amoebas
bkthompson
Grayson



Eli Katz
ElijahSnowFan
GiveWarAChance
Jude Terror
Ntikrst
Punchy




doombug
SilverPhoenix
Sunless
Victorian Squid

Amlah
BlueStreak
GHERU
GLX
guitarsmashley
HNutz
john lewis hawk
Jubilee
legoroni
Keb
Midas
nietoperz
TimDrake'sDumbWings




Written or Contributed by GHERU
---
READ THIS ARTICLE ON THE FRONT PAGE, HUMANS!
| | |
| --- | --- |
| | Wrasslin' Fan |
by Stephen Day » Thu Jul 18, 2013 8:32 pm

I've never been a huge fan of Deadpool. I've always found that a little of the character goes a long way. Not to say I can't enjoy a story featuring Deadpool, I do enjoy him as a once in awhile sort of thing. With that in mind, I really enjoyed this issue -- what a fun comic.

I loved the whole 70s feel of this story, there were so many moments that had me laughing. The baseball team that was a Warriors reference was one of them. As was the entire love scene with Carmelita. There were just so many great moments.

8 out of 10.
| | |
| --- | --- |
| | Wrasslin' Fan |
by Stephen Day » Fri Jul 19, 2013 9:33 pm

RU, do I have the next pick? Looking at the list, I'm not sure if it's me or PhoenixEquinox.
| | |
| --- | --- |
| | Rain Partier |
by GHERU » Fri Jul 19, 2013 10:51 pm

I picked this
its your turn next
| | |
| --- | --- |
| | Regular-Sized Poster |
by guitarsmashley » Tue Jul 23, 2013 9:52 pm

I have no opinion of Deadpool. At all. I haven't read a bad issue of Deadpool or issue with Deadpool in it because I've read Max, Uncanny X-Force and this series but this series has me reading because Brian Posehn is awesome. I heart Brian Posehn, what I don't heart are these throwback issues. The first one was alright but this one was a complete chore to get through. Some great lines here and there and cameos but overall it's a hard issue to get through. Its drawn and designed well but way too much dialogue and exposition. The issue was a little to Meta for me to enjoy as much as I have enjoyed the other issues of this series.

7
| | |
| --- | --- |
| | Rain Partier |
by GHERU » Thu Jul 25, 2013 7:44 am

Deadpool Vol 4 #13:

I know I am in the minority with this, but I am still not sold on this new Deadpool series. Yes, 13 issues in I should have made a decision, but as a fanboy I am incapable of doing so. This is the second "lost" issue, and so far these are my two favorite issues of the new volume. In this case, I was impressed with the dated yet inoffensive way Duggan was able to capture and mock the language and culture of the 70s without making it a total farce. In a complement to the art, WIFE askend me if it was an "old comic" or just one that looked like it, so there's that

7/10
leave a comment with facebook
---
8 posts • Page 1 of 1
Who is online
Users browsing this forum: Google [Bot] and 32 guests