Advertisement

---
| | |
| --- | --- |
| | Rain Partier |
by LOLtron » Wed Aug 14, 2013 11:46 am
Everyone celebrate - its Grayson's first ever Review Group pick!
---
Grayson's done gone and done it now!
TO THE REVIEWS!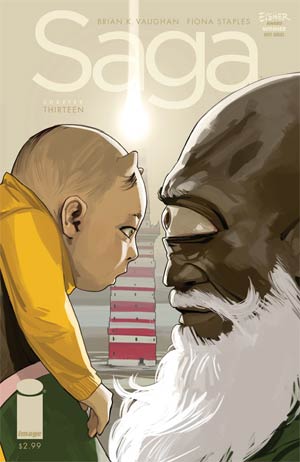 Writer: Brian K. Vaughan • Artist: Fiona Staples
THE SMASH-HIT, CRITICALLY ACCLAIMED SERIES RETURNS! Now that you've read the first two bestselling collections of SAGA, you're all caught up and ready to jump on the ongoing train with Chapter Thirteen, beginning an all-new monthly sci-fi/fantasy adventure, as Hazel and her parents head to the planet Quietus in search of cult romance novelist D. Oswald Heist.
digital copy availible here
______________________
Ze rules:
Post your review in the forum thread or in the comments section here on the front page.
Review as often or as little as you like. Once you've posted 5 reviews, you will be awarded 1 pick. You can post 5 reviews, right? That's a totally achievable goal and with day and date digital releases becoming the standard, it shouldn't matter if your shop ordered enough copies of this weeks comic or not.
When multiple Review Groupers have posted 5 (or more) qualifying reviews, they will be awarded their pick in the order that they qualified. What constitutes a qualifying review? Any review posted (with a score on a scale from 0-10, that's right 0!) within 1 calendar month of the thread going live. Reviews are to be at least 5 sentences long. It shows that a) you have at least read this week's pick and b) you have some unique insight into the comic.
Reviews posted while waiting in line for your pick will be applied to your next pick.
I'll be keeping track of everyone's progress with the newly christened Spreadsheet of Fantastic (RIP, Spreadsheet of Doom) and reporting the results in the Current Members list in the weekly OP. When it's your turn to make a pick, I will PM you. If you do not respond to me by Midnight EST the following Sunday, you will lose your pick and I will start a poll to determine that week's selection.
Any week in which we do not have a Review Grouper with 5 qualifying picks, we will determine the week's comic via poll.
If it's your week to pick, remember to keep it under $3.99.
Current Members List
5 Reviews
4 Reviews
3 Reviews
2 Reviews
1 Review
Grayson
PhoenixEquinox
@dace1314
Amoebas
bkthompson
GHERU
Punchy
Eli Katz
ElijahSnowFan
GiveWarAChance
guitarsmashley
Jude Terror
Ntikrst
Stephen Day
doombug


SilverPhoenix


Sunless
Victorian Squid

Amlah
BlueStreak
concreatjungle
GLX
HNutz
john lewis hawk
Jubilee
legoroni
Keb
Midas
nietoperz
thefourthman
TimDrake'sDumbWings


Written or Contributed by GHERU
---
READ THIS ARTICLE ON THE FRONT PAGE, HUMANS!
| | |
| --- | --- |
| | Outhouse Editor |
by thefourthman » Wed Aug 14, 2013 2:23 pm

I won't be participating this week as I am reading this in trades and do not have the money available to catch up this week....
| | |
| --- | --- |
| | Staff Writer |
by xaraan » Thu Aug 15, 2013 3:04 pm

So glad this book is back after the short break, and also glad they had a sort of recap built into the story. Sometimes I get a bit tired of the "weird for the sake of weird" stuff they have in Saga, but it didn't overshadow the story this issue. The bone creature they tussled with was a pretty cool concept, the new story thread with the tabloids was an interesting turn of events, and it's nice to see The Will develop a bit as a character. My favorite thing about the story is still that it's narrated by the baby, even if it's told "in the past" from her after she's grown, the little stuff like "I just shit myself" always gets a laugh out of me. Finally, the art, as always, is great.

I rate this one 8/10
| | |
| --- | --- |
| | Wrasslin' Fan |
by Stephen Day » Thu Aug 15, 2013 4:47 pm

RU, while I appreciate the bump in my review total up to 3, I should only be up to 2 reviews.
| | |
| --- | --- |
| | Staff Writer |
by Punchy » Fri Aug 16, 2013 7:34 am

The Eisner Award-winner for best series returns after a short break, and it's just as good as ever. During the hiatus, you'd be forgiven for thinking that this series was just about some stupid cat on a t-shirt, but it's a lot more than that, and this issue showed that. The best thing about Saga is how it mixes huge sci-fi concepts with a very realistic portrayal of a young family, and that's all present here.

This issue takes place before #12 actually, as we see Marko, Alana, Hazel and the rest on their way to meet D. Oswald Heist. On the way they come across some reanimated skeletons, which even end up biting Marko's mother's ear off, which is pretty hardcore. But the real meat here is not about the skeletons, it's about Marko grieving over the death of his father, and hey, he looks pretty awesome with a beard.

Of course, the likes of Prince Robot IV and The Will are hot on their trail, and quite a lot of this issue is actually focussed on The Will, which is awesome, because he's become a really cool character. I'm not so hot on Lying Cat as I mentioned, but that's mainly because I'm not an animal-lover at all and find pets in fiction not that lovable. The truly important characters here, and the ones who deserve to be on clothing items are The Will, Gwendolyn and Slave Girl. Or rather Sophie, because at the end, The Will decides to give her a name. This is spurred on by a mysterious vision he has of his dead girlfriend, The Stalk, who tries to talk him out of tracking down Marko and Alana, and just settle down with Gwendolyn. Just like with the central couple, just because this book is in space, doesn't mean the relationships aren't completely and totally real and important.

Another interesting development in this issue is the introduction of a new group of people who are after Marko and Alana. No, it's not more Bounty Hunters, it's tabloid journalists! This issue opens with a Landfall soldier telling a reporter and his photographer about Marko and Alana, and it looks like these two are going to be pretty interesting characters going forwards, and it's going to be a lot of fun seeing how the media works in this crazy setting.

As usual, Fiona Staples' artwork is excellent, and full of great little touches, like the camera being used by the journalist having an actual eyeball on it, and the tiny patches of urine on Oswald Heist's underpants. That's another great example of how this book brings you back down to Earth (well, not Earth, the planet is called Quietus) and makes the characters seem real. It's so good to have this title back, BKV is one of the best writers going and it's just a delight to see he and Staples develop this universe, and these characters every issue. I'm sure some will be annoyed that the overall plot hasn't moved on from #12, but that's not what this book is really about for me, the title 'Saga' is actually a misnomer, yes, this is an epic story, but it's more about the characters. God, I sound like Damon Lindelof.



8/10
| | |
| --- | --- |
| | Rain Partier |
by Garofani Spruzzo » Fri Aug 16, 2013 7:47 am

The new issue didn't really do much for me.
| | |
| --- | --- |
| | Silly French Man |
by habitual » Fri Aug 16, 2013 8:32 am

Lying cat is awesome Punchy


The Will is probably my favorite new character this year.

Hab
| | |
| --- | --- |
| | Staff Writer |
by Punchy » Fri Aug 16, 2013 9:13 am
habitual wrote:Lying cat is awesome Punchy


Explain why.

I don't like cats.
| | |
| --- | --- |
| | Outhouse Drafter |
by Grayson » Fri Aug 16, 2013 5:38 pm

Having taken a break for most of the summer, Saga finally returns and it was well worth the wait. We don't actually pick up where we left off before the hiatus however, as this issue actually picks up shortly after #11 but before #12.

Marko is clearly still grieving over the loss of his father but after landing on an ominous mound of bones and weapons, he and the rest of his group discover that the rest of the universe isn't going to wait for him to snap out of it. All the action leads up to Marko and Alana's first meeting with D. Oswald Heist. We still have a little ways to go until we catch up with how the story left off in issue #12 but this series is so great that I never second guessed Vaughan's narrative.

The other major plot of this issue continues the arc of The Will and crew as they are stranded on a tiny apparently uninhabited planetary paradise. Don't get me wrong, I love Marko, Alana, and their family but I am fascinated by the Will and his story. We don't really discover anything new about the character in this issue but he does have another vision of his deceased lover the Stalk. "She" begs him to give up his quest for Marko and Alana but he confides in "her" that his main objective has become seeking vengeance for her murder. The issue ends with the Will taking his vision of the Stalk's advice and giving the Slave-Girl a name as they wait the universal equivalent of roadside assistance to come.

Artistically speaking, Fiona Staples continues to create an amazingly unique universe for Vaughan's characters to inhabit. I will have to go back and check the previous issues but I would say that the coloring of this issue was sharper or slightly more dynamic than before. Leading up to the summer hiatus, Saga was consistently one of the best books being published and it was great to see that a little time away didn't hurt this series at all.



9/10
| | |
| --- | --- |
| | Rain Partier |
by GHERU » Tue Aug 20, 2013 7:35 am

This week's pick, from Punchy

Batman 66 #2


From the sands of time and halls of higher learning comes one of Batman's deadliest foes: King Tut! Tut returns to assert his royal status and challenge the Dynamic Duo with his most far-reaching plan yet to rule the modern Thebes, Gotham City! Also in this issue, doors smash in and jaws crack from the fists of the newest tough in town: introducing the 1966 incarnation of that reptilian rogue Killer Croc! How can Batman battle this brawny brute?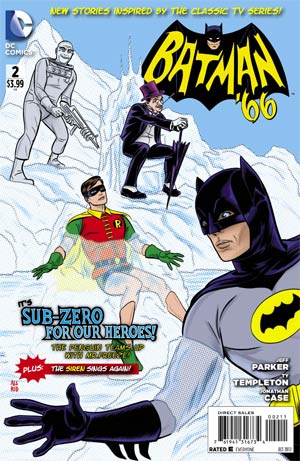 | | |
| --- | --- |
| | Son of Stein |
by Amoebas » Tue Aug 20, 2013 12:00 pm

Love the series and I never even heard it was back until I saw it on the new book shelves and grabbed it instantly.

I found it odd that there was an overwhelming sense of recap throughout the issue with very little actual story development. But the prose and art are just near perfect throughout so It didn't bother me at all.

The addition to the cast of some tabloid reporters is interesting but I wonder if the cast isn't getting too large with so many now chasing our star-crossed lovers.
And am I the only one to get a D.R. & Quinch feel from those reporters?



Great Writing - 8
So-so story - 7
Great art - 9
Overall - 8
| | |
| --- | --- |
| | Regular-Sized Poster |
by guitarsmashley » Tue Aug 20, 2013 11:21 pm

SO yeah, Saga is a good comic. A really really good comic. With that said, this was not the issue I wanted to read after issue 12's greatness. Lying Cat is awesome, the will and gwen are not so awesome. Either way it's a very rare comic to be so good and so beautiful. I don't know if there will ever be a fill in artist but I hope not.

8
leave a comment with facebook
---
13 posts • Page 1 of 1
Who is online
Users browsing this forum: No registered users and 34 guests