Advertisement

---
| | |
| --- | --- |
| | Rain Partier |
by LOLtron » Thu Aug 22, 2013 10:18 am
POW!
---
Punchy's pick!
TO THE REVIEWS!
Batman '66 #2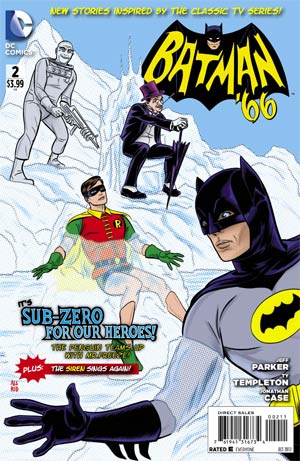 Writer: Jeff Parker • Artist: Ruben Procopio- Dean Haspiel
From the sands of time and halls of higher learning comes one of Batman's deadliest foes: King Tut! Tut returns to assert his royal status and challenge the Dynamic Duo with his most far-reaching plan yet to rule the modern Thebes, Gotham City! Also in this issue, doors smash in and jaws crack from the fists of the newest tough in town: introducing the 1966 incarnation of that reptilian rogue Killer Croc! How can Batman battle this brawny brute?
digital copy availible here
______________________
Ze rules:
Post your review in the forum thread or in the comments section here on the front page.
Review as often or as little as you like. Once you've posted 5 reviews, you will be awarded 1 pick. You can post 5 reviews, right? That's a totally achievable goal and with day and date digital releases becoming the standard, it shouldn't matter if your shop ordered enough copies of this weeks comic or not.
When multiple Review Groupers have posted 5 (or more) qualifying reviews, they will be awarded their pick in the order that they qualified. What constitutes a qualifying review? Any review posted (with a score on a scale from 0-10, that's right 0!) within 1 calendar month of the thread going live. Reviews are to be at least 5 sentences long. It shows that a) you have at least read this week's pick and b) you have some unique insight into the comic.
Reviews posted while waiting in line for your pick will be applied to your next pick.
I'll be keeping track of everyone's progress with the newly christened Spreadsheet of Fantastic (RIP, Spreadsheet of Doom) and reporting the results in the Current Members list in the weekly OP. When it's your turn to make a pick, I will PM you. If you do not respond to me by Midnight EST the following Sunday, you will lose your pick and I will start a poll to determine that week's selection.
Any week in which we do not have a Review Grouper with 5 qualifying picks, we will determine the week's comic via poll.
If it's your week to pick, remember to keep it under $3.99.
Current Members List
5 Reviews
4 Reviews
3 Reviews
2 Reviews
1 Review
Amoebas
PhoenixEquinox
Punchy
@dace1314
bkthompson
GHERU
guitarsmashley

Eli Katz
ElijahSnowFan
GiveWarAChance
Jude Terror
Ntikrst
doombug


SilverPhoenix


Stephen Day
Sunless
Victorian Squid

Amlah
BlueStreak
concreatjungle
GLX
Grayson
HNutz
jeremy
john lewis hawk
Jubilee
legoroni
Keb
Midas
nietoperz
thefourthman
TimDrake'sDumbWings


Written or Contributed by GHERU
---
READ THIS ARTICLE ON THE FRONT PAGE, HUMANS!
| | |
| --- | --- |
| | Regular-Sized Poster |
by guitarsmashley » Thu Aug 22, 2013 10:28 am

What are the digital equivalent of these issues?
| | |
| --- | --- |
| | Staff Writer |
by Punchy » Thu Aug 22, 2013 10:40 am
guitarsmashley wrote:What are the digital equivalent of these issues?


#4, #5 and #6
| | |
| --- | --- |
| | Staff Writer |
by Punchy » Thu Aug 22, 2013 1:29 pm

After only 2 issues, Batman '66 has become one of the highlights of my comics reading month. This book is just so much fun, and it's a hilarious, loving tribute to the great TV show. I love the grim and gritty Batman we get in the modern DCU as much as the next guy, but this take is just as valid.

This second issue features 2 stories. The first features Batman and Robin going up against both The Penguin and Mister Freeze, who have the brilliantly over-the-top scheme of creating an Iceberg in the middle of Gotham City's harbour, declaring it a sovereign nation, and charging ships extortion to get into the city. It's a plan that's so crazy it just might work… and it does, until Batman and Robin get involved. I think the key to making this series work is that Jeff Parker is not treating everything as a joke, yes, the villains here are campy and silly, and their plan is ridiculous, but Batman and Robin take it seriously, and we see that they really are competent crime-fighters. It was especially cool to see Robin take centre-stage here, he can do more than say 'Holy BLANK Batman!'.

That said, this story was still funny, and Ty Templeton's artwork was excellent, he's got a great old-school style, and it really fits the unique tone of this series.

Regular artist Jonathan Case returns for the second story, which has Batman taking on Lorelei Circe, AKA The Siren, who is a villain who only ever appeared in the Batman TV show, and not in the comics, so it was good to see her show up here. This was another fun story, especially when we went inside Batman's hallucinations, and Chief O'Hara appeared as a literal Leprechaun! Also notable was that Bruce Wayne's date to this concert was Kathy Kane, the original Batwoman, are we set to see a Batwoman '66? I think it would be cool to see Parker introduce campy, 60s versions of other Batman characters, I'd particularly like to see Bane '66 or Azrael '66, that would insane. But I suppose for now it's enough for him to revisit the classics.

I know this book isn't for everyone, but I'm loving it, these are well-plotted Batman stories, just with the humour dials turned slightly higher. The art is fantastic, and, in a DC landscape where everything is so dark and violent, it's great to have a bit of Bat-fun.

Really, this series is a testament to how great a character Bats is, that this title can come out at the same time as Snyder's take, or Tomasi's, is amazing. If you've stayed away from this title because you think the TV show was stupid, think again, it's not stupid, it's just different.



8/10
| | |
| --- | --- |
| | Wrasslin' Fan |
by Stephen Day » Thu Aug 22, 2013 9:39 pm

I think this may have been the most fun I had reading a comic this week. The plot by The Penguin and Mr. Freeze is simple, but effective. The means by which they are stopped is just as simple, but also just as effective. It's not a complicated plot, but it works on the level that Jeff Parker is going for. You know what, in the end, that's all I ask for as a reader.

The second story isn't anything new. The whole concept is certainly one that I've seen before, but it's still well written and enjoyable. The other thing it has going for it is the suggestion of a plot that may move forward. I'm happy about that as I think I'll enjoy this series a lot more if it turns out to be more than a series of one shots.

8 out of 10.
| | |
| --- | --- |
| | Outhouse Editor |
by thefourthman » Mon Aug 26, 2013 4:40 pm

Just came back from comic store (was at beach) will join in asap on this... now for Burn the Orphanage.
| | |
| --- | --- |
| | Son of Stein |
by Amoebas » Tue Aug 27, 2013 4:29 pm

JL #23 (the conclusion to the cross-over)? Nah, the last issue was just done
American Vampire Anthology? Can't, it's too pricey
Mind the Gap #13? No, the book is sliding south
Mind Mgt #14? It was reviewed a couple months ago - pass
Aquaman #23? No, as stated a Johns books was done just a month ago

That leaves the best remaining book imo ...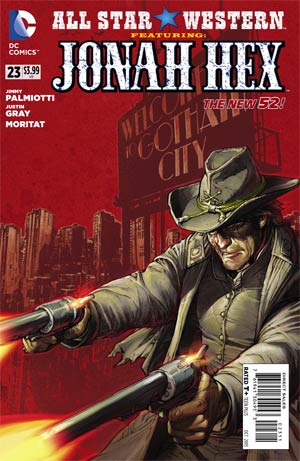 | | |
| --- | --- |
| | Outhouse Editor |
by thefourthman » Wed Sep 11, 2013 6:23 pm

Batman '66 #2
Written by Jeff Parker
Illustrated by Ty Templeton and Jonathan Case

Two issues in, it is easy to say that Parker has nailed the feeling of the old television show. This book is campy, full of awesome gadgets, whacky villains, holy expletives Batman, and the fun tongue in cheek all ages attitude.

It is nice to see Robin get the spotlight for a moment in the Penguin story and for one of the lesser known villains in Siren to make an appearance.

Templeton's art catches the faces of the actors that were famous in the show. However, Case's artwork catches the kinetic energy of the cinemaphotography of the show.

This is the kind of book that Didio should want, easily a good read for nostalgic adults while being appropriate for the younger fans that will keep the medium alive long after his forty year old fan boys have died.

8 out of 10.
leave a comment with facebook
---
10 posts • Page 1 of 1
Who is online
Users browsing this forum: FaceBook [Linkcheck], HNutz, SporkBot and 52 guests