Advertisement

---
| | |
| --- | --- |
| | Rain Partier |
by LOLtron » Wed Aug 28, 2013 2:20 pm
Amoebas went through quite a bit of logic to come up with this week's pick: All Star Western #23
---
TO THE REVIEWS!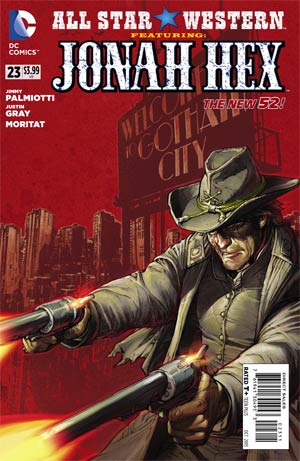 Manufacturer/Publisher: DC (Release Date: 8/28/2013)
Writer: Justin Gray, Jimmy Palmiotti • Artist: Moritat, Staz Johnson
Hex is trapped in modern-day Gotham City…and he's getting ready to shoot his way out! Find out how he got here-and see what part Batman plays! And in the backup story, the Vigilante seeks revenge!
digital copy availible here
______________________
Ze rules:
Post your review in the forum thread or in the comments section here on the front page.
Review as often or as little as you like. Once you've posted 5 reviews, you will be awarded 1 pick. You can post 5 reviews, right? That's a totally achievable goal and with day and date digital releases becoming the standard, it shouldn't matter if your shop ordered enough copies of this weeks comic or not.
When multiple Review Groupers have posted 5 (or more) qualifying reviews, they will be awarded their pick in the order that they qualified. What constitutes a qualifying review? Any review posted (with a score on a scale from 0-10, that's right 0!) within 1 calendar month of the thread going live. Reviews are to be at least 5 sentences long. It shows that a) you have at least read this week's pick and b) you have some unique insight into the comic.
Reviews posted while waiting in line for your pick will be applied to your next pick.
I'll be keeping track of everyone's progress with the newly christened Spreadsheet of Fantastic (RIP, Spreadsheet of Doom) and reporting the results in the Current Members list in the weekly OP. When it's your turn to make a pick, I will PM you. If you do not respond to me by Midnight EST the following Sunday, you will lose your pick and I will start a poll to determine that week's selection.
Any week in which we do not have a Review Grouper with 5 qualifying picks, we will determine the week's comic via poll.
If it's your week to pick, remember to keep it under $3.99.
Current Members List
5 Reviews
4 Reviews
3 Reviews
2 Reviews
1

Review

Amoebas
PhoenixEquinox

@dace1314
bkthompson
GHERU
guitarsmashley

Eli Katz
ElijahSnowFan
GiveWarAChance
Jude Terror
Ntikrst
Stephen Day
doombug


SilverPhoenix


Sunless
thefourthman
Victorian Squid

Amlah
BlueStreak
concreatjungle
GLX
Grayson
HNutz
jeremy
john lewis hawk
Jubilee
legoroni
Keb
Midas
nietoperz
Punchy
TimDrake'sDumbWings


Written or Contributed by GHERU
---
READ THIS ARTICLE ON THE FRONT PAGE, HUMANS!
| | |
| --- | --- |
| | Outhouse Editor |
by thefourthman » Thu Aug 29, 2013 7:54 pm

Bought this, will

review

soon.


Sent from my EVO using Tapatalk 2
| | |
| --- | --- |
| | Wrasslin' Fan |
by Stephen Day » Sun Sep 01, 2013 12:04 pm

Overall, I'd describe All-Star Western as a series that is good, but not great and I'd say that this issue continues that trend. It continues to be interesting to see Hex interact with the modern DCU, but there are some problems I have with it as well. Key among these problems is that I think Hex has fit in a little too well into modern Gotham City. This issue is typical in that he finds allies a little too easily. I still enjoy this series, but I'd like to see Hex get back to his own time period.

6 out of 10
| | |
| --- | --- |
| | Rain Partier |
by GHERU » Tue Sep 03, 2013 6:54 pm

Heads up this week is a free-for-all
| | |
| --- | --- |
| | Wrasslin' Fan |
by Stephen Day » Tue Sep 03, 2013 7:40 pm
GHERU wrote:Heads up this week is a free-for-all


Cool.
| | |
| --- | --- |
| | Son of Stein |
by Amoebas » Wed Sep 04, 2013 11:57 am

Jonah Hex was one of DC's most consistently good books since it debuted back in 2006. The transfer two years ago to All-Star Western hasn't ebbed it at all.

And with the current arc of a time-stranded Jonah in the year 2013, it's shaken any cobwebs that may have started to settle.

This issue continues to explore Hex in a modern era with Gotham City as the background. After escaping from Arkham Asylum, Jonah again finds himself saddled with a member of the Arkham family. Reluctant at first, Arkham has accepted Jonah's story and this issue finds them trying to figure things out (like how to get Jonah home).

There are three things Jonah Hex likes: Guns, booze and temporary female company (wink wink nudge nudge). He finds all three this issue and as for the sexual content, it's refreshing to see it portrayed by the creators so maturely.

It is Gotham City so you have to expect violence to rear it's ugly head, and it does. Often. And Jonah's archaic morals play well in contrast with even that cess pool of a city's virtues. And since it is GC, you just know a certain Dark Knight is going to appear (he's shown up these last few issues as a subplot builds). While Batwing has already had a go with Jonah a couple issues back, it's the face to face with Batman that I was most looking forward to.

Then comes the last page and we see it's not Batman who's going to get to see him - it's Bruce Wayne!? Nice twist if I may say so (and I just did).

Gray & Palmiotti have for 8 years, taken a minor old west character and told some really good stuff. While the current shift to Booster Golds & BatFams won't last long (or will it), I continue to look forward to each issue - which to me is the real gauge to whether a book is good or not.

Writing - 8
Art - 8
Overall - 8
leave a comment with facebook
---
7 posts • Page 1 of 1
Who is online
Users browsing this forum: No registered users and 26 guests