Advertisement

---
| | |
| --- | --- |
| | Rain Partier |
by LOLtron » Wed Sep 11, 2013 2:04 pm
After the failure that was Week 395's Free-For-All, Stephen Day returns with with Captain America #11
---
Known Canadian, Stephen Day, picks Captain America, so there's that.
TO THE REVIEWS!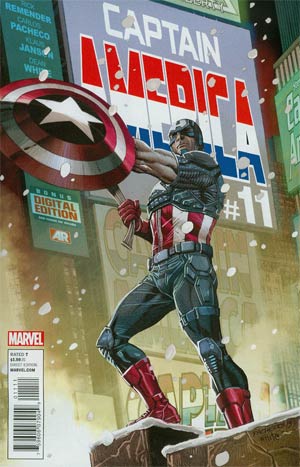 LOOSE NUKE PART 1
A man further out of time!
Captain America returns home to deal with the repercussions of his time in Dimension Z.
Someone has set Nuke loose in a foreign nation and he's on a rampage.
Who is The Iron Nail?
Manufacturer/Publisher: Marvel (Release Date: 9/11/2013)
Writer: Rick Remender • Artist: Carlos Pacheco
digital copy availible here
______________________
Ze rules:
Post your review in the forum thread or in the comments section here on the front page.
Review as often or as little as you like. Once you've posted 5 reviews, you will be awarded 1 pick. You can post 5 reviews, right? That's a totally achievable goal and with day and date digital releases becoming the standard, it shouldn't matter if your shop ordered enough copies of this weeks comic or not.
When multiple Review Groupers have posted 5 (or more) qualifying reviews, they will be awarded their pick in the order that they qualified. What constitutes a qualifying review? Any review posted (with a score on a scale from 0-10, that's right 0!) within 1 calendar month of the thread going live. Reviews are to be at least 5 sentences long. It shows that a) you have at least read this week's pick and b) you have some unique insight into the comic.
Reviews posted while waiting in line for your pick will be applied to your next pick.
I'll be keeping track of everyone's progress with the newly christened Spreadsheet of Fantastic (RIP, Spreadsheet of Doom) and reporting the results in the Current Members list in the weekly OP. When it's your turn to make a pick, I will PM you. If you do not respond to me by Midnight EST the following Sunday, you will lose your pick and I will start a poll to determine that week's selection.
Any week in which we do not have a Review Grouper with 5 qualifying picks, we will determine the week's comic via poll.
If it's your week to pick, remember to keep it under $3.99.
Current Members List
5 Reviews
4 Reviews
3 Reviews
2 Reviews
1 Review
PhoenixEquinox
Stephen Day

@dace1314
bkthompson
GHERU
guitarsmashley

Eli Katz
ElijahSnowFan
GiveWarAChance
Jude Terror
Ntikrst
doombug
SilverPhoenix
Sunless
thefourthman
Victorian Squid

Amlah
Amoebas
BlueStreak
concreatjungle
GLX
Grayson
HNutz
jeremy
john lewis hawk
Jubilee
legoroni
Keb
Midas
nietoperz
Punchy
TimDrake'sDumbWings


Written or Contributed by GHERU
---
READ THIS ARTICLE ON THE FRONT PAGE, HUMANS!
| | |
| --- | --- |
| | Outhouse Drafter |
by Grayson » Wed Sep 11, 2013 8:46 pm

Captain America #11

- Carlos Pacheco's first issue as the artist for this series finds Captain America returning to Earth, having spent 12 years living in Dimension Z. In 1935, Steve Rogers is dealing with the unfortunate news of his mother's illness. She is dying and soon he will be all alone. In the present day, Bruce Banner and Hank Pym are surgically repairing Steve's broken body and removing any further traces of Zola's consciousness. They discuss how any other man would have died long ago from the injuries that Cap sustained but of course, Captain America is no ordinary man. The rest of Steve's storyline in this issue deals with him hitting the ground running, taking Jet from S.H.I.E.L.D. custody, and returning to his apartment which he comes to realize is nothing more than a shrine to the past. Meanwhile, half a world away in Eastern Europe, Nuke begins ranting about an American war lost on their soil. He talks a big game about the American way and then opens fire on a group of civilians in their marketplace.

Even though I had some issues with the pacing and the length of the previous arc, I have to say that this issue easily could have been condensed and fit into the ending of the last issue or the beginning of another. Nothing really happens and Steve barely acknowledges losing Sharon or Ian. Obviously this is going to be used to set up a longer story arc but it would have been nice for a little more recognition.

Anyways, as I said before, this is Carlos Pacheco's first issue on the title. The art isn't as clean as I would have liked it and I would even say that I felt like Pacheco was trying to emulate Romita Jr.'s style a little too much. Hopefully he can turn it around next issue. All things considered, this may have been my least favorite issue of this volume of the series so far but it's not enough to sway me from keeping this book on my pull list.



7 out of 10



Finally on a side note: Did anybody else notice

the tombstones for Rex Tyler and Jay Garrick in the background during the flashback? Thought it was a cool nod to the old school JSA

.
| | |
| --- | --- |
| | <( ' . ' )> |
by Keb » Thu Sep 12, 2013 2:11 am

This felt like half an issue though. Not enough Nuke for a sorry that sets the stage for Nuke and then burning of stuff bugged me.
| | |
| --- | --- |
| | Outhouse Editor |
by thefourthman » Thu Sep 12, 2013 7:30 am

Shop tonight, picking this up also have all star western and god is dead (for free for All week), posted barman 66 last night. One day I'll catch up.
| | |
| --- | --- |
| | Fagorstorm |
by Johnny Smith » Thu Sep 12, 2013 10:23 am
Grayson wrote:

Captain America #11

-

Anyways, as I said before, this is Carlos Pacheco's first issue on the title. The art isn't as clean as I would have liked it and I would even say that I felt like Pacheco was trying to emulate Romita Jr.'s style a little too much. Hopefully he can turn it around next issue.


most of that was probably due to having Klaus Janson on inks - I guess he's going to be the permanent inker
| | |
| --- | --- |
| | Regular-Sized Poster |
by guitarsmashley » Thu Sep 12, 2013 10:01 pm

I have been enjoying the hell out of Remender's Cap. I was beyond excited to hear that Carlos Pacheco would be drawing the next arc and then this issue finally came and this was not the Pacheco I love. As pointed out about, Klaus Janson may really be the culprit here. I understand changing styles but I don't think Carlos would go full John Romita Jr mode or at least 1/3 panda. Anyway are aside this issue isn't swaying my Jet and Cap are totally gonna bang theories, they're totally going to bang. I don't really no Nuke so much...I've never read born again but, I might after reading this issue. Hopefully Janson pulls a little back in future inking.

7.3
| | |
| --- | --- |
| | Son of Stein |
by Amoebas » Mon Sep 16, 2013 5:56 pm

At long last the plague that is known as John Romita Jr is gone from Captain America!

And a JRJR clone takes over.
(Hopefully it's a just a transition thing).

So we have an issue where Cap recovers physically from his 12 year trauma in just a few pages with the help of Bruce Banner who is now a surgeon (really, the way they've inflated his intelligence is mind staggering these last couple years). He takes his new girlfriend home and they make a bon fire.

I would really like to say there's more to the book than that but there really isn't any. It's simply a boring issue.

Okay, maybe there is one thing to expound on - and that's the bonfire where Cap burns all the souvenirs he's collected over the years from his career & exploits (this collection is something I don't recall ever seeing before). So, Cap just burns it all to prove to Jet that he too must can let the past go. I suppose auctioning off all this priceless memorabilia for charity would have taken up too much story (and with what little there is this issue, that could only have been a good thing).

I'm reminded of the end of Titanic where the old hag tosses the priceless diamond into the ocean, rather than give it to her granddaughter who could have used it a lot more than the fishes would.

And who lights a bonfire on a NYC roof top? And

in the rain

no less!


I simply must also state something about the cover and how I doubt I will accept this costume thing Cap is forced to wear nowadays. I'd take the pointy chain mail look over this dreck (and I despised the pointy chain mail look).

Story - 2
Art - 7 (better than JRJR despite the 'influence')
Overall - 4 (I deducted a point for the cover)
| | |
| --- | --- |
| | Wrasslin' Fan |
by Stephen Day » Mon Sep 16, 2013 7:32 pm

Sigh -- it was my choice this week and the choice came down to this issue or Mighty Avengers #1. After reading both issues this week, I think I made the wrong choice. This issue wasn't badly written for what it was. Having said that, there really wasn't a lot exciting that happened. My thinking when I made this choice was that this would be a fun new launching point for this series' next story arc. What I got instead was an issue that focused way too much on the past storyline and not enough on the story it was beginning. It came across as back tracking instead of moving forward.

5 out of 10.
| | |
| --- | --- |
| | Rain Partier |
by GHERU » Tue Sep 17, 2013 12:47 pm

guitarsmashley's pick this week

Zero #1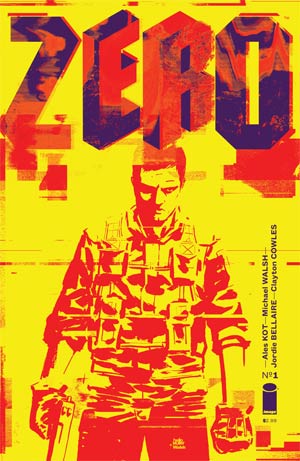 leave a comment with facebook
---
10 posts • Page 1 of 1
Who is online
Users browsing this forum: FaceBook [Linkcheck] and 32 guests