Advertisement

---
| | |
| --- | --- |
| | Rain Partier |
by LOLtron » Wed Oct 16, 2013 12:51 pm
RU's pick, and he chose two books. Why? Because he can. You want to do this every week? No really, do you?
---
Yep, thats right, I picked two books. What are you going to do abou it?
TO THE REVIEWS!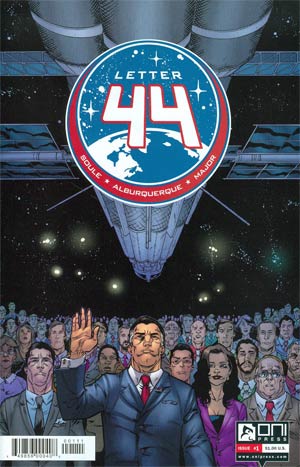 There's something up there. As newly elected President Stephen Blades reads the letter left for him in the Oval Office by his predecessor, he learns this stunning secret: seven years earlier, NASA discovered an alien construction project in the asteroid belt. A crew of heroic astronauts was sent to investigate, and they're nearing the conclusion of their epic journey. Don't miss the first chapter in this thrilling tale of real-world space travel, intrigue, and secret histories!
Manufacturer/Publisher: Oni Press (Release Date: 10/16/2013)
Writer: Charles Soule • Artist: Alberto Alburquerque
digital copy availible here (for 99 cents
Forever Evil Rogues Rebellion #1
The Rogues call no man boss, but a new evil threat might not leave them much choice! Will they fall in line, or refuse and risk certain death? The answer will tear the Rogues apart!
Manufacturer/Publisher: DC (Release Date: 10/16/2013)
Writer: Brian Buccellato • Artist: Patrick Zircher
digital copy availible here
Ze rules:
Post your review in the forum thread or in the comments section here on the front page.
Review as often or as little as you like. Once you've posted 5 reviews, you will be awarded 1 pick. You can post 5 reviews, right? That's a totally achievable goal and with day and date digital releases becoming the standard, it shouldn't matter if your shop ordered enough copies of this weeks comic or not.
When multiple Review Groupers have posted 5 (or more) qualifying reviews, they will be awarded their pick in the order that they qualified. What constitutes a qualifying review? Any review posted (with a score on a scale from 0-10, that's right 0!) within 1 calendar month of the thread going live. Reviews are to be at least 5 sentences long. It shows that a) you have at least read this week's pick and b) you have some unique insight into the comic.
Reviews posted while waiting in line for your pick will be applied to your next pick.
I'll be keeping track of everyone's progress with the newly christened Spreadsheet of Fantastic (RIP, Spreadsheet of Doom) and reporting the results in the Current Members list in the weekly OP. When it's your turn to make a pick, I will PM you. If you do not respond to me by Midnight EST the following Sunday, you will lose your pick and I will start a poll to determine that week's selection.
Any week in which we do not have a Review Grouper with 5 qualifying picks, we will determine the week's comic via poll.
If it's your week to pick, remember to keep it under $3.99.
Current Members List
5 Reviews
4 Reviews
3 Reviews
2 Reviews
1 Review
GHERU
guitarsmashley
PhoenixEquinox

@dace1314
bkthompson


Amoebas
Eli Katz
ElijahSnowFan
GiveWarAChance
Jude Terror
Ntikrst
Stephen Day
thefourthman
Victorian Squid
doombug
GLX
Grayson
Punchy
SilverPhoenix
Sunless
TimDrake'sDumbWings

Amlah
BlueStreak
concreatjungle
HNutz
jeremy
john lewis hawk
Jubilee
legoroni
Keb
Midas
nietoperz



Written or Contributed by GHERU
---
READ THIS ARTICLE ON THE FRONT PAGE, HUMANS!
| | |
| --- | --- |
| | Wrasslin' Fan |
by Stephen Day » Fri Oct 18, 2013 4:37 pm

Rogues Rebellion



I'm not a big fan of the Flash, but I've always liked the Rogues. I picked this up hoping that I'd like it and by all rights I should have. I sort of did like it, but sort of didn't. I'm a big enough fan of these characters that on some level I simply enjoyed seeing them in a new story. Having said that, I was very meh on what it was that I actually read. I neither hated nor loved the story and that's the problem -- it was just there.

5 out of 10
| | |
| --- | --- |
| | Rain Partier |
by GHERU » Wed Oct 23, 2013 4:50 pm

Rogues Rebellion

I am a huge fan of The Flash, including the N3252 version, and a large part of that is how awesome the Rouges are. I am not reading any other Forever Evil books (I'm reading a friends main mini) and found this very easy to follow and felt that it stayed very true to who the Rouges are. I like that they are villains with super powers who only want money not super villains who only want to destroy everything, and they are willing to fight the Evil League of Evil (whatever) to do so.

Story was cool
art was cool
book was cool

7.5 / 10
| | |
| --- | --- |
| | Rain Partier |
by GHERU » Mon Oct 28, 2013 7:22 am

Letter 44 #1

I'll be honest, this comic was not what I was expecting, and I approve of that. Basic premise is that the 44th President of the United States (not Obama) discovers, while reading a letter left by his predecessor (not Bush) that aliens have been active in our solar system for at least the last 7 years and all the wars (et al) that #43 engaged in were in preparation for the inevitable confrontation with the aliens.

This issue was short on action, but the story that is being set up could make for an interesting political drama ala DMZ (minus the guns).

Not a fan of the art at all, and it might drive me off the book faster than the writing.

8/10
| | |
| --- | --- |
| | Regular-Sized Poster |
by guitarsmashley » Sun Aug 31, 2014 1:54 pm

Letter 44

So I read issues 1-9 in the last 12 hours and I have to say, this book was a wonderful surprise. The story is compelling in both the political intrigue plot line as well as the space odyssey section. The idea that the president basically destroyed the country to funnel money into project monolith was actually kind of plausible. I am excited to see how President Carrol eventually gets his comeuppance and with the developments of the latest issue I wonder how soon it will be. The art is pretty great and easy to follow which is not always the easiest thing to do in creator owned work but, just a great, great series.

9
leave a comment with facebook
---
6 posts • Page 1 of 1
Who is online
Users browsing this forum: FaceBook [Linkcheck], Google [Bot], LiamA and 29 guests