Advertisement

---
| | |
| --- | --- |
| | Rain Partier |
by LOLtron » Thu Oct 24, 2013 9:36 am
I'm not saying that guitarsmashley always seems to get the "good weeks" but...
---
Considering how many Outhopsues should read this book, this week might be a good week for the good 'ol Review Group.
TO THE REVIEWS!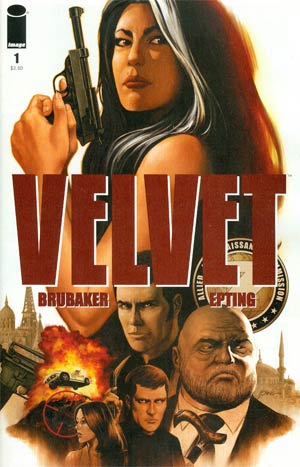 ED BRUBAKER and STEVE EPTING redefined Captain America with the 'Winter Soldier' saga... and everything they've done so far has been leading to VELVET! When the world's best secret agent is killed, Velvet Templeton, the Personal Assistant to the Director of the Agency, is drawn off her desk and back into the field for the first time in nearly 20 years... and is immediately caught in a web of mystery, murder and hi-octane action. Sexy and provocative, with a dark twist on the spy genre, this EXTRA-LENGTH first issue by two of the industry's best-selling creators will knock you out!
digital copy availible here
Ze rules:
Post your review in the forum thread or in the comments section here on the front page.
Review as often or as little as you like. Once you've posted 5 reviews, you will be awarded 1 pick. You can post 5 reviews, right? That's a totally achievable goal and with day and date digital releases becoming the standard, it shouldn't matter if your shop ordered enough copies of this weeks comic or not.
When multiple Review Groupers have posted 5 (or more) qualifying reviews, they will be awarded their pick in the order that they qualified. What constitutes a qualifying review? Any review posted (with a score on a scale from 0-10, that's right 0!) within 1 calendar month of the thread going live. Reviews are to be at least 5 sentences long. It shows that a) you have at least read this week's pick and b) you have some unique insight into the comic.
Reviews posted while waiting in line for your pick will be applied to your next pick.
I'll be keeping track of everyone's progress with the newly christened Spreadsheet of Fantastic (RIP, Spreadsheet of Doom) and reporting the results in the Current Members list in the weekly OP. When it's your turn to make a pick, I will PM you. If you do not respond to me by Midnight EST the following Sunday, you will lose your pick and I will start a poll to determine that week's selection.
Any week in which we do not have a Review Grouper with 5 qualifying picks, we will determine the week's comic via poll.
If it's your week to pick, remember to keep it under $3.99.
Current Members List
5 Reviews
4 Reviews
3 Reviews
2 Reviews
1 Review

guitarsmashley


PhoenixEquinox


bkthompson


Stephen Day



ElijahSnowFan




Jude Terror


Ntikrst


thefourthman


Victorian Squid
doombug
GLX
Grayson
Punchy
SilverPhoenix


TimDrake'sDumbWings




BlueStreak




GHERU


HNutz
jeremy
john lewis hawk
Jubilee


Keb




nietoperz



RU's note - yes the members list has been culled some, if you feel your name was removed in error - REVIEW A COMIC!



Written or Contributed by GHERU
---
READ THIS ARTICLE ON THE FRONT PAGE, HUMANS!
| | |
| --- | --- |
| | Regular-Sized Poster |
by guitarsmashley » Fri Oct 25, 2013 10:19 am

So either I am getting very lucky with my picks or there are actually really good comics being published most weeks. Velvet #1, there was a time when I did not like Brubaker I think it was right after Sleeper ended for the second time. I was pissed that he wasn't writing the best damn comic ever and I even reread it last month just to remember how great it was...of course this is really because I just felt like being in a brubaker mood especially after catching up with Fatale who's first issue I did not enjoy. Anywho....Velvet is the story of Mennypenny except she used to be a spy herself and now finds herself in a real tight spot. I don't know how long they can hold this pace but if they do the book will be great. I was skeptical on Eptings art because as good as Epting is, I am always skeptical on his art. It fits in perfectly here and the two really are a great team together.

10.
| | |
| --- | --- |
| | Wrasslin' Fan |
by Stephen Day » Fri Oct 25, 2013 8:29 pm

This sounds interesting, I'll be in Toronto Friday of next week. I should be able to buy a copy while I'm there.
| | |
| --- | --- |
| | Rain Partier |
by GiveWarAChance » Fri Oct 25, 2013 9:00 pm

The week I'm taken off the list turns out to be the week I should be able to post a review.
It's not often I get my monthly order in on a week where there's a comic book I can actually review. Now I just have to get my order in tomorrow.
| | |
| --- | --- |
| | Staff Writer |
by Punchy » Sat Oct 26, 2013 4:07 pm

The second Image #1 this week, and unlike Pretty Deadly, I really felt that this one lived up the hype. Like most other right-minded human beings, I loved Ed Brubaker and Steve Epting's espionage-tilted take on Captain America, and it's fantastic to see them do something with that same feeling and tone, but without those pesky superhero trappings. The elevator pitch here is basically 'What if Miss Moneypenny was secretly even more bad-ass than James Bond?' and even though they already made Moneypenny pretty bad-ass in Skyfall, Velvet Templeton has her beat I think.

Set in 1973, Velvet Templeton is the secretary to the Director of ARC-7, a spy organization so top-secret, even other spy agencies don't know they exist. After Jefferson Keller, Agent X-14 is murdered on a mission, the agency is sent into chaos, and when a former agent, Frank Lancaster (X-02) is believed to be behind it, Velvet Templeton thinks something is fishy. I liked how almost all of the agents at ARC-7 seemed to be white men with dark hair, sort of indicating that they are all James Bond homages, just different Bonds, and perhaps referencing the somewhat common theory that Bond is not a person, but a codename.

The tone of this book seems to be sort of halfway between the dark, depressing reality of John Le Carre spy novels, and the more action-packed, sexy James Bond stories, and Brubaker pulls it off really well. Brubaker also packs in plenty of interesting character details about Velvet, with a few intriguing flashbacks and a teasing central mystery about just how and why she was given the position of secretary, when as we see in this issue, she's a more than competent field agent. There's also a mystery about the present to deal with, as, due to her misgivings over the guilt of Frank Lancaster, Velvet visits one of his former safe-houses, where she discovers his corpse, and also that she herself has been set up. Another white dude with dark hair (Roberts) appears, and accuses her of being a traitor. However, because he thinks she's just a secretary, Velvet is able to kick the butt of not only him, but also his men, and go smashing out the window.

So not only do we have the mysteries of Velvet Templeton's past, but we also have the question of who is framing her, and how far does the conspiracy go? This was just a perfect first issue, the characters are already interesting (it does help that they are somewhat archetypical, but Brubaker is already moving past the Bond comparisons I feel, I've probably over-done it here myself), there's plenty of action, and most of all, the world of spies in 1970s Britain feels fully realized. We've seen Brubaker write stories set in the past before, on Fatale, on The Marvels Project, and he really nails a sense of time and place like few other writers can.

Steve Epting's art is also fantastic, he brings the same slick, but dark feel to this as he did to Captain America, and the facial expressions he gives to Velvet have gone a long way to building her as a character in a short space of time, especially in that flashback where she and Keller smoke a joint.

If you're a fan of Brubaker's Captain America, you need to check this out, if you like spy novels and movies, you need to check it out, and hey, if you liked the trailer for Captain America: The Winter Soldier that came out this week, you should buy this book, it's the same people who came up with that story, but darker, more in the real world, and with a bad-ass chick. There's even a Jess Nevins article, what's not to like?



9/10
| | |
| --- | --- |
| | Rain Partier |
by GiveWarAChance » Sat Oct 26, 2013 7:13 pm

I never read Brubaker and Epting's Captain America. I have yet to read Criminal, Sleeper, Incognito, etc...(I just crawled out from under a rock). I do read and enjoy Fatale though. I'm also a big fan of Steve Epting's art. This was probably the comic book I was most anticipating for the month. I must say that it really lived up to my high expectations. The storyline is intriguing, the writing is superb, the art is highly detailed and the main character seems really interesting. It's great having an awesome spy comic that takes place in the past. This seems like a really fresh comic book concept in the world of rehashed ideas. If all #1 issues were as sweet as this one, we would be in heaven. I can't wait for the second issue. I recommend this comic book to anyone who likes anything remotely good. If you like shit you probably won't like this.

10 out of 10
| | |
| --- | --- |
| | Rain Partier |
by GHERU » Mon Oct 28, 2013 7:16 am

Velvet #1,

Maybe I've read too many of Brubaker's non-big two #1s, but this issue really didn't do much for me. The story, and even the art, felt too much like all the other "spy" books I've read from him over the years. That is not to say that if anyone else had their name on this book that it wouldn't be fantastic, but I have come to expect more from Brubaker, and this read like the same old same old.

Even the art, usually so fluid from Epting came off as rather static and stiff.

But, on the other hand, its Brubaker and Epting, I'l,l stick around for a few issues.

7/10
| | |
| --- | --- |
| | Regular-Sized Poster |
by guitarsmashley » Wed Oct 30, 2013 10:30 am

Sandman Overture #1.
| | |
| --- | --- |
| | Rain Partier |
by GHERU » Wed Oct 30, 2013 1:27 pm
guitarsmashley wrote:Sandman Overture #1.

cool
it'll go up sometime tonight
| | |
| --- | --- |
| | Wrasslin' Fan |
by Stephen Day » Fri Nov 01, 2013 9:26 pm
Stephen Day wrote:This sounds interesting, I'll be in Toronto Friday of next week. I should be able to buy a copy while I'm there.


Well, I was in Toronto today, and the Silver Snail got it in. They sold out though, so I guess I'm not going to review this after all. I did pick up a copy of The Sandman Overture #1, so I will be able to review that sometime this weekend at least.
| | |
| --- | --- |
| | OMCTO |
by Eli Katz » Mon Feb 10, 2014 11:04 pm

This issue was amazing. The best thing Bru has done since Bad Night.

Velvet Templeton must be an homage to Valentina Allegra de Fontaine. Which is fine by me. Great book, overall, so much better than Fatale.

10/10
leave a comment with facebook
---
13 posts • Page 1 of 1
Who is online
Users browsing this forum: FaceBook [Linkcheck], Google [Bot] and 29 guests