Advertisement

---
| | |
| --- | --- |
| | Rain Partier |
by LOLtron » Thu Nov 07, 2013 8:15 am
Take your pick!
---
Two book to chose from this week!
TO THE REVIEWS!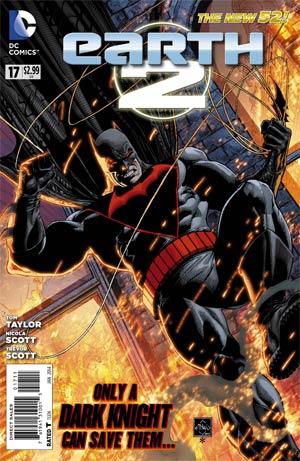 Writer: Tom Taylor • Artist: Nicola Scott, Trevor ScottWriter: Tom Taylor • Artist: Nicola Scott, Trevor Scott
Batman fights to keep Brutal and the forces of Darkseid from taking complete control of Earth! Beginning a new story by Tom Taylor (INJUSTICE: GODS AMONG US)!
digital copy availible here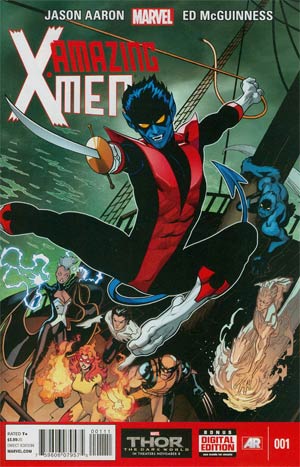 Writer: Jason Aaron • Artist: Ed McGuinness
An AMAZING new era for the X-Men starts here! Ever since his Nightcrawler's death in X-MEN MESSIAH COMPLEX, the X-Men have been without their heart and soul. After learning that their friend may not be gone after all, it's up to WOLVERINE, STORM, BEAST, ICEMAN, NORTHSTAR and FIRESTAR to find and bring back the fan favorite fuzzy blue elf! Super star artist ED MCGUINNESS (HULK) joins master X-Writer JASON AARON (WOLVERINE AND THE X-MEN, X-MEN: SCHISM) to bring you the most exciting comic on the stands!
digital copy availible here
Ze rules:
Post your review in the forum thread or in the comments section here on the front page.
Review as often or as little as you like. Once you've posted 5 reviews, you will be awarded 1 pick. You can post 5 reviews, right? That's a totally achievable goal and with day and date digital releases becoming the standard, it shouldn't matter if your shop ordered enough copies of this weeks comic or not.
When multiple Review Groupers have posted 5 (or more) qualifying reviews, they will be awarded their pick in the order that they qualified. What constitutes a qualifying review? Any review posted (with a score on a scale from 0-10, that's right 0!) within 1 calendar month of the thread going live. Reviews are to be at least 5 sentences long. It shows that a) you have at least read this week's pick and b) you have some unique insight into the comic.
Reviews posted while waiting in line for your pick will be applied to your next pick.
I'll be keeping track of everyone's progress with the newly christened Spreadsheet of Fantastic (RIP, Spreadsheet of Doom) and reporting the results in the Current Members list in the weekly OP. When it's your turn to make a pick, I will PM you. If you do not respond to me by Midnight EST the following Sunday, you will lose your pick and I will start a poll to determine that week's selection.
Any week in which we do not have a Review Grouper with 5 qualifying picks, we will determine the week's comic via poll.
If it's your week to pick, remember to keep it under $3.99.
Current Members List
5 Reviews
4 Reviews
3 Reviews
2 Reviews
1 Review
PhoenixEquinox

bkthompson
Punchy
Stephen Day


ElijahSnowFan
Jude Terror
Ntikrst
thefourthman
Victorian Squid
doombug
GHERU
GLX
Grayson
SilverPhoenix
TimDrake'sDumbWings

BlueStreak
David Bird (10/30)
GiveWarAChance
guitarsmashley
HNutz
jeremy
john lewis hawk
Jubilee
Keb
nietoperz

RU's note - yes the members list has been culled some, if you feel your name was removed in error - REVIEW A COMIC!



Written or Contributed by GHERU
---
READ THIS ARTICLE ON THE FRONT PAGE, HUMANS!
| | |
| --- | --- |
| | Wrasslin' Fan |
by Stephen Day » Sun Nov 10, 2013 1:13 pm

Earth 2 #17



Tom Taylor hits the ground running as he takes over from James Robinson. It's a tough place to be in as it's clear that Robinson wasn't planning on leaving at this point. Taylor is forced to take over the title right in the middle of a story and I do have to say that he does a good job. I can't say that I enjoyed this issue as much as I enjoyed any of Robinson's issues, but my level of enjoyment certainly didn't drop to the point that I consider dropping this title from my pull list. In that regard Taylor has done the main job he needed to do when it comes to me at least -- he's kept me on as a reader.

I'll give this a 7 out of 10
| | |
| --- | --- |
| | Rain Partier |
by GHERU » Wed Nov 13, 2013 10:46 am

Amazing X-Men Vol 2 #1

I'm not really the world's biggest Nightcrawler fan, in fact I was pretty happy when he died, but I (mostly) trust Jason Aaron so I decided to pick this up, and wasn't all that disappointed. The book opens with Firestar (Of New Warriors fame) joining the staff of Wolverine's school - replacing Kitty - and devolves into the usual "first day" X-Men type story. From there Aaron takes the bold decision to keep the "Draco" storyline in continuity by having Kurt's devil dad, Azazel, attacking heaven with his red bamfs.

To be honest, Firestar and the bamfs are all that really interest me in this book.

The art was pretty good.

All-in-all an ok #1

7/10
| | |
| --- | --- |
| | Regular-Sized Poster |
by guitarsmashley » Wed Nov 13, 2013 4:46 pm

Amazing X-men vol 2 #1


I like Jason Aaron, I like his X-men. I like Ed Mcguiness. I didn't care for this book. Well I didn't hate it, but I didn't love it either. It just, I didn't care. I don't care about Nightcrawler or Draco Malfoy...that's not true. I do care about Draco Malfoy, but nothing about this story was great. I'm gonna keep reading it for the previously mentioned points but nothing about this issue stands out making it as good as my last couple picks.

6.6
leave a comment with facebook
---
5 posts • Page 1 of 1
Who is online
Users browsing this forum: FaceBook [Linkcheck] and 35 guests