Advertisement

---
| | |
| --- | --- |
| | Rain Partier |
by LOLtron » Wed Dec 18, 2013 11:57 am
Two weeks in a row where we are not showcasing a #1.
ANARCHY!!
---
Blah Blah Blah
TO THE REVIEWS!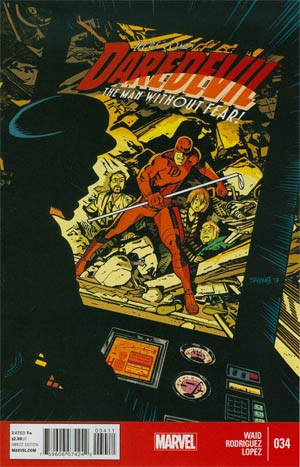 Writer: Mark Waid • Artist: Javier Rodriguez
Daredevil's become New York's most dangerous man - the self-appointed prosecutor of the Sons of the Serpent, the secret clan who owns and operates the city's justice system!
The odds are against DD - and that's just how he likes it!
digital copy availible here
Ze rules:
Post your review in the forum thread or in the comments section here on the front page.
Review as often or as little as you like. Once you've posted 5 reviews, you will be awarded 1 pick. You can post 5 reviews, right? That's a totally achievable goal and with day and date digital releases becoming the standard, it shouldn't matter if your shop ordered enough copies of this weeks comic or not.
When multiple Review Groupers have posted 5 (or more) qualifying reviews, they will be awarded their pick in the order that they qualified. What constitutes a qualifying review? Any review posted (with a score on a scale from 0-10, that's right 0!) within 1 calendar month of the thread going live. Reviews are to be at least 5 sentences long. It shows that a) you have at least read this week's pick and b) you have some unique insight into the comic.
Reviews posted while waiting in line for your pick will be applied to your next pick.
I'll be keeping track of everyone's progress with the newly christened Spreadsheet of Fantastic (RIP, Spreadsheet of Doom) and reporting the results in the Current Members list in the weekly OP. When it's your turn to make a pick, I will PM you. If you do not respond to me by Midnight EST the following Sunday, you will lose your pick and I will start a poll to determine that week's selection.
Any week in which we do not have a Review Grouper with 5 qualifying picks, we will determine the week's comic via poll.
If it's your week to pick, remember to keep it under $3.99.
Current Members List
5 Reviews
4 Reviews
3 Reviews
2 Reviews
1 Review
PhoenixEquinox
Stephen Day
bkthompson
GHERU
guitarsmashley
Punchy
Jude Terror
thefourthman
Victorian Squid
SilverPhoenix
Amoebas (12/4)
David Bird (10/30)
RU's note - yes the members list has been culled some, if you feel your name was removed in error - REVIEW A COMIC!



Written or Contributed by GHERU
---
READ THIS ARTICLE ON THE FRONT PAGE, HUMANS!
| | |
| --- | --- |
| | Staff Writer |
by Punchy » Thu Dec 19, 2013 12:16 pm

The man without fear returns to New York for a typically excellent issue of this title that really sets the stage for a fantastic final few issues before the relaunch and move to San Francisco.

Mark Waid and Javier Rodriguez, who once again moves from colourist to penciler with consummate ease, kick things off with Matt Murdock consulting with Doctor Strange about what went on down in Kentucky, and Matt revealing that he has the Darkhold, and showing it to the good Doctor. Strange tells Matt that along the bottom of these pages is the true name of the devil, and that the Sons Of The Serpent believe that knowing this name allows them to control people. He also sets up a very cool potential storyline for the future, Matt has lied to Satana, and that is a very very bad idea indeed. It should be great to see Daredevil go up against the literal daughter of the actual Devil. I must say, these last few issues have made me really want to see a Mark Waid-written Doctor Strange series, he writes the character well, and much like with Daredevil, he seems very adept at looking at Strange and his powers in cool new ways, like here, where being in a very non-spiritual area of New York weakens him. On his way out, Matt asks Strange if he can cure Foggy's cancer with magic, but Strange says he can't, which is a bummer.

Matt does the usual superhero thing of standing on a rooftop looking glum and inner-monologuing, but much like he's done throughout Waid's run, he snaps out of it, and gets on with his plan. First up is to get Kirsten McDuffie back on side, as we get a very fun scene of them flirting in the park, that ends with Matt ending the whole 'I know that you know but we're going to pretend' thing, as he definitively tells her he is Daredevil, and that he needs her help to stop the Serpents.

Also helping out is Nate Hackett, who hooks up a satellite rig for Matt, that, thanks to the Avengers, is able to hack into pretty much any communications device in the city, and allow Matt to talk into it. This is needed because the Sons Of The Serpent are hidden in the general public, and he needs to be able to speak to everyone to speak to any of them. Matt tells the people of New York that they have been manipulated into race riots by the Serpents, and then directly addresses his enemies, telling them that he has their book, and that unless they hand over the Jester to him, he will burn it. To prove that he's not bullshitting, he has Kirsten read out the secret true name of Satan, which really gets their attention.

Matt heads off to collect the Jester, but whilst he's gone, Kirsten decides to give a speech herself, where she basically calls for calm, to not get angry, because that's what the Serpents want. It's pretty stirring stuff, but unfortunately, the Serpents can pick up the sound of wind behind her, and know that she's up high somewhere. Daredevil realises this too, and, after dropping off Jester at a police station, it's a race against time to save her. Waid and Rodriguez try and trick us into believing she is shot, but in the end, Nate saves her and Daredevil takes out the Serpent snipers.

The issue ends with a real gut-punch however, just when you think Matt and Kirsten have got a big win, she gets a call from the office from someone who's crying, and the message… it's about Foggy. What a fucking cliffhanger! Is Foggy dead? I have no idea! I can see Foggy's death being the catalyst for Matt to move across the country, but equally, this could just be another trick from the Serpents. Oh man, I literally cannot wait for the next 2 issues of this title, it's always been excellent, but now that an ending of sorts is nigh, there's an added sense of danger, and Foggy could actually be dead. Aaargh.



8/10
| | |
| --- | --- |
| | FACEBOOKTron |
by Ellen Fleischer » Thu Dec 19, 2013 2:36 pm

I'm guessing it's either someone overcome with joy calling to give Matt the GOOD news that Foggy's cancer hasn't spread, crying that it has and
Foggy now has less than 10% chance at survival, or Foggy officially giving notice that he's dissolving the partnership and leaving the firm entirely for the foreseeable future. But I am on tenterhooks waiting to find out!
| | |
| --- | --- |
| | Son of Stein |
by Amoebas » Sat Dec 21, 2013 9:47 am

Daredevil #34

Waid's arrival to this book is what brought me back into the Marvel fold after many years away. It's led me to some pretty decent titles (and some crappy ones). And the first year and a half of Daredevil was some of the best stuff I've seen. But then I slowly, very slowly, started getting bored with it. Over the last dozen or so issues there have been sparks of genius and sheer fun as well as 'meh' moments and sheer silliness that pulls me out of the book.

This book continues that trend. I loved the cable guy saving the lady's life, but I can't get over that same cable guy loser from previous issues being savvy enough to hotwire a device that breaks every FCC law in the land by usurping the airwaves (and yes, I know DD said the Avengers cobbled it together - but then if they did do that why didn't they just broadcast from their mansion (or where ever they live now?). If the Avengers were aware of the hate pandemic from the Serpents, why didn't they join or just take the case (the Serpents are historically an 'Avengers problem' anyway).

It's stuff like this that just bugs me (and yes, I know I'm prone to nitpicking) but my real issue with this book and arc is the Sons of the Serpents themselves and how they've become this huge hidden threat. Maybe Waid has an exit strategy for all their members to get exposed/arrested but he made this organization too large for that to be reasonable even for a comic (just a couple issues back DD met scores of Serpent approved cops, judges, bailiffs, attorney's etc. - and that was just in one courthouse).

And then there's Doctor Strange. When did he become this old feeble thing that even Aunt May could take down in a fight? Why doesn't he freak out at the mere mention of the book (let alone torn out pages)(it is the "Darkhold" isn't it - or did the book get nerfed in my time away from Marvel?)? When did Matt's office move from Hell's Kitchen to the White Hall/Wall Street areas of the Financial District?

The last complaint I'll throw is the underlying reason I'm growing bored with this title - this whole 'the secret is out' crap. Every lie Matt states that he's not Daredevil just continues to make him a liar. Hopefully this issue brings an end to all that.

On the other hand, the speech against hate, the running backwards, the art and the coloring (especially all the leaf shadows in the park) were all excellent.

Story - 5
Art - 8
Overall - 6.5

Edit - A review of the book is a review of all of it - so I'm subtracting a half point because of the misleading cover which has nothing to do with the inside story.

New Overall - 6.0
| | |
| --- | --- |
| | Wrasslin' Fan |
by Stephen Day » Sun Dec 22, 2013 2:33 pm

There were some problems with this issue, I agree with Amoebas about Nate Hackett being able to do what he did. It did seem to be beyond the character's abilities. I also agree that Dr. Strange seemed to be out of character. Having said that though, Kirsten's speech was amazingly fun to read. I'd say that same thing about Daredevil's fight with the Sons of the Serpent. Seeing the Jester tied up the way he was got a laugh out of me. In the end, the two things that I didn't like were minor over the course of the entire issue and they didn't ruin the fun for me.

8 Out of 10
| | |
| --- | --- |
| | Cas |
by Cas » Mon Dec 23, 2013 1:54 am

This arc has not been very good. Very odd, to put it best, and odd and a DD comic do not mix and with what Waid has said about what the next volume it's likely to be more of the same, more or less. For the first time since this run began I'm wishing for a creative changer sooner rather than later.
| | |
| --- | --- |
| | Regular-Sized Poster |
by guitarsmashley » Tue Dec 24, 2013 3:51 pm

The whole serpents arc has sort of gone from interesting to totally into left field...the story is still interesting but it's not as straight forward as previous arcs. I'm still upset that they completely misused Bullseye into not being seen and used as a man in a box....anyway I'm still in for the next 2 issues and however many issues the next volume runs...I would like Marcos Martin back though.

6.9
leave a comment with facebook
---
8 posts • Page 1 of 1
Who is online
Users browsing this forum: No registered users and 31 guests