Advertisement

---
| | |
| --- | --- |
| | Rain Partier |
by LOLtron » Tue Dec 24, 2013 9:25 am
IT'S CHRISTMAS!!!!!
and the pickings are slim
---
its an Avengers World and we just live here
TO THE REVIEWS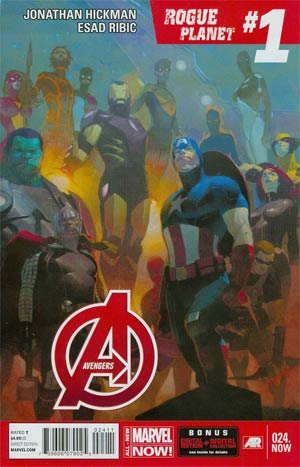 Writer: Jonathan Hickman • Artist: Esad Ribic
'ROGUE PLANET' - Part 1 of 5
Captain America and Iron Man plan for the next version of the Avengers.
A runaway planet is on a collision course with Earth.
A visitor from the future helps save the day.
AVENGERS #24.NOW = AVENGERS #1 IN ALL-NEW MARVEL NOW!
digital copy availible here
Ze rules:
Post your review in the forum thread or in the comments section here on the front page.
Review as often or as little as you like. Once you've posted 5 reviews, you will be awarded 1 pick. You can post 5 reviews, right? That's a totally achievable goal and with day and date digital releases becoming the standard, it shouldn't matter if your shop ordered enough copies of this weeks comic or not.
When multiple Review Groupers have posted 5 (or more) qualifying reviews, they will be awarded their pick in the order that they qualified. What constitutes a qualifying review? Any review posted (with a score on a scale from 0-10, that's right 0!) within 1 calendar month of the thread going live. Reviews are to be at least 5 sentences long. It shows that a) you have at least read this week's pick and b) you have some unique insight into the comic.
Reviews posted while waiting in line for your pick will be applied to your next pick.
I'll be keeping track of everyone's progress with the newly christened Spreadsheet of Fantastic (RIP, Spreadsheet of Doom) and reporting the results in the Current Members list in the weekly OP. When it's your turn to make a pick, I will PM you. If you do not respond to me by Midnight EST the following Sunday, you will lose your pick and I will start a poll to determine that week's selection.
Any week in which we do not have a Review Grouper with 5 qualifying picks, we will determine the week's comic via poll.
If it's your week to pick, remember to keep it under $3.99.
Current Members List
5 Reviews
4 Reviews
3 Reviews
2 Reviews
1 Review
guitarsmashley
Punchy
bkthompson
GHERU
Jude Terror
thefourthman
Victorian Squid
Amoebas
David Bird (10/30)
Stephen Day
RU's note - yes the members list has been culled some, if you feel your name was removed in error - REVIEW A COMIC!



Written or Contributed by GHERU
---
READ THIS ARTICLE ON THE FRONT PAGE, HUMANS!
| | |
| --- | --- |
| | Regular-Sized Poster |
by guitarsmashley » Tue Dec 24, 2013 3:47 pm

I suppose I should review daredevil.
| | |
| --- | --- |
| | Rain Partier |
by GHERU » Tue Dec 24, 2013 10:55 pm
guitarsmashley wrote:I suppose I should review daredevil.

noted
| | |
| --- | --- |
| | Son of Stein |
by Amoebas » Thu Dec 26, 2013 11:02 am

Avengers #24.WHATEVA

More time travel. I remember when time travel stories were special and not the cheap overused cliche they've become in the Marvel Universe. Anyway, the book opens with someone from the Baxtea Building sending an Iron Man back through time to warn the Avengers of the present time about a planet sized bullet heading their way (that nobody in all the years of Marvel Cosmic had ever seen before).

In 2013 the Avengers are having a roof top barbecue (where nobody seems to mind December temperatures at 100 stories up). I've always liked Avengers 'down time' but it starts with some of them hitting golf balls off the roof (where a miss is certain to do damage or injury (especially with the likes of Spider-Man's super strength being applied). Hulk carrying hamburgers was a laugh out loud moment - not because the scene was funny, but because it so implausible. Also LOL (for the wrong reasons) is the long awaited return of.. "the Furturist!


Anyway's future Iron Man pops up and everyone instantly believes his story (where was this compassion and understanding when that poor kid was suddenly empowered with the Starbrand?). So, in just a month the Avengers build a huge device on Mars that intercepts the bullet-planet perfectly, stopping it's billion miles an hour movement so that it phases with the Earth, now giving the Avengers unlimited power (and one would guess a sacrifice for some future incursion silliness). To do all this though requires a lot to swallow: for this plan to work, everything (and I mean everything) has to be done perfectly - yet to get the device moving from a stationary orbit it needs the Hulk to jump into orbit himself and give them a violent push. Then the Avengers let mystery Iron Man from the future who could be Doc Doom for all they know, turn the device on. Then Hyperion, by himself, slows the bullet-planet down with such precision that it perfectly syncs with the Earth and matches the Earth orbital path exactly - all while moving through phase shift that he shouldn't have been able to touch (Hick-physics at their best). If Hype could do this - why not send him at the planet a month earlier?

Then comes the even more shocking moment where future Iron Man reveals himself to be... a lady... and black (double the minorities!)

I guess this two-in-one planet thing is supposed to direct Marvel for a while - but all I can say is "yawn".

I keep trying to 'get' Hickman. This issue doesn't help that cause.

The art was each of the multiple artists was good, but that just left noticeable inconsistency overall.

Story - 3
Art - 7
X-Factor - Subtract a half point because of all the variants that deal with X-Men more than Avengers, another half point for the majority of those variants not recognizing the artists that they are attempting to homage, and another half point for the letterer. Yes I'm calling foul on whomever 'VC's Cory Petit' is for not lettering a better 'R". BAXTEA BUILDING, AVENGEAS TOWEA, MAAS, etc. Yes, on closer inspection there is a subtle difference between his 'A' & R', but it was a still a distraction when reading this issue.

Overall - 3.5
| | |
| --- | --- |
| | Wrasslin' Fan |
by Stephen Day » Thu Dec 26, 2013 3:01 pm

There are some interesting ideas in this issue -- an Iron Man from the future warning about a rogue planet heading for the Earth. The base idea is a sound one, but sadly, Hickman's execution in telling the story is lacking and I can't say that I was overly entertained by what I read.

The solution that the Avengers find to solve this issue's problem seems to be to simple to me. the other problem I have is with the use of orbital mechanics in the plot. I've mentioned it before, and even created a thread about it, but the misuse of orbital physics is one of my big comics book physics breaking points. Hawkeye says that the scary part of the rogue planet is that it's heading in a straight line, "implies ordered trajectory, which implies target, which implies shooter." Uhmmm, no, things in space naturally travel in a straight line until something else impedes this. A rogue planet drawn into the solar system by the Sun's gravity is naturally going to travel in a straight line toward the sun. If the Earth is going to get in the way of that path, that's not good, but in no way suggestive of anything.

I found Hickman's story, that was going on in this series before Infinity, about the Earth becoming a living organism to be interesting. Reading the solicitations, I was afraid that this story had just been dropped and was going to remain unfinished. I was going to get this series as a test to see if I wanted to continue reading. With that story not even being referenced and this new story being started, I feel that my worries were justified. This means that this was my last issue.

4 out of 10
| | |
| --- | --- |
| | Regular-Sized Poster |
by guitarsmashley » Mon Dec 30, 2013 11:27 am

So believe it or not, I've really enjoyed Hickman's Avengers books. And While I can certainly understand not liking this issue, especially if you haven't been reading Hickman's 2 avengers books for the last year and a half. This is not a good introductory issue for anyone but it was very typical of walking into a story in the middle of the action. A lot of exposition not a ton of actual explanation. This is frustrating for new readers and returning ones too. Anyway, this is a typical issue of Hickman's avengers

a solid 6.
| | |
| --- | --- |
| | Rain Partier |
by GHERU » Wed Jan 01, 2014 6:26 pm

been traveling, new thread will go up soon(ish)
Sex Criminals #4 - guitarsmashley
| | |
| --- | --- |
| | Regular-Sized Poster |
by guitarsmashley » Wed Jan 01, 2014 8:01 pm
GHERU wrote:been traveling, new thread will go up soon(ish)
Sex Criminals #4 - guitarsmashley


Apparently that comes out next week and all the books this week suck...so free for all this week?
| | |
| --- | --- |
| | Rain Partier |
by GHERU » Wed Jan 01, 2014 8:02 pm
guitarsmashley wrote:
Apparently that comes out next week and all the books this week suck...so free for all this week?

cool
leave a comment with facebook
---
10 posts • Page 1 of 1
Who is online
Users browsing this forum: No registered users and 22 guests