Advertisement

---
| | |
| --- | --- |
| | The Red Stands for Irony |
by BlueStreak » Thu Dec 02, 2010 7:35 am


Last week on Review Group Drama: Fourthman is stunned when her longtime patient's parents offer the hospital a donation of twenty-five million dollars, but when her patient's condition worsens, all eyes are on her to save him. John Snow tests her relationship when she blatantly disregards Jude's orders and performs an unauthorised cardiac procedure, then later kisses Victorious Squid at a surprise party for Punchy. Greg cares for a struggling newborn while SilverPheonix remains missing. In the wake of great grief, young neil and Starlord take their relationship to the next level. For more synopses, please see reviewgroupdrama.org for your latest, up-to-date drama and dishes on all your favorite Review Groupers.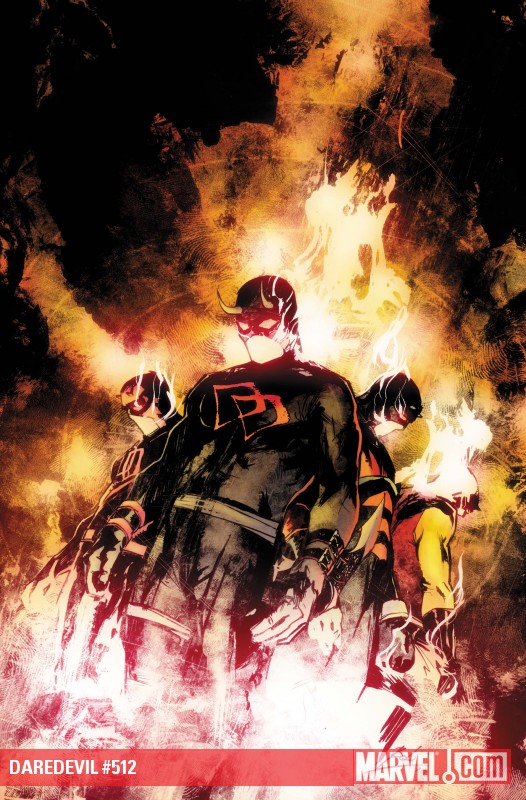 Daredevil #512


selected by Daringd
Writer: Andy Diggle, Antony Johnston
Penciller: Marco Checchetto
Artist: Roberto Delatorre
Price: $3.99

The Story: A SHADOWLAND TIE-IN: FINAL ISSUE! Years of acting as the Guardian Devil of Hell's Kitchen have taken their toll on The Man Without Fear. Hell's Kitchen lies in ruins, and it is up to the people of New York to start anew and begin rebuilding. In this last chapter of his story, will Matt Murdock at last find final redemption for the events of SHADOWLAND? 32 PGS./Rated T


[size=85]Ameobas has next week's pick.
If you would like to join the group, it's easy. Just post a review and I'll add you to the member's list. As long as you stay active, eventually it will be your turn to make a pick.

With $4 comics becoming the norm, the economy being what it is and the growing popularity of mail order services the Review Group recognizes that it's becoming harder and harder to commit to participating each and every week. As long as you can post one review per calendar month you will stay in the member's list. It doesn't matter if you post your review the week of it's release or if you post it later. There is no such thing as a "late" review.

The only request I make is that if you don't plan on posting a review or if you're going to be posting late is that you drop a note in the thread so that I can keep track of who is active and who isn't. The Spreadsheet of Doom is thorough, but it can't read your mind.
Comics are to be scored on a scale from 1-10. 1 being suck, 10 being a damn good comic. Beyond that, there's no right or wrong.

If it's your week, you must announce your selection by 5pm EST the day Diamond releases it's shipping list. If you do not announce your pick at that time, I will add a poll to the thread that will remain open until 12pm EST so that the group can make the selection for that week. (If you're seriously MIA, I'll probably put the poll up sooner) To ensure that you know it's your week, I will PM you when Midtown's list goes live on Thursdays. Also you'd better keep in mind the Amber Atoms rule, if your pick isn't reviewed by 2 or more people you will be exiled from the Group for 1 year. Our definition of a single issue comic is limited to comics listed at $3.99 or lower, anything above that is off limits.

As part of the new dynasty beginning, general amnesty has been granted to all members. Enjoy.

Daringd (this week)
Amoebas
SilverPhoenix
Zero
john lewis hawk
Royal Nonesuch
Victorian Squid
Stephen Day
GHERU
young neil
Jude Terror
48THRiLLS
GLX
Eli Katz
Punchy
BlueStreak
prozacman
AMS
guitarsmashley
King Impulse
starlord
Kerny
David Bird
Greg
John Snow
God-Man
Duck Punch
thefourthman



BLUE

indicates explanation given for not posting a review.


RED

indicate that no review or explanation has been posted in two weeks.


RED

and

BOLD

will be deleted at the end of the week unless a review or explanation is posted.




Each Tuesday I will putting together all of our reviews and we will have our very own article on the front page of The Outhouse! If you would like for your review to be included, please try to have it posted by the end of day on Monday.
| | |
| --- | --- |
| | Regular-Sized Poster |
by guitarsmashley » Thu Dec 02, 2010 11:35 am

3 books in a row with a score of an 8 is pretty good, something tells me that streak ends this week though.
| | |
| --- | --- |
| | OMCTO |
by S.F. Jude Terror » Thu Dec 02, 2010 11:40 am

What will Fourthy and Punchy get in a 50 page argument about this week?
| | |
| --- | --- |
| | ****** |
by ****** » Thu Dec 02, 2010 11:55 am
guitarsmashley wrote:3 books in a row with a score of an 8 is pretty good,


4 out of the last 5 even. A new Golden Age for the RG, maybe.


something tells me that streak ends this week though.


The couple of Diggle issues I read after Bru left were brutal. Nothing I've seen since makes it look like it's gotten any better.

At least we're not reading Shadowland and being subjected to Billy Tan.


| | |
| --- | --- |
| | Regular-Sized Poster |
by guitarsmashley » Thu Dec 02, 2010 12:37 pm
BlueStreak wrote:
Penis size of T'Challa vs. Daredevil respectively.

Punchy will take the stance that BP's is bigger because he's black, then Fourthy will get upset, accuse Punchy of being racist and then start a series of threads in which more and more people pile on Punchy until someone points out a comment that fourthy made about how he's seen big white penises before, which will lead to increasingly wild accusations and then the conversation will turn to how fourthy just secretly lusts over Punchy. Which will lead into next week's thread.


It'll all come down to if any scenes in this issue take place in or around the Avengers Mansion.
| | |
| --- | --- |
| | Outhouse Editor |
by GLX » Thu Dec 02, 2010 2:48 pm

I'd get it tonight, but I've got a paper to write.

Friday, I'm booked for some school shit.

Expect a review over the weekend.
| | |
| --- | --- |
| | Staff Writer |
by Punchy » Thu Dec 02, 2010 3:33 pm

No drama this week, I have no principles about Daredevil, I buy it every month.
| | |
| --- | --- |
| | Garbage Collector |
by God-Man » Thu Dec 02, 2010 5:48 pm

I read (and liked) the Daredevil books leading into Shadowland, so I'm curious to see how this event wraps up, at least in the main DD series. I'll pick it up after work.
| | |
| --- | --- |
| | Rain Partier |
by fieldy snuts » Thu Dec 02, 2010 9:04 pm

I'm torn as to how to sum up Daredevil #512.

You see, the Daredevil book during Shadowland remained very good despite it only being there to support the event itself...an event that went horribly off the rails with that Beast subplot. As much as I liked how it started that event got too stupid with the introduction of that plot device and irreparably damaged the core of the story surrounding Daredevil after he'd killed Bullseye. I'd go as far as to say that it's Marvel's equivalent of Parallax.

This issue itself felt more like an epilogue. Hell, it was...and showed where everyone goes from here: Foggy left to rebuild the firm on his own, Black Panther makes Hell's Kitchen his hunting grounds after vague hints that Daredevil was back before we saw T'Challa, Kingpin wants to take over the Hand (that just seems totally off for me), Black Tarantula is alive thanks to his healing factor as I anticipated and finally Matt Murdock gets off the bus at some desert in a piece of inner monologue that redeems a big part of Shadowland for me: Matt killing Bullseye was 100% Matt, not the Beast.

Small comfort, knowing how bad the Daredevil dialogue in the mini got once the Beast was revealed but knowing that Matt Murdock went that far on his own free will rather than being absolved Hal Jordan style was a good move for me.

Everything flowed very well from one moment to the next and cementing a future for the characters, and this SHOULD have been a great book but the stink of Shadowland will knock my rating of this book down a point or 2.

Art: I preferred Delatorre's art over Checchetto's in this arc. The latter's art isnt bad, but it lacks the distinctive noir feel I got from previous DD artists like Maleev, Lark, Delatorre etc.

Story: 7
Art: 6.5


Overall: 6.75
| | |
| --- | --- |
| | Review Grouper |
by 48THRiLLS » Thu Dec 02, 2010 9:30 pm

I have missed the last 2 weeks but I am gonna do my best to pick this up.
| | |
| --- | --- |
| | Outhouse Editor |
by Starlord » Thu Dec 02, 2010 9:53 pm

I'm actually more interested in what happens next in Blue Streaks synopsis.
| | |
| --- | --- |
| | Regular-Sized Poster |
by guitarsmashley » Thu Dec 02, 2010 10:22 pm
starlord wrote:I'm actually more interested in what happens next in Blue Streaks synopsis.


cornholing.
| | |
| --- | --- |
| | Rain Partier |
by Garofani Spruzzo » Fri Dec 03, 2010 7:22 am
guitarsmashley wrote:
cornholing.


Here in OH, children are taught to play the cornhole game at a young age.

leave a comment with facebook
---
Who is online
Users browsing this forum: FaceBook [Linkcheck] and 21 guests