Advertisement

---
| | |
| --- | --- |
| | The Red Stands for Irony |
by BlueStreak » Wed Nov 02, 2011 12:17 pm


It's Western week at the Outhouse!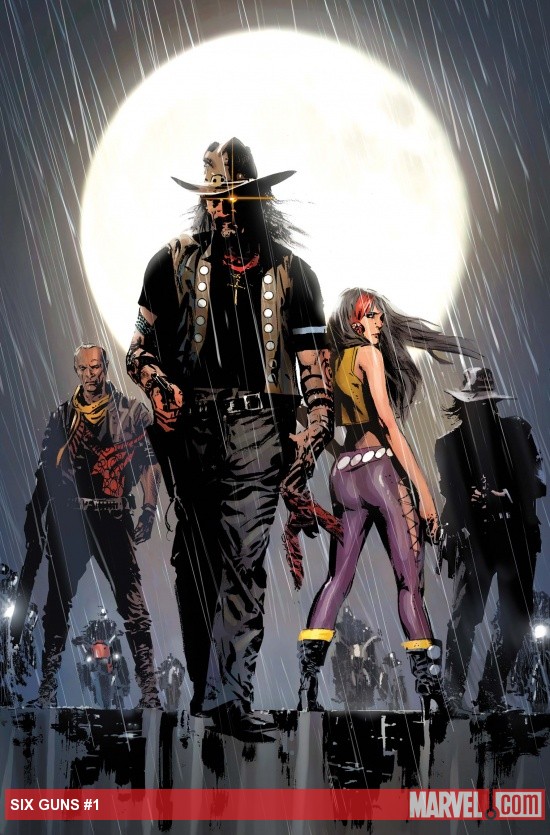 Six Guns #1


as selected by Stephen Day
Times may have changed since the days of the Old West, but in the war-torn South American state of San Diablo, the law of the gun still holds sway. When former hero-for-hire Maria Vasquez, alias Tarantula, finds herself wanted for murder south of the border, Texas Rangers Division lawman "Tex" Dawson is assigned to bring her in. But they're on a collision course with the outlaw Black Riders biker gang, who plan to make sure she never makes it to trial alive… Classic Marvel gunslingers Tarantula, Tex Dawson, Black Rider, Matt Slade and the Two-Gun Kid are given a modern-day makeover in this hard-bitten tale of blood and bullets by the DAREDEVIL: REBORN team of Andy Diggle and Davide Gianfelice. Five heroes, six guns…against six hundred!

GLX has next week's pick
If you would like to join the group, it's easy. Just post a review and I'll add you to the member's list. As long as you stay active, eventually it will be your turn to make a pick.

With $4 comics becoming the norm, the economy being what it is and the growing popularity of mail order services the Review Group recognizes that it's becoming harder and harder to commit to participating each and every week. As long as you can post one review per calendar month you will stay in the member's list. It doesn't matter if you post your review the week of it's release or if you post it later. There is no such thing as a "late" review.

The only request I make is that if you don't plan on posting a review or if you're going to be posting late is that you drop a note in the thread so that I can keep track of who is active and who isn't. The Spreadsheet of Doom is thorough, but it can't read your mind.
Comics are to be scored on a scale from 1-10. 1 being suck, 10 being a damn good comic. Beyond that, there's no right or wrong.

If it's your week, you must announce your selection by 5pm EST the day Diamond releases it's shipping list. If you do not announce your pick at that time, I will add a poll to the thread that will remain open until 12pm EST so that the group can make the selection for that week. (If you're seriously MIA, I'll probably put the poll up sooner) To ensure that you know it's your week, I will PM you when Midtown's list goes live on Thursdays. Also you'd better keep in mind the Amber Atoms rule, if your pick isn't reviewed by 2 or more people you will be exiled from the Group for 1 year. Our definition of a single issue comic is limited to comics listed at $3.99 or lower, anything above that is off limits. Also, to prevent utter filth being chosen deliberately, the Weird Worlds Rule has also gone into affect. Any book scoring a new all-time low (2.12 as of today) will not count as a miss if people wisely choose not to purchase it. Any poor soul who did review the book will earn a free pass on a book of their choice.

Stephen Day
GLX
Punchy
BlueStreak
guitarsmashley
Starlord
John Snow
fieldy snuts
Daringd
Amoebas
Deadfett
SilverPhoenix
Eli Katz
Comic_Doctor
Zero
Kerny
Royal Nonesuch
False Prophet




BLUE

indicates explanation given for not posting a review.


RED

indicate that no review or explanation has been posted in two weeks.


RED

and

BOLD

will be deleted at the end of the week unless a review or explanation is posted.




Eventually, someone will together all of our reviews and we will have our very own article on the front page of The Outhouse! If you would like for your review to be included, please try to have it posted by the end of day on Monday.
| | |
| --- | --- |
| | Outhouse Editor |
by Starlord » Wed Nov 02, 2011 1:23 pm

I can't wait to review this!

I might even read it too!
| | |
| --- | --- |
| | Outhouse Editor |
by GLX » Wed Nov 02, 2011 5:46 pm

First off, I won't be buying Six Guns #1 this week since I'm working a $10ish budget; also, the bi-weekly stint for this month might be death of me as The Unwritten is going bi-weekly. However, Six Guns looks tight.

All that said, The Unwritten #31 will be next week's pick. It's $3 and it's the start of a new story. No worries if you can't snuggle it in to your stack.
| | |
| --- | --- |
| | Rain Partier |
by fieldy snuts » Fri Nov 04, 2011 7:14 am

Six Guns #1



Modern day western is a genre I like, but am very picky about. As excited as I was about this book I was worried about being let down. Having finally read it, one phrase sums up my thoughts: a good start.

The best way to describe what Diggle's done here is a western version of what he did with the Losers: took the concept and made them their own property in a modern setting. You may recognize some of the names, but they are definitely different characters...these are not the Black Rider and Tex Dawson (Western Kid) that you might know. That's a plus for me as it adds a level of unpredictability on what can happen next given that these re-imagined characters are an unknown factor to me.

That's the gist of the concept. As for the story and execution, we get some groundwork laid out: Tarantula (Not the one that raped Nightwing..a Palmiotti creation from about 4 years ago) has been arrested for a murder she may/may not have committed and is being extradited by a pair of Texas Rangers. From there we have the Black Riders motorcycle gang hired to intercept them and capture Tarantula, a standoff going sour, a double cross with a bomb and two total opposite characters heading on their own path for revenge. And the new Two-gun kid and Matt Slade aren't even in the story yet. Not a very deep story so far but it's fast paced, solid, action-packed storytelling with a purpose and enough going on to keep me engaged. Like I said before, it's a good start.

Onto the art, I've only seen Gianfelice's art on Northlanders and most recently on Daredevil Reborn. Much like those books, his art is great for action sequences and a perfect fit for the modern western/crime blend tone of Diggle's writing.

Story: 7.5
Art: 8.0
Overall: 8.0
| | |
| --- | --- |
| | Staff Writer |
by Punchy » Fri Nov 04, 2011 5:58 pm

I read this, really enjoyed it, but then I'm a sucker for stories that play with Western iconography in different settings and time periods.
| | |
| --- | --- |
| | The Red Stands for Irony |
by BlueStreak » Sat Nov 05, 2011 9:50 am

This was a surprisingly good book. I have mixed opinions about Western comics (I've seen them done well and I've seen them done poorly) and this definitely falls in the former category.
| | |
| --- | --- |
| | Wrasslin' Fan |
by Stephen Day » Sun Nov 06, 2011 7:53 pm

This was a very good beginning. This issue had lots of fun action, and overall, good characterization. The mystery behind what exactly happened in San Diablo is good and is well set up. I'm very much looking forward to seeing where this goes.

8 out of 10
| | |
| --- | --- |
| | Staff Writer |
by Royal Nonesuch » Sun Nov 06, 2011 8:28 pm

I thought this was a good, solid comic that moved along really well and I liked Gianfelice's art, which had that European, cartoony flair that was great for the action scenes (though it looked a little off for the conversation scenes). I was a little uncertain as to where everything was happening, since I'm not quite sure what kind of jurisdiction Texas Rangers would have in a fictional South American municipality (the extradition I got, but they're the only ones investigating the crime scene there?). That weird lack of specificity aside, the action and drama were great. I kind of forgot I was reading a Marvel book for a bit there, since it felt more like a hard-edged action television show.

8.
| | |
| --- | --- |
| | Outhouse Editor |
by Starlord » Mon Nov 07, 2011 11:06 am

Glad this book is going well but I won't be reading it. I'm probably done reading for thie group. Way too much nastiness and false accusations flying around for me. People make it unenjoyable at this point.

Of course I might change my mind tomorrow. What is the next pick, btw.
| | |
| --- | --- |
| | Staff Writer |
by Punchy » Mon Nov 07, 2011 11:07 am
Starlord wrote:Glad this book is going well but I won't be reading it. I'm probably done reading for thie group. Way too much nastiness and false accusations flying around for me. People make it unenjoyable at this point.

Of course I might change my mind tomorrow. What is the next pick, btw.


The Unwritten #31
| | |
| --- | --- |
| | Outhouse Editor |
by Starlord » Mon Nov 07, 2011 11:26 am

Oh. I buy that in trades. Thank you.
| | |
| --- | --- |
| | Staff Writer |
by Punchy » Mon Nov 07, 2011 11:33 am

Six Guns #1(of 5) - 'Six Guns, Part One' - Diggle, Gianfelice and McCaig





Story

- Is it just me or is the Western making a comeback? What with this book, All-Star Western, Dark Tower and also Scalped, that's more comics about men in white hats chasing men in black hats (except these days pretty much everyone has a grey hat on) than you'd really expect in the 21st century. And it's not just in comics! Last night saw the debut of AMC's new Western drama Hell On Wheels, and both Justified and Sons Of Anarchy have strong links to Westerns, amongst other things. Hell, even Quentin Tarantino is working on a Western The genre, long thought dead, is doing pretty damn well for itself.

Now Six Guns isn't really a Western per se, it's set in the present day for one thing, but we all know that the Western isn't confined to just one time period, and for me, takes the best of those classic Marvel Westerns and gives it a much-needed modern twist. Unlike Jonah Hex, a lot of Marvel's cowboy heroes are kind of lame, and they need this kind of updating, especially when it's in a way that makes sense, rather than making them a flaming queen for no reason (See Rawhide Kid, The).

This book promises to feature revamped versions of several classic Marvel characters, such as The Black Rider, Texas Ranger and Two-Gun Kid. We only see a couple of these characters in this opening issue, but they are introduced well, and work as characters even if you aren't particularly familiar with the originals. The Black Rider in particular interests me, he starts out the issue as a villain, tangling with the Texas Ranger, but when he's double-crossed at the end, it sets him up as something far more interesting.

I mentioned Black Rider being double-crossed, and it's these double-crossers which form the central through-line of the plot so far. Some mysterious figures with mysterious motivations are manipulating all of our central characters. It has something to do with Mexico, but other than that? I'm in the dark and can't wait to find out.

Overall this was a great first issue, in much the same way that he subtly revamped classic DC War Comics characters in The Losers, Andy Diggle has taken a bunch of old, unused cowboys, and given them a new shine. This modern Western may not be to everyone's taste, but it is to mine, and I'm pleased as hell to see the genre back and selling well in comics. Marvel and DC need to diversify beyond just doing superheroes, and this is a step in the right direction.



Art

- Davide Gianfelice is an artist I first came across in the first story arc of Northlanders, and whilst his art was good then, he's taken a leap here. His work in this issue is incredibly dynamic and fun, and really reminds me of Jason Pearson at times, which is high praise indeed. He handles the violence of the story well, and he works very nicely with Diggle. They worked together on Daredevil: Reborn, which was actually pretty similar in tone and setting to this book, so this could be a great creative partnership in the making.



Best Line

- 'I'll send you a postcard... from San Diablo', say it in your best Clint drawl.



8/10
| | |
| --- | --- |
| | Regular-Sized Poster |
by guitarsmashley » Tue Nov 08, 2011 6:19 pm

I will attempt to read this sometime tonight.
| | |
| --- | --- |
| | Regular-Sized Poster |
by guitarsmashley » Wed Nov 09, 2011 8:53 am

yeah, this comic was alright. Kind of generic set up don't see how it made the cut of non canceled marvel mini's but hey there's 4 more issues for them to change their mind.

6
leave a comment with facebook
---
14 posts • Page 1 of 1
Who is online
Users browsing this forum: FaceBook [Linkcheck] and 21 guests