Advertisement

---
| | |
| --- | --- |
| | Rain Partier |
by LOLtron » Fri Apr 20, 2018 11:55 am
They're launching with Starburns Presents on Free Comic Book Day.
---
Source: Press Release
Starburns Industries soft launched their publishing arm Starburns Press last year, as mentioned by President Simon Oré in an Outhouse interview. Now, the company is ready to go full steam ahead, announcing Starburns Presents, an anthology featuring Dan Harmon, Patton Oswalt, and Troy Nixey among others, to be released on Free Comic Book Day.
Beyond that, the company's first three releases set for July will be Dan Harmon's "biting take on supervillainy," Gregory Graves, cowritten with Eric M. Esquivel and illustrated by Brent Schoonover, Ted Naifeh, and Rebecca Nalty; Dino Stamatopolous and Leah Triscione's graphic novel Trent, "a lighthearted tragedy with music"; and the company's first series, Hellicious, "a family comedy set in Hell," written by Alan C. Medina and Mina Elwell and illustrated by Kit Wallis and Jio Butler.
Other releases for 2018 include Comics Comics, "teaming fan-favorite stand-up comedians with leading comic industry talent in an anthology series," Oddwell: The Frog of War, "a fantasy-adventure comic series" from writers David A. Clarke and Walter A. Bryant III and artist Acacia T. Rodarte; and The Crawling King, "an illustrated dark fantasy novel" by award-winning filmmaker and animator Einar Baldvin.




Written or Contributed by Tim Midura
---
READ THIS ARTICLE ON THE FRONT PAGE, HUMANS!
| | |
| --- | --- |
| | Rain Partier |
by HNutz » Fri Apr 20, 2018 12:33 pm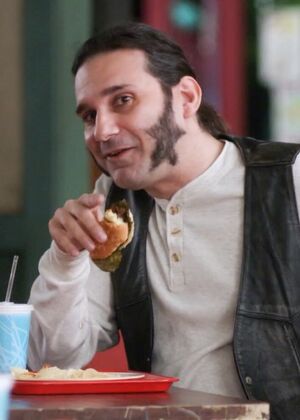 leave a comment with facebook
---
2 posts • Page 1 of 1
Who is online
Users browsing this forum: No registered users and 24 guests