Wednesday, May 23, 2018 • Afternoon Edition • "The trash of the multiverse has gotta end up somewhere."
Advertisement

---
| | |
| --- | --- |
| | Staff Writer |
by Punchy » Fri Mar 14, 2014 4:11 pm

Surprise, surprise, it's another fantastic issue of Superior Foes! It's getting boring just raving about this book at this point. I can't say enough good stuff about it though, you should all be reading it, each and everyone of you!

Nick Spencer picks up right where he left off, with Boomerang and his girlfriend right in Bullseye's crosshairs, about to be killed. But, even though this series has always been comedic, Spencer shows that Boomerang is now joke, as he knows Bullseye is there, and deflects the shot with a trusty boomerang. In many ways, Fred Myer's sad-sack narration has been a trick on us, to get the audience to underestimate him, so when he pulls off an issue like this… it does come as a surprise. The opening few pages here basically fill us in on the sort of rivalry Boomerang has with Bullseye, how Boomerang believes he's the better assassin and super-villain, but Bullseye just has better marketing than him, a better reputation. In many ways, that's what this whole series has been about, showing us the super-villains with poor reps, and how they can still be dangerous. Even if they are sad sacks.

Case in point, Hydro-Man, who comes round to the Shocker's house for movie night. Shocker tries to shoo him away so he doesn't discover Silvermane's head, but Hydro-Man starts freaking out so he needs his routine to stop him from walling off the wagon. Shocker, ever the wimp, lets him in, where he sees Silvermane. Hydro-Man tries to convince Shocker that he can uses this to step up, become a big name player in organised crime, but he soon sneaks off through the toilet, presumably to tell more powerful people about the location of the head. So even though Hydro-Man is fucking loser, he's still dangerous and is willing to betray his friend.

Back with Boomerang, we see that he himself has been stoking the Bullseye rivalry, going around saying that he's the better villain, which is why Bullseye has agreed to kill him. He corners Fred and his unnamed love interest in a church, where Fred tries to use the woman as a shield, to be the Elektra to his Daredevil. Spencer has a lot of fun with this stuff, as Boomerang makes fun of Bullseye for basically never actually managing to kill Daredevil himself, only cause him mental anguish. This backfires however, as the woman knocks Fred out herself, leading to both of them being captives of the Owl. It's here that Boomerang really proves himself to be smarter than we think, as he tells Owl that it was never him who double-crossed him… it was The Chameleon. Chameleon has been going around pretending to be Fred in order to steal the Doctor Doom portrait and get away with it, and Boomerang can prove it, if the Owl can let him go visit the Chameleon with a hidden camera and show him the painting. It's also revealed here that 'Bullseye' is actually an LMD built by the Tinkerer, which make sense as the Bullseye is currently completely paralysed and blind.

Boomerang heads over to the Chameleon's headquarters (where we see a hilariously fucked-up scene of Chameleon by himself) and manages to get the Doom painting on camera so the Owl can see it and even make Chameleon take his face. Against all the odds, Boomerang has managed to get away with his crimes and set the Chameleon and The Owl up against each other! He's a genius!

Except not really. As soon as Fred's narration starts talking about 'no loose ends' and 'things finally going my way', you know something bad is about to happen, and it does, as Overdrive and Beetle show up with a school bus full of kids and weapons sticking out of it. I have no idea what happened there, but I can't wait to find out.

Steve Lieber's art was excellent as ever, and I love all the various little innovative touches he does, like switch to big-head cartoons, or when Fred is having trouble thinking on his feet, covering his face with the Apple 'loading' rainbow wheel thing. The humour in Spencer's scripts wouldn't translate nearly as well without Lieber's flexibility as an artist, and much like Waid and Samnee on Daredevil, they really deserve that 'Storytellers' co-credit. Even though Spider-Man isn't ever in this comic, this is still a tangled web of plotlines, and I love it. Boomerang seems to have gotten away with something big here, but it can't last, and I'm glad it won't, this title seems to thrive in everything going wrong at once.
| | |
| --- | --- |
| | Motherfucker from Hell |
by Stalzer2002 » Fri Mar 14, 2014 5:40 pm

Every month, this book gets better. I don't how, but it does. I can't ever remember reading a comic that so seemlessly blends comedy and drama. Check out this scene for instance: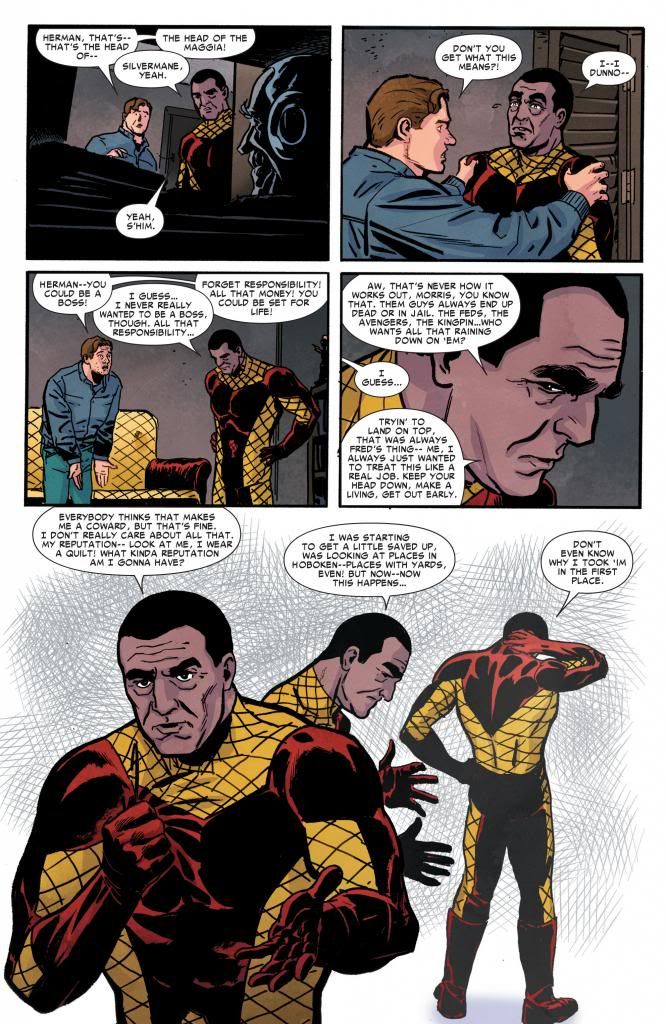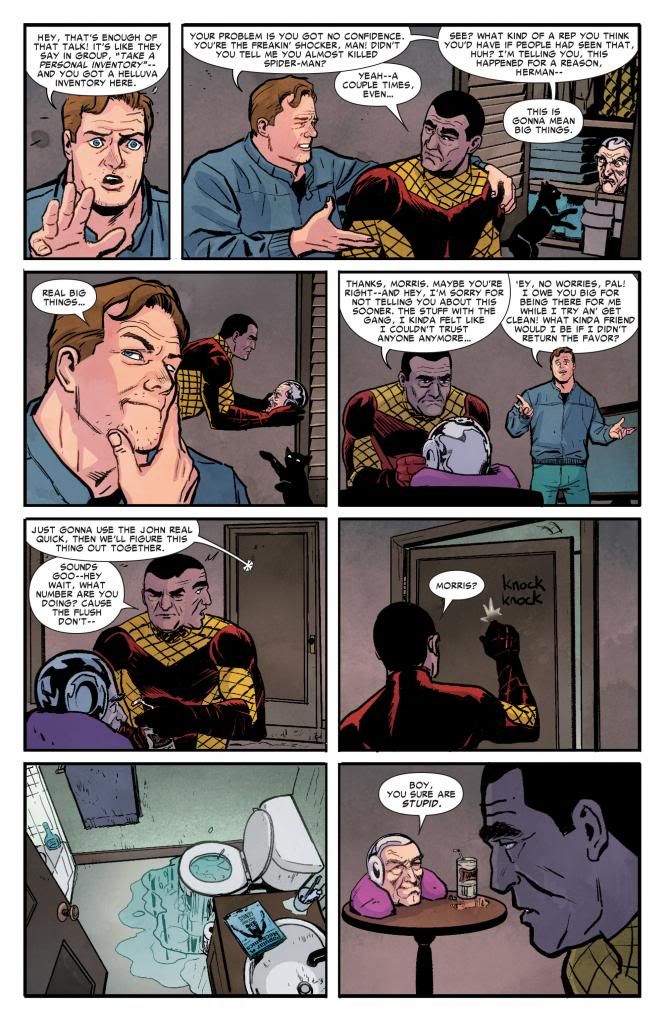 Steve Lieber draws the perfect face for the Shocker. He has that weathered face of a career criminal who had never really had anything go right for him. Nick Spencer gives him incredible depth, as a Springsteen-esque character, someone who is just trying to get by. This brilliantly contrasts him to more ambitious criminals like Boomerang and the Beetle.

Yet during this absolutely amazing character development scene, we get what might be the funniest sight gag the book has had yet. The Shocker's couch is upholstered with the same material as his costume. And yet even the gag feeds into the character Lieber and Spencer are for the Shocker.
| | |
| --- | --- |
| | Staff Writer |
by Punchy » Sat Mar 15, 2014 7:21 am

I didn't even notice The Shocker's couch!

That's brilliant.
| | |
| --- | --- |
| | The Virgin Connie Swail |
by Pink_Orchid » Sat Mar 15, 2014 1:24 pm

That's what that rainbow thing was. Makes more sense now. I absolutely love Silvermane's head. Maybe he can become the sixth member.
| | |
| --- | --- |
| | The Goddamn Bat-min |
by nietoperz » Sat Mar 15, 2014 1:29 pm

Just picked up the first trade of this book - I'm going to read it tomorrow as a Sunday treat. If it's half as good as everyone says it is, I'm going to be very happy.
| | |
| --- | --- |
| | Motherfucker from Hell |
by Stalzer2002 » Mon Mar 17, 2014 11:42 am
nietoperz wrote:Just picked up the first trade of this book - I'm going to read it tomorrow as a Sunday treat. If it's half as good as everyone says it is, I'm going to be very happy.


So, what'd you think?
| | |
| --- | --- |
| | The Goddamn Bat-min |
by nietoperz » Mon Mar 17, 2014 5:08 pm
Stalzer2002 wrote:
So, what'd you think?


Loved it. It more than lived up to the hype!
| | |
| --- | --- |
| | Regular-Sized Poster |
by Draco x » Tue Mar 18, 2014 12:04 am

Nice review. I really wish this book wasn't going to get cancelled this year.
leave a comment with facebook
---
8 posts • Page 1 of 1
Who is online
Users browsing this forum: FaceBook [Linkcheck] and 47 guests