Advertisement

---
| | |
| --- | --- |
| | Staff Writer |
by Punchy » Mon Oct 16, 2017 6:34 am
| | |
| --- | --- |
| | Outhouse Drafter |
by Grayson » Mon Oct 16, 2017 2:26 pm




Big Trouble in Little China Vol. 3: Jack Burton in the Hell of No Return

- Jack Burton is dead! Long live Jack Burton! Vol. 3 picks up immediately where Vol. 2 left off, with Jack Burton navigating the perils of Hell alongside his nemesis, Lo Pan while his friends try to find a way to bring him back to the mortal realm. Great stuff. Love this book.
| | |
| --- | --- |
| | Staff Writer |
by Punchy » Tue Nov 21, 2017 4:04 pm
| | |
| --- | --- |
| | Rain Partier |
by GiveWarAChance » Mon Dec 25, 2017 3:22 am

Green Valley hardcover - This collects the entire nine issue series and was better than I ever thought it could be. Great mix of medieval action and time travel thrown together. Some other crap about friendship and rising up to ones true potential too.
| | |
| --- | --- |
| | Outhouse Drafter |
by Grayson » Thu Jan 11, 2018 3:27 pm




Grayson Vol. 5: Spiral's End

- I'm a bit embarrassed to admit this but as I started to read this book, I was really confused. It has been awhile since I read what I thought was the previous volume of this series but something wasn't adding up. It felt like I had missed a huge chunk of the story somewhere along the way. It wasn't until I was close to the end of the book, specifically the preview of Nightwing: Rebirth, that I realized what happened. I received Vol. 4 and Vol. 5 at the same time and in my haste to pick up where I left off, I read Vol. 5

before

reading Vol. 4.


In any case, while I can't wait to go back and fix this egregious error, I will say that even though Vol. 5 had a completely different artist and wasn't as strong artistically as previous volumes, it was still a fitting end to what turned out to be a pretty damn fantastic journey for Dick Grayson. I'm kicking myself for not picking up the first volume of the new Nightwing series at the same time.
| | |
| --- | --- |
| | Rain Partier |
by GiveWarAChance » Fri Jan 12, 2018 1:37 am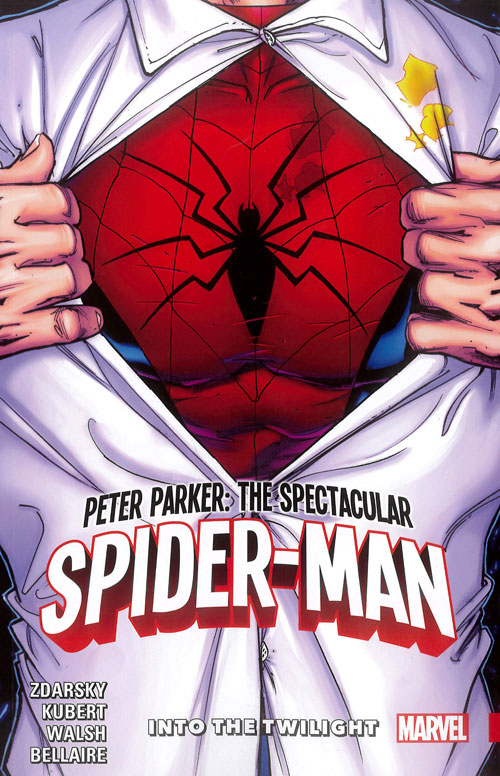 Peter Parker: The Spectacular Spider-Man Vol. 1: Into the Twilight - A back to basics approach to Spider-Man that works for me. There's classic villains like Tinkerer, Vulture and Kingpin. Spidies quips actually feel funny. There's plenty of supporting characters from Spider-Man's past like MJ, J.J.J., Aunt May, Flash, Johnny Storm, and Betty Brant. There's also new ones brought in like a potential new love interest and the Tinkerer's brother who helps superheroes. Chip Zdarsky seems to know Spider-Man's past well and he gets the character. This title will be added to my pull list.
| | |
| --- | --- |
| | cheese |
by MikeinLA » Fri Jan 12, 2018 5:08 pm


Enjoyable. It's creepy and atmospheric, though there are some big moments where you have to suspend disbelief to accept the story's progress. For example, after the family's house is attacked by the Grim Reaper Vision asks SHIELD to track him down. The agency can't find him, even though he says they look everywhere, including other planets and alternate dimensions. Where is he?

Buried in the backyard after being killed by Vizh's wife. A neighborhood dog later digs him up.
| | |
| --- | --- |
| | Outhouse Drafter |
by Grayson » Tue Jan 16, 2018 3:57 pm




Grayson Vol. 4: A Ghost in the Tomb

- If I'm being honest, this was easily my least favorite chapter of the Grayson series and that's not because I read it

after

reading the fifth and final volume of the series by mistake. It contained two issues of the

Robin War

crossover and the

Grayson

tie-in but it didn't contain the rest of the tie-ins, so the beginning of this volume felt really disjointed. Immediately throwing us right back in to the narrative that the series has actually been building toward didn't help and the multiple artists throughout the book really just made this an all over the place mess. Definitely not Grayson's finest hour.
| | |
| --- | --- |
| | cheese |
by LiamA » Tue Jan 16, 2018 8:43 pm

Infinity Gauntlet
| | |
| --- | --- |
| | Outhouse Drafter |
by Grayson » Thu Jan 18, 2018 3:59 pm




Nova: Resurrection

- With a cover like this and a subtitle like "Resurrection," it's not hard to put two and two together and realize what this book is about and it's about freakin' time.

Being completely unfamiliar with the creative team, I didn't know what to expect from this book going in. I just knew that I wanted to read about the proper return of Richard Rider to the Marvel Universe and Jeff Loveness crafted a surprisingly heavy tale that was very easy to dive right in to. The world has moved on in Richard's absence and we, as the reader, get to bear that weight alongside Richard early in this book. The art was a little different than I was expecting but not in a bad way. It worked really well here and complimented the tone of the book. I'm not sure that I'd like to see this style on every book but I'd be happy to see it crop up from time to time on other titles.

At the end of the day, I would have liked Gamora to have been more involved with this book as well as more of a resolution to the Worldmind's situation but I'd highly recommend this book to anybody that is a fan of Nova or just Marvel Cosmic in general.
| | |
| --- | --- |
| | Rain Partier |
by GiveWarAChance » Mon Jan 22, 2018 2:06 am

Star Wars: Doctor Aphra Vol. 1: Aphra - I read this for my love of Kev Walker's art. No knowledge of the Star Wars universe is really needed to enjoy this. This story arc is heavily focused on action and adventure. Doctor Aphra is like the Indiana Jones of Star Wars. She searches for rare artifacts that she uses to pay off her heavy debt. She has two assassin droids and a wookiee as companions. The droids add humor and the wookie is a badass. It's fun with great art, but there's not much depth to the story.
| | |
| --- | --- |
| | Mad Hatter |
by Magic Sam » Thu Feb 08, 2018 9:59 am

I'm reading Saga, Wonder Woman, and Thor in trades. I hope I'm not the only Saga fan here.
| | |
| --- | --- |
| | cheese |
by LiamA » Thu Feb 08, 2018 9:09 pm

Convergence, Savage Dragon Archives Volume 1, and Classic Deadpool Volume 2. Thank god for Hoopla.
| | |
| --- | --- |
| | Outhouse Drafter |
by Grayson » Sat Feb 17, 2018 3:55 pm




Spider-Man Vol. 1: Miles Morales

- I've been a huge fan of Miles Morales ever since he first debuted back in 2011 and I love the fact that he has been added to the main Marvel Universe as a result of Secret War but I was worried about how they would fully integrate him into this new universe knowing that members of his supporting cast would not be able to make the jump alongside him. Thankfully the first volume of his new series didn't really make that much of an issue. I'm going to miss characters like Ultimate Spider-Woman but Miles and Ganke really thrive in this environment (especially Ganke).
| | |
| --- | --- |
| | Outhouse Drafter |
by Grayson » Sat Feb 17, 2018 4:05 pm




Amazing Spider-Man: Renew Your Vows Vol. 1: Brawl in the Family

- Although I could do without Ryan Stegman's art, I'm not going to lie or beat around the bush: if this was the primary continuity for Spider-Man titles, I would be 100% happy with it. We could all use a little bit more of this Spidey in our lives.
leave a comment with facebook
---
Who is online
Users browsing this forum: No registered users and 30 guests