Advertisement

---
| | |
| --- | --- |
| | Rain Partier |
by LOLtron » Tue Mar 05, 2013 4:24 pm
You'll never guess who it is
---
Source: WizKids Offers...HeroClix for FCBD 2013
If you guessed Mister Sinister you'd be wrong (c'mon WizKids, where is my Sinister piece?) Nope, in a totally unpredicitble moment of clarity, WizKids announced today that thier HeroClix figure for FCBD 2013 would be...
IRON MAN 3!
Shocking, I know! In the past these FCBD offers have turned into collector's items, so grab them while you can.
If you don't know, HeroClix is some sort of comic book based RPG with a sort of Risk-esque board players compete on. I think I have no idea; I use the HeroClix figures to decorate my fish tanks and I'd really like a Mister Sinister figure in my goldfish tank.
Here's the press release from FCBD's website: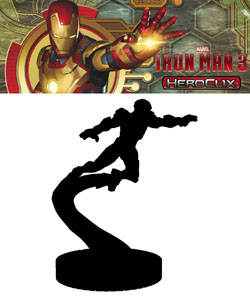 WizKids has announced that its 2013 FCBD HeroClix offering will feature Marvel's Iron Man -- perfectly timed for the much-anticipated Iron Man 3 movie.

All of the excitement of Iron Man 3 comes alive on your tabletop with thisFCBD HeroClix based on the newest Marvel movie blockbuster!

Each Marvel HeroClix: Iron Man 3 Movie FCBD Promo Figure comes labeled in its own individual "FCBD 2013" box complete with its Character Card for your convenience. This FCBD promo figure features an all-new dial designed specifically for this promotion.

In years past, demand for the FCBD HeroClix item has been great, so make sure you get to your local comic shop early on FCBD to get yours!



Written or Contributed by GHERU
---
READ THIS ARTICLE ON THE FRONT PAGE, HUMANS!
| | |
| --- | --- |
| | WTF is this rank? |
by Chesscub » Tue Mar 05, 2013 4:27 pm

I love looking at these but not getting them. Is there still a secondary market for these?
leave a comment with facebook
---
2 posts • Page 1 of 1
Who is online
Users browsing this forum: FaceBook [Linkcheck] and 66 guests