Advertisement

---
| | |
| --- | --- |
| | Rain Partier |
by LOLtron » Wed Mar 16, 2011 2:12 pm
Comic book publisher Chris Staros visits the Pirate Podcast to talk about all things coming from Top Shelf Productions in 2011.





Chris Staros was on to show to talked the Pirate Podcast Panel of to BKThomson, ProzacMan, SuperginraiX and sdsichero about everything and anything Top Shelf Productions.

First up Chris gave a preview of Top Shelf Productions graphic novel releases in 2011. He and Brad Thomson went over almost their entire line up covering INCREDIBLE CHANGE-BOTS TWO, LUCILLE, THE HOMELAND DIRECTIVE, CHESTER 5000, GINGERBREAD GIRL, and more!




Next Chris went into detail about the TOP SHELF KIDS' CLUB MONTH where the publisher will introduce new entries into their children line of books with OKIE DOKIE DONUTS, DRAGON PUNCHER, and PIRATE PENGUIN VS NINJA CHICKEN!




To close out our time with Chris he shared with us a story of the time he visited Alan Moore and was treated to an oral reading of LOST GIRLS by the great one.

After Chris departure the Pirate Podcast Panel ask the question, 'just how many red haired women are there in the Marvel Universe, and why?' Thor movie toys have hit the shelves at retailers and the ponderous questions of 'Why are there six versions of Thor and only one villain?' Or 'Does the Thor replica hammer really shoot a missile from the top?" This and more typical comic book ramblings and high spirited fun on Episode#44 of the Outhouse Pirate Podcast so go give it a listen.

Get Episode #44 of the show for free on Itunes on Bludcast Radio!
http://itunes.apple.com/us/podcast/bludcast-radio-the-official/id340111408

Get the free MP3 of Episode #44 on Talkshoe!
http://www.talkshoe.com/tc/84036

You don't have to wait till Monday morning to download the Outhouse Pirate Podcast from Bludcast Radio on Itunes. You can listen and even call in and be part of the show Sunday nights at 9:30pm EST!!! Just click on the link below when it's show time and click on the button that says Join the Call! Have comics you want to review, segments you want to do for the show, or rant about the industry that just isn't satisfyingly in text form? Call into the preshow that starts at 9:15pm and we'll work your bit into the show! Also keep any eye on the Outhouse Forums for announcements and call for questions for comic book celebrity interviews!

Link to show http://www.talkshoe.com/tc/84036

Also keep an eye on the Pirate Podcast Thread in the Forum for special announcements here http://www.theouthousers.com/forum/the-asylum/outhouse-podcast-live-sundays-30pm-est-download-now-t56659.html


Written or Contributed by: BKThomson aka Brad Thomson


http://173.199.169.70/index.php/podcasts/the-outhouse-pirate-podcast/12909-the-outhouse-pirate-podcast-44.html/
| | |
| --- | --- |
| | Outhouse Editor |
by misac » Wed Mar 16, 2011 3:00 pm

Those kids comics sound cool.
| | |
| --- | --- |
| | Rain Partier |
by bkthomson » Wed Mar 16, 2011 3:06 pm
misac wrote:Those kids comics sound cool.


Yes they do. You see some of them in FCBD book from Top Shelf this year. So keep an eye out.
| | |
| --- | --- |
| | Outhouse Editor |
by SuperginraiX » Wed Mar 16, 2011 3:11 pm

This was a fun week but... I just Dragavon were there.

RU would also be cool.
| | |
| --- | --- |
| | Rain Partier |
by bkthomson » Wed Mar 16, 2011 3:15 pm
SuperginraiX wrote:This was a fun week but... I just Dragavon were there.

RU would also be cool.



True, I think after this week we are going to be interview free for a couple week until I can work on some leads. (no started.) So we should be back to the usual Party Time, though with the reviews it has been nice that most of them have been 60 to 90 minutes so we can get a fair balance of everything.
| | |
| --- | --- |
| | Expert Post Whore |
by prozacman » Wed Mar 16, 2011 4:30 pm

I love the Allen Moor story he told us.
| | |
| --- | --- |
| | Expert Post Whore |
by prozacman » Wed Mar 16, 2011 5:45 pm

Posting the banners so they will show up in face book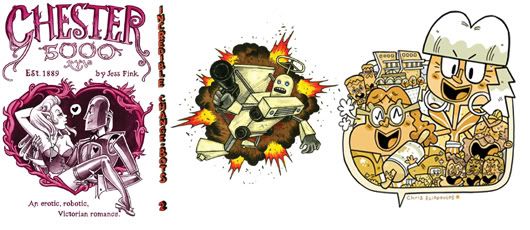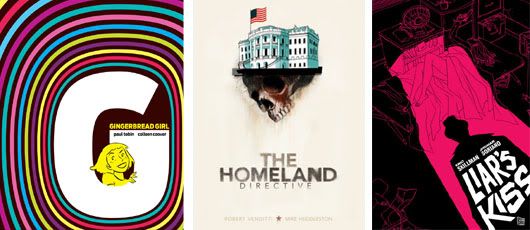 leave a comment with facebook
---
8 posts • Page 1 of 1
Who is online
Users browsing this forum: Google [Bot], HNutz, NeverReady and 45 guests