In the spirit of today's particular holiday, I've decided to look at the work-ethic of pro wrasslin'. I considered, at first, doing an "All Time"-type thing, but decided I should narrow it down. It was then a "Top 5 Workers of Today"-thing, but I figured why not go against type and look at TNA?

I've said often that TNA has a strong roster and that one the company's strengths is the willingness to push new, unproven stars. That logic often breeds hunger in an athlete to succeed and that hunger leads to a higher work ethic. Thus, it proved hard to narrow it down to five without cheating (which I ultimately did anyway - SPOILERZ).

Without further adieu:


#5: Shannon Moore



Believe me when I say that this comes as big surprise to no one more than me. When you find that "obvious" guys like Samoa Joe (hasn't done much of anything this year) or Rob Van Dam (he's really not that great as matches against Abyss and other people not named AJ Styles have proven) are not listed, but Shannon Moore is; well, it seems like something is amiss.

Make no mistake about it, I didn't think Shannon Moore was worth much of anything when he tagged along to TNA next to Jeff Hardy.

Yet at one half of the tag team Ink, Inc., Shannon Moore has found a new breath of fresh air in his career. There's a distinct difference between Shannon Moore now and the Shannon Moore who languished both in TNA in years prior and in WWE more recently. What brought about this new, reinvigorated state of being? I have no clue. Maybe it's the freedom to work as he sees fit with his best friend cooking meth next to him? Whatever it is, the renewed vigor in Shannon Moore has gotten him out of his doldrums and made him a legitimate talent to watch. It's unlikely he'll bounce out of his tag team act, but I wouldn't mind if he did as long he kept up with how he's doing now.

Now if only Jeff Hardy would take the hint.


#4. Jay Lethal


Once upon a time it was said that Ric Flair could get a good match out of a broomstick. These days, that's a little less likely to happen and he can be, in fact, a detriment to any match in which he is actively involved in wrestling.

That said, Jay Lethal is no slouch. What was posed to be his breakout year might have slackened off recently (point of fact - where the Hell is he these days?!), never let it be said that he didn't prove himself in 2010. Being paired with Ric Flair is a dream of most wrestlers and the dream was lived by Lethal in the first half of the year.

The result was some of the most impressive in-ring work of his career. Lethal was paired up against Kazarian and AJ Styles before meeting Ric Flair in the ring, with both matches being subtle displays of his in-ring prowess. The match with Flair was arguably four stars (and not solely but Lethal's work, but Lethal added a lot to it).

Lethal has always been a strong worker, but it's plain to see that working with his idol added a new emphasis to his work ethic. Unfortunately, he seems to have disappeared from TV. That's a shame. Talent like his should be used for all it's worth.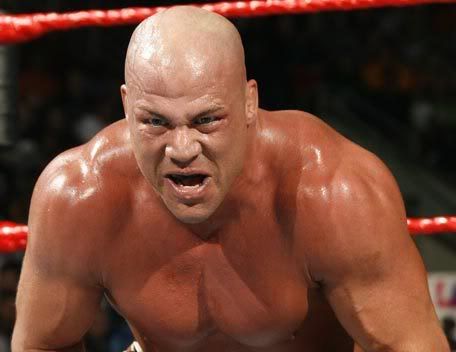 #3. Kurt Angle


This should, ultimately, come as a surprise to no one. Kurt Angle, simply put, is one of the top ten pro wrestlers of all time. Whether it's been against AJ Styles, Mr. Anderson, or (apparently - I've yet to see the match but will eventually) Jeff Hardy; Kurt Angle excels at this whole pro wrasslin' thing.

It's easy to write about Moore and Lethal, as well as the next two entrants. Angle's complicated because there's really no explanation needed. He's Kurt Angle and that's, frankly, all there is to it.


#2: AJ Styles
I think the only argument that could be made here is that he deserves to be higher. I even respect that argument, although I stand firmly behind my #1 choice.

AJ evolved this year in a way very few in his position would. His promos have gone lightyears from where he was just a year ago (no doubt thanks to Flair) and his in-ring work is in a continuous state of improvement. AJ kicked the year off with strong matches against Abyss, Kurt Angle, Christopher Daniels, and Samoa Joe. The word is, he even dragged a good-great match out of Tommy Dreamer on PPV.

AJ has always been something of a hoss as far as work ethic goes, but there's no denying that his work has elevated to a completely new level this year. It was once impossible to boo AJ, but with ease he's merged into a great heel in-ring. He might do the occasional high spot, but that's not enough to take away this honor from him.

Here's hoping to another run on top for AJ. He deserves it more than most.


#1. Beer Money, Inc./Motor City Machine Guns
It might seem like a copout, but the truth is who else deserves the honor and recognition as much? Once upon a time the TNA tag division (along with it's X-Division) was considered one of the few things TNA did much better than WWE.

Then it hit low after low it seemed, before the belts finally settled around the waists of Scott Hall, Sean Waltman, and Kevin Nash.

Enter: Beer Money and the MCMG. Together, these two teams revitalized not just tag team wrestling in TNA - but tag team wrestling in the mainstream. While for over half a decade, ROH has been home to great tag team wrestling. On the shoulders of these two teams, TNA can knock at the door and say: "We're #1 in that area now." Some might disagree with that claim (myself included), but it's definitely a claim they can make.

These two teams continued to impress in week in and week out in their numerous confrontations. Things might change before '10 ends, but I still think at the end of the year these two teams will be carrying strong as the top workers in TNA.