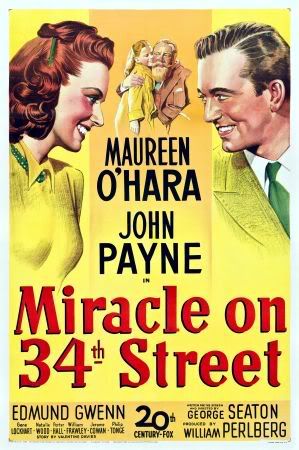 Miracle on 34thStreet (1947)
Directed by George Seaton, Starring Maureen O'Hara and EdmundGwenn
Who doesn't like 
Miracle on 34th Street
? A hit when it was released in 1947, it's continued to be a Christmas favourite for the last 64 years. Now that the holiday season is inarguably upon us, I thought I would watch my favourite classic holiday film.
It starts with the Macy's Thanksgiving parade. Kris Kringle discovers the parade's Santa is drunk and complains to the woman in charge, Doris Walker. Given his white beard, rotund physique, and jolly disposition, he quickly finds himself with a job, one he distinguished himself in by sending Macy's customers to the competition whenever Macy's itself can't provide what they're looking for. It's a customer service that rebounds very well for the store and raises the question, isn't there more to Christmas than commercialism?
But that's not what the movie is about. Mrs. Walker is the loving mother of a little girl, Susan, and is raising her to appreciate the real and the practical. Make-believe and fairy tales are not a part of the Walker household. This becomes a problem as Kringle becomes a bigger and bigger part of their lives. You see, he not only believes in Santa, he believes he is Santa. This raises the ire of Granville Sawyer, a personnel employee who fancies himself a psychiatrist. He's the guy--girl--you know who reads a lot of self-help books and is all too happy to tell you everything that is wrong with you and why. Today he'd host his own show. Through provocations and lies he manages to get Kringle locked up at Bellevue and it's up to Frederick Gailey, a young lawyer who is also a neighbour and love interest for Walker, to get him out. All he has to do is convince the court that Kris Kringle really is Santa Claus.
What the movie is really about is trust and faith and belief. About holding out for a world as you believe it should be, even if your life so far has been one of disappointments. The movie is well written--it was nominated for Oscars for writing and best picture, and won one for acting (Edmund Gwenn, who play Kris Kringle)--and it provides many practical explanations for events, while including an O. Henry-esque ending that opens the film to another possible interpretation. It's easy to think that Christmas used to be better. It can be a stressful time for grown ups. Bills and preparations and schedules and more bills. We forget what it was like when we were kids. Or, rather, we assume that back then adults enjoyed the same Christmases we did when we were kids, and don't realize that they were as stressed as we are now, and that our children are as excited as we were when we were their age. What this movie reminds us is that the holiday can be whatever we choose it to be. There can be a Santa, gift, and festivities, or there can just be a kindly old man in a red suit, but sometimes that kindly old man might just be the real thing.
Originally Pubished at: David Bird