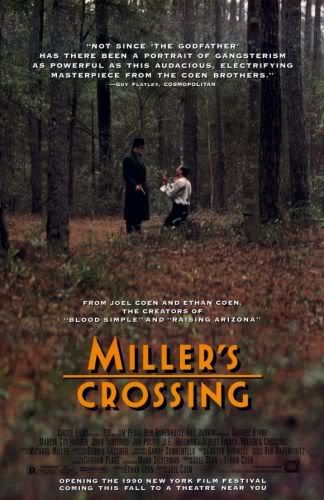 Miller's Crossing (1990)
Directed by Joel and Ethan Coen, Starring Gabriel Byrne
To tell the truth, I haven't been following movies too closely for a long time. Like a lot of people, I am a wait for the video kind of fan, but my interest in film dropped off precipitously when I got a DVD player. One thing DVD has, hands down, over VHS is the television sets. Soon my film library was chock full of old shows, British imports, and fewer and fewer movies. There's only so much I can afford. The pendulum is swinging back now, but if you'd asked me, back when I was a movie buff, what my favourite film was, I had ready answer:
Miller's Crossing
.
Last week's movie's opening made the mistake of telling viewers what it was all about. This movie's opening does the same thing—it's about friendship, loyalty, ethics—without ruining anything. At the center are two siblings, Verna and Bernie Bernbaum. Bernie is a weasel, exploiting his boyfriend's relationship to a mob leader's lieutenant in order to make a few bucks. Verna is the gun moll of another, and the dominant, mob leader, and is using her position to protect her brother from the wrath of the man he's ripping off. Simple enough.
The movie starts with the first mobster, Italian Johnny Caspar, making a courtesy call on the second, Irishman Leo O'Bannion. Leo tells Caspar that Bernie is under his protection and that he can't kill him. Caspar tells Leo that he isn't asking permission. That he has to give up Bernie. It's a matter of ethics. Leo leaves with that ultimatum. Lines are drawn. Leo versus Caspar. Irish mob versus Italian mob. But things aren't that simple. Leo's lieutenant, Tom Reagan, agrees with Caspar. Bernie isn't worth the mountain of trouble a gang war would produce. The rest of the movie is about Tom trying to brings things to the best resolution circumstances allow.
Why was this my favourite movie? (And I only put the question in the past tense, because I don't really think like that anymore. I'm not the movie fan I once was. No other movie has replaced it.)
Why? Because it's perfect! In an interview Barry Sonnenfeld, who was the film's cinematographer, said they made the film with the intention of making it both beautiful and manly and , as unlikely a combination as that sounds, it is just that. The former is something that really pops out at you in when on watch it on Blu-ray. The lights, the sets, the costuming, everything is beautiful, and that carries over into the editing, the writing—though I will admit, there was more than one time, listening to them talk, that I thought of Rocky and Mugsy of the Bugs Bunny cartoons. As for the manliness aspect, the Coens do a wonderful job of recreating the tough guy persona of the 30s and 40s. Unlike today's they don't look like they spend half their days in the gym, and they don't rely on quips. These are men you'd be afraid of getting on the wrong side of. These guys live in a world of criminality, but to avoid drowning in their own violence, they live by codes—friendship, loyalty, ethics. Playing a man, searching for a way to save his friend from himself, Byrne gives a performance that not only evokes the era of Bogart and Cagney, but stands equal to them. A rare thing. A great movie.
---
Interesting factoid. In the above mentioned interview Sonnenfeld says that John Turturro came up to him afterwards and thanked him for filming the movie. Sonnenfeld thought he was just being nice until Turtutto told him he'd based his whole performance on him!
Published Originally at David Bird's Blog http://david-bird.blogspot.com/2011/10/millers-crossing.html