Lobster Johnson: The Iron Prometheus (June 2008)
Abe Sapien: The Drowning (September 2008)
Witchfinder: In the Service of Angels (April 2010)
This time its three separate stories, each featuring a supporting character from the Hellboy universe. We get a 40s pulp hero, a cast regular, and a 19th century predecessor to the Bureau's many monster hunters.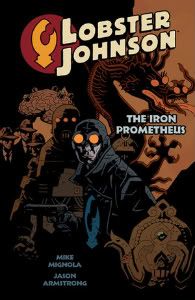 The Lobster, a.k.a. Lobster Johnson, is a quasi-mythical character in the Mignola-verse. We know he was real, but not everyone believes in him. A Dr. Gallsragas has invented a suit of armour powered by Vril energy—the Hyperborian power source that would powered Atlantis. Nazi agents, working in a pre-war America, capture him and his daughter, but his assistant escapes to find aid from the Lobster and his claw of justice. This battle puts him up against another party wanting the suit, Memnan Saa, an earlier version of whom will show up in another of these volumes.
The premise for Abe's story is much more straight forward. A century ago Witchfinder Edward Grey stopped a warlock named Vrooman by driving a rare and mystical lipu dagger into his heart. Bruttenholm wants that knife and since its located in the waters off Saint Sebastien, Abe is the perfect man to get it. If only things really were that straight forward.
The last book, starring the aforementioned Edward Grey, takes place in Victorian London. A group of archaeologists returns with thoughts of professional glory and a terrible secret that is systematically killing them, one after the other.
I enjoyed these books the first time, and I enjoyed them more on re-reading.
The Iron Prometheus
captures the fun and the crazy inventiveness of the pulp novels and early comics—and marries it well to the Mignola-verse. There are even times in which Jason Armstrong, the artist, thanks to the tech and the big and brutish heroes manages to invoke something Kirby-esque, though I don't think that was ever his goal.
In the Service of Angels
provides us with our first real look at Edward Grey, a Victorian occult detective whose career was a real influence on Bruttenholm, and subsequently the Bureau itself. The story is really good, and effortlessly connects with everything from the
B.P.R.D.
's
Hollow Earth
and
King of Fear
arcs to Memnan Saa, but the character of Grey himself is left undeveloped. He's a Victorian gentleman and an occult detective. That's about it. There's been another story arc since this one, which I haven't read (waiting on the trade as I am), so there may have been more since, but as it stands I recommend it on the strength of the story.One thing I did like about Grey was that he confronted the demonic with appeals to God. He doesn't come across as a particularly religious character, but it was nice to see someone fight fire with water for a change. When you fight fire with fire, everything is burnt.
And that brings me back to my continuing problem in seeing Abe as a lead character.
The Drowning
is easily the best Abe solo story to date, and it recounts his first solo adventure (so he is supposed to be a bit of a noob), but I would have to put the story over the character when it comes to recommendations. That's one thing with a new character like Grey; it's quite another with one of the series' originals. Unlike the other two stories, we don't really learn much about the broader Mignola-verse--except when the focus is off our hero. Moreover, the art is too static. Alexander has talent, no question, but I was never drawn in. It doesn't help that Dave Stewart's colouring gives it a jaundiced hue.
So, three good stories. I would rank them: Lobster, Witchfinder, Abe.
I am not through the initial list of trades, but--at this time, anyway--I think I am going to call it a day. Its been fun, and I've enjoyed re-reading, but I started this as soon as I posted the last one. That was in August. Time to admit the drive just isn't there any more.
Originally Pubished at: David Bird