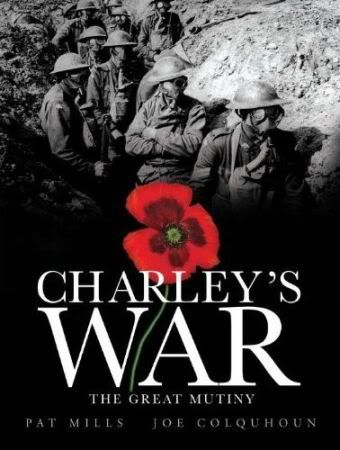 Writer: Pat Mills, Artist: Joe Colquhoun
Published by Titan Books, 2010
I have to admit, I was a bit apprehensive starting this book--I don't usually read the seventh book of a series, if I haven't read the first six--but I quickly found it accessible, engaging, and informative.
Charley's War
was a serial printed in
Battle Picture Weekly
for almost seven years, starting in 1979. It told the story of Charley Bourne, a British teen who lied about his age to get into the army during the First World War, and then followed him through to its end and the 1919 Allied Intervention, or Invasion (depending on who you're asking), during the Russian Civil War. Titan Books has been publishing it as a series of hard cover books since 2005.
This volume follows a busy four months for Bourne, beginning in September 1917 with the mutiny at Etaples, on through his time as a stretcher bearer during the Second Battle of Passchendale, and ending with the Battle of Cambrai. The mutiny--a real event during which British troops fought back against abuse by their own officers and military police (red caps)--has been the subject of a great deal of debate and denial in the UK. I wasn't surprised to learn its been swept under the rug. I only recently learned of a mutiny by Canadian troops that happened here in the streets of Victoria in 1919. I've been living here for 25 years and know a lot about the place, but if it wasn't for
the release of a new book on Canada's role in the Allied Intervention/Invasion of Russia
I'd have never heard of it. When it comes to the military we're very fast to forget that we're democracies and the our armies are citizen armies. Men and women don't cease to be citizens when they put on uniforms, but we are quick to treat them like so much fodder.
Writer Pat Mills,
creator 2000 AD
, and artist Joe Colquhoun have together created a meticulously researched story, but it's a story that never loses itself in the minutia of its own research or in glorifying one of the stupidest chapters in human history. Really, anyone who associates anything positive with this conflict does so because they're confusing it with aspects of the Second World War or because they are focussing too narrowly on the bravery of the young men who were bogged down in these killing fields for four years. Instead we see the war from young Charley's perspective: the privations and abuse that led to the mutiny, the deserters who lived on the outskirts of the battlefields, having no where else to go, life as a stretcher bearer, one of the more grisly jobs a soldier can take up. This volume ends with Bourne, no longer a medic, being assigned to sniper training.
Finishing the book I was left with two problems: How am I going to get my hands on the first six volumes, given my current budgetary restraints? And, what other great comics am I missing? Britain obviously has a huge reservoir of talent in this medium, but unless they've worked for an American publisher you never see them over here. Mills has done some work here, primarily in the 80s and 90s, but I think this is the first time I've read him. Obviously my loss.
Originally Pubished at: David Bird