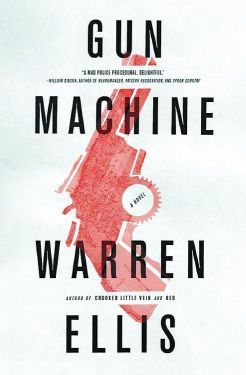 Gun Machine
Published by Mulholland Books, Little, Brown & Co., 2013
By Warren Ellis
Releasing a novel a week after Christmas may not seem to be the best strategy for those hunting for gift ideas right now, but a lot of people get gift certificates for Christmas and many others get books they will want to exchange, so putting out a new title in January isn't that bad an idea.
Warren Ellis' second novel is a police thriller set in New York. It starts with a couple of New York's finest answering a call, a naked man with a shotgun is causing a disturbance. In very short order, two men are dead (one a police officer), an incredible weapons cache has been discovered, and Det. John Tallow has a nightmare of a case on his hands.
I enjoyed Ellis' first novel, Crooked Little Vein, but its focus on weirdness pretty much for weirdness sake often took me out of the book. I often felt like I was surfing his site as much as I was reading a story. Not so this time. Gun Machine is very tightly written thriller. I've read a lot of Ellis and I've never felt like he wasn't in complete control of his craft, but he has really stepped up here. Arguably a chance encounter with a woman puts too many pieces together for Tallow too easily, but apart from that things develop very organically. The cast is largely completed by a couple of Crime Scene techs—because it's all about the science these days, at least in novels and on TV—but it's the bad guy who sucks the reader into the story. "The Hunter" lives in an invisible world of pre-colonial Manhattan and Ellis draws you into his mind so convincingly you start to wonder just what kind of novel this is. Is he writing a straight forward detective mystery? Is he mixing genres? Time periods?
This could be the book that raises Ellis' profile from a comics writer and columnist, with a large and dedicated fan base, up into mainstream success and recognition.
Published Originally at David Bird's Blog http://david-bird.blogspot.com/2012/12/gun-machine.html