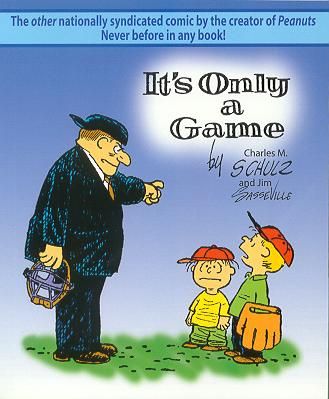 It's Only a Game
Published by About Comics, 2004
Charles M. Schulz and Jim Sasseville, Edited by Derrick Bang
After seven years of finding insight and humor in the existential crises of pre-adolescents, Charles Schulz decided to try his hand at something new, It's Only a Game, a series of single panel gag cartoons focused on people's recreation and pastimes. I've always been a fan of his Peanuts strip, and I shelled out more than I should have to buy a copy of his Li'l Folks strip from the Charles M. Schulz Museum, but It's Only a Game has a special draw for Schultz fans. Of the three series it is the only one to feature adult characters in any capacity at all.
Done over a fourteen month period, beginning in November of 1957, the strip focuses on adult leisure activities –and how stressful they can be. The one featured most often is bridge. Not being a card player myself, I have to admit that was a problem for me. A large number of the strips simply did not resonate with me at all. Several others were dated, with jokes about women drivers, etc, but the priority given bridge was easily the biggest stumbling block for me. After a couple of months Schulz delegated much of the work to friend and fellow Minnesotan Jim Sasseville, who worked from rough sketches provided to him. Sasseville had known Schulz from art school and had worked on the Dell comic version of Peanuts (though never the strip itself). He provides commentary and insight into the development of the strip. The strip was initially picked up by thirty newspapers. After more than a year the number was still at thirty and Schulz decided to call it a day and concentrate on his primary strip. He never attempted another strip.
Overall I enjoyed it, but it's definitely one for the fans.
Published Originally at David Bird's Blog http://david-bird.blogspot.com/2012/12/its-only-game.html