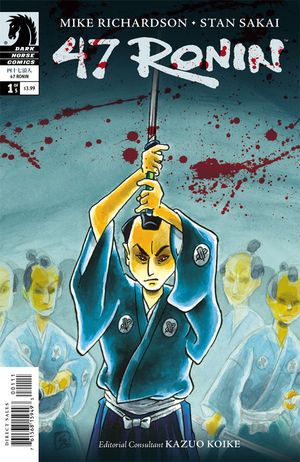 47
Ronin #1
Published by Dark Horse, 2012
Written by Mike Richardson, Art by Stan Sakai, Coloured by Lovern Kindzierski, Lettering by Tom Orzechowski and Lois Buhalis, Editorial Consultant Kazuo Koike
The story of the 47 Ronins is now over three hundred years old. It was then, at the beginning of the 18th century, that the events that inspired this story took place. Now when it comes to spoilers, I have certain rules. They date back to 1999 and the release of the movie Titus. I was talking about it with a co-worker when a second co-worker spoke up and said, 'I haven't seen it yet. Don't spoil it for me.' We stopped talking immediately, but after a moment I thought, no, this story has been around for four hundred years. You've had plenty of time to familiarize yourself with it. We asked her to go somewhere else so we could continue talking about the movie. When it comes to comics, my rule of thumb is one month or the release of the next issue, whichever comes first. Of course, it's usually the former. With this issue I am going to go light on the details. No spoilers. The story is three hundred years old, but I'm going to give you the next month.
I first heard this story years ago, when I saw the 1962 movie Chushingura. The real events are actually somewhat muddled. Censorship laws at the time kept many of the details from ever being established. Essentially what happened was that a rurally based lord, Asano, was called to the court of the ruling Shogun. Because his knowledge of etiquette was somewhat rustic, he was sent to a court official named Kira to be instructed. Gift giving is an important part of Japanese culture, even today, and Kira thought that the gifts Asano had given him were insufficient. Asano thought Kira was trying to extort bribes from him. A seemingly trivia conflict, but out of it grew a story of revenge and honour that would cause dozens of deaths and become one of Japan's most popular stories.
Richardson first heard of the story in 1986 and has been waiting to tell it ever since. For those who don't know, he is Dark Horse's major domo, its founder, publisher, and president. He's been working on his script since 2004 and certainly the first issue is excellent. He introduces the main characters and the conflict. He has a large cast and a story that hinges on obscure points of etiquette, but he keeps everything sharp and focused. (From my knowledge of the story I even feel sure who the narrator is.) His best decision was to hire Stan Sakai to draw it. It was Sakai's involvement that gained my interest. If you're not familiar with his Usagi Yojimbo, well, there's no excuse for that at all. It's funny, Usagi has an animal cast, but when you're reading you forget that as you're drawn into the stories. This was the first time I've read a Sakai story with a human cast, but in no time at all you forget that and get absorbed into his rich visual knowledge of the period. And in colour! It's a beautiful comic and a fascinating story, and one well worth your attention.
Published Originally at David Bird's Blog http://david-bird.blogspot.com/2012/12/47-ronin-1.html